 Every high school student who graduates from the Network for Teaching Entrepreneurship's (NFTE) core program completes a business plan based on an original idea that they could actually launch. While NFTE can point to myriad success stories of businesses created as a result of its flagship entrepreneurship course, until recently, it did not offer programming to NFTE alumni still in high school who needed additional guidance and support to execute on the ideas enumerated in their business plans. This programming deficit was rectified two years ago when NFTE's New York team piloted an alumni program called Startup Summer (SUS).
Building on the successes of its pilot year that saw 12 of 16 student businesses generate revenue, year two of SUS kicked off in early July 2012. For two weeks, 11 students representing 10 business ideas dove deep into fundamentals of entrepreneurship and learned how to operationalize their business ideas. For the remaining six weeks of the summer, SUS students spent Mondays and Thursdays with NFTE staff, Tuesday evenings with a team of mentors from the business community, and Wednesdays and Fridays executing their action plans. Once the school year started in September, SUS students met with their mentors on a bi-weekly basis and continued to implement their next steps.
Over the summer, I watched the SUS students working in groups and asking each other detailed questions. I would sit in the back with my heart pounding with excitement and tears in my eyes. Led by Serene Gallegos, one of the greatest young teachers I have ever seen, the kids would pepper the guest speakers with questions. I could see them before my eyes developing advance entrepreneurial skills and their understanding of markets and human behavior matured before my eyes. Their economic of one unit -- essentially their business model -- would change during discussions as they saw insights into the complex phenomena of consumer demand.
One of the students, Eric Lambert, was an average student all of his life. He gradually lost interest in school and began hanging out with the wrong kids and generally lost interest in all of his hobbies. Fortuitously, he was recruited by the program manager who worked at his school. He leapt at the chance, and was admitted to the ten-week intensive program. He knew it would be a lot of work. His idea was to help students help return their textbooks, a problem he had always encountered and, as a consequence, incurred fines. He said, "NFTE raised his horizons" and it made him learn four things: "The importance of having people around you that cared, getting a business started is a lot of work, do not be shy, talk about your business and the problem you are trying to solve, and lastly, ask people for help."
Interestingly, his business idea of going to pick up text books and then charging the school system $20 to return them was thought of when he was looking at his NFTE textbook. In addition to this, Eric landed on the idea concretely when, a few days later, he overheard a classmate of his from a science class asking the teacher to take a textbook home to complete homework. He overheard his teacher say this wasn't possible due to a textbook shortage. In that moment, Eric realized that, having been a culprit of not returning textbooks, he was preventing a peer, who might one day be Steve Jobs or Albert Einstein, achieve their goals.
His first idea was a coin vending machine to be located in the subways, but he found it to be too complex and ended up seeking out a simpler solution for his textbook ideas. Textbook Repo was the result. Eric felt that his business would save a lot of money for the NYC Department of Education -- as his research has shown, he could save $1.4 million. Eric eventually graduated as valedictorian of his class. He intends to study Business Administration at the Borough of Manhattan Community College in January 2013.
Alex Torres is another SUS student. He is currently a senior at the Business of Sports School and last year he went through a NFTE Core program. He followed through and completed the program and is now working with a mentor, Greg Hambric, another mentor who saw Alex through the competition and stayed with him through the course of SUS. It's called S.T.A.R.T., Specialized Teaching for Athletes at the Right Time. START is a sports business program that helps high school students enhance their knowledge about different careers in the sports industry using math skills and case studies. Like Eric, it wasn't his first business idea; his first two were too complicated and would not work economically.
What intrigued me about the story of these two students was that they illustrate that the market is a learning process. People are continually learning about their economic models to find a way to solve problems. Both of these young entrepreneurs had interesting thoughts. Alex said "my mentor understands my entrepreneurial mindset, we are partners intellectually." "This idea of youth entrepreneurship is golden." Eric continued, "my mentor taught me finance and helped me build my ideas."
Financed by Karen Pritzker, SUS is the brain-child of NFTE's brilliant program manager, now Program Director, Jordan Runge and New York Executive Director Terry Bowman. StartUp Summer is a pioneering program, because it works with teenage low-income youth and helps them over a six-month process to get their ideas to a higher level.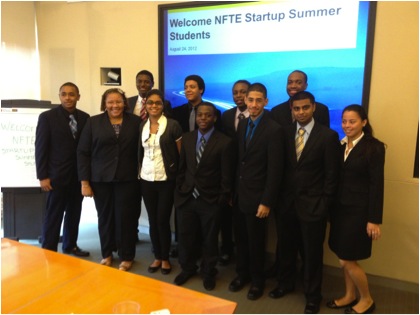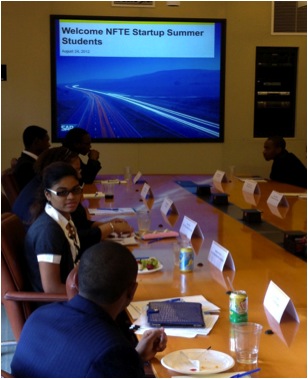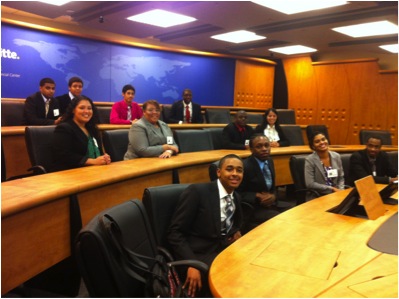 Serene Gallegos and NFTE Startup summer students.
Related
Popular in the Community