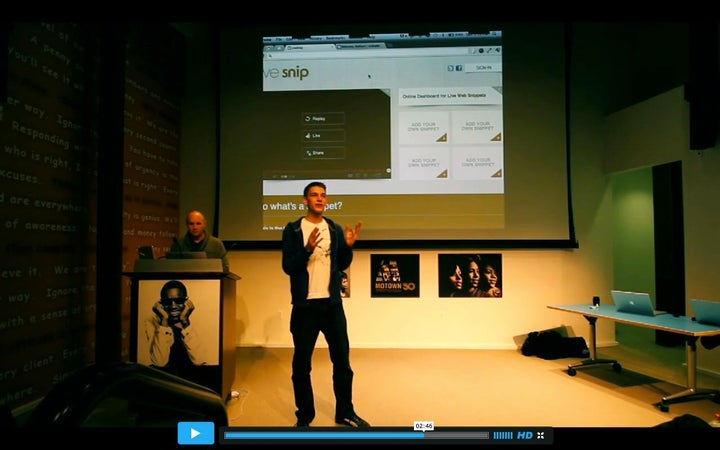 DETROIT -- Nathan Cahill put together the plan for LiveSnip, a web service that aims to manage peripatetic browsing habits, in just 54 hours over Startup Weekend Detroit.
The 15 companies germinated during the business plan competition this past weekend might not all reach full size, but Cahill said he has no intention of giving up on LiveSnip now that the event is over.
More than 100 participants gathered at the Madison Building Friday evening to pitch their ideas. Teams assembled around the approved ideas and raced against other groups to make the most progress from Friday night to Sunday midday.
Cahill arrived without a specific idea. Instead, he had a few problems that had been bothering him and that he wanted to solve. His last-minute pitch was one of 15 chosen from a field of 35, and he pulled together a team to work on it.
"It's a hustle," Cahill said. "You have to get people convinced that your idea is something they want to invest 54 hours in."
Cahill worked on the program with his newfound colleagues -- Carl Winans, Christina El-Haddad and Delane Parnell -- until 11 p.m. Friday at the Madison Building and then moved to the Detroit Beer Co. until closing. The next morning the team gathered again at the Madison.
The result was LiveSnip, a web service that solves a problem most readers will recognize: the inefficiency of having too many open tabs in an Internet browser and too many websites to repeatedly check. It's a dashboard that lets users pin snippets of information from other sites, like traffic stats or a Twitter feed, to one page, where the info then updates in real time. Under Cahill's plan, the program would offer free and premium subscriptions, the premium version costing $9 a month and geared to businesses that want to share information.
On Sunday, LiveSnip was chosen as the winner of Startup Weekend by five judges from Michigan's business community -- Maria LaLonde from Bizdom U, Jim Xiao from Detroit Venture Partners, Dan Izzo from Fathead, Jonathon Triest from Ludlow Ventures and Steven Robert from Billhighway. The judges listened to the contestants' short presentations and asked probing questions, making their final decision based on project execution, research into and feedback from potential customers, and overall business model.
In addition to a tour of the Madison Building, Cahill's team won a one-hour business model consulting session with business incubator Bizdom U, a one-hour meeting with venture capitalists Ludlow Ventures and tickets to the Michigan Lean Startup Conference in May.
"There's an amazing feeling that comes from finishing a little bit of code or solving a problem that's never been solved before," Cahill said. "When something works and ... you throw it out to the world and people use it -- it's what I live for when I'm writing code."
LiveSnip isn't Cahill's first business idea; he's been writing code since he was 13 years old. One of the first programs he ever wrote, sometime around 2002, translated the Mayan calendar into the Gregorian system.
Born in California, Cahill grew up in Guatemala and speaks English, Spanish and the Mayan language Q'eqchi' as well as computer programming languages. With no Internet access in his childhood home, he would write code until he encountered a problem and then walk a half-mile to an Internet cafe to search Google for solutions.
Cahill ended up in Michigan with a scholarship to attend Calvin College in Grand Rapids, but the self-taught developer realized in his first year that he wasn't learning enough. Now he goes to Startup Weekends -- he will attend Lansing's event next weekend -- and works on his problem-solving projects, from a simple event-planning calendar app to a crowd-funded college scholarship site.
Many of the other Startup Weekend Detroit contestants seemed to work on problems with personal significance. One created Calls On Fire, a tracking and motivational mobile app for direct sales professionals who make calls all day long. Another proposal, turnDetroit, tackles land development and community building with crowd-sourced funding.
Then there were the whimsical, sometimes zany ideas, two of which took second and third place. Ghost in a Box is a sort of newfangled Pet Rock, and CaptionSIX turns photo caption contests into a social network.
Charlie Wollborg, a previous winner of Startup Weekend Detroit, split his time this weekend between Calls on Fire and CaptionSIX.
"This is a tailgate party for entrepreneurs," said Wollborg, founding partner at Curve Detroit, an advertising and design firm in Pontiac. "We open Red Bull, and we code."
He pointed to one hiccup in the Startup Weekend concept, illustrated by his own experience. Wollborg's idea, Detroit App Factory, won the last competition in 2010, but it hasn't gone anywhere since. Wollborg said time and money have been the restraining factors.
"What we had was a really nice PowerPoint [presentation], and some cool [game] characters, but we didn't have a business," he said. "A lot of people hit Sunday night and they go back to their lives, their families, their jobs ... a lot of things never go beyond Startup Weekend."
Wollborg suggested the events could be more effective if some kind of check-ins with and support for the winners continued after the first 54 hours.
Startup Weekend Detroit organizer Brandon Chesnutt agreed with Wollborg's critique and said the nonprofit is considering ways to push the developers' ideas beyond the weekend competition. A fifth Startup Weekend Detroit isn't scheduled yet, although Chesnutt said it could come as early as June.
Cahill, Chesnutt and Wollborg all said the event is as much about meeting people and making connections as advancing the business ideas themselves.
Wollborg described "a certain type of person" who comes to Startup Weekends. "Everyone in that room is so screwed up they gave up a whole weekend to keep working," he said. "When you put thinkers and doers together in a room, great things happen ... that's really energizing to be around."
REAL LIFE. REAL NEWS. REAL VOICES.
Help us tell more of the stories that matter from voices that too often remain unheard.
BEFORE YOU GO