If I had to give you the tl:dr on the LA Uncubed event last Friday, I'd say: They're hiring. Two small words, but with big import for the LA economy and the startup scene here.
Uncubed is a multi-city hiring market and class series. There are upcoming Uncubed conferences scheduled for Chicago (April 10), NYC (May 8) and San Francisco (Sept 24).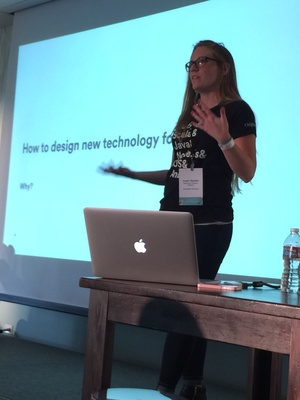 The LA event led off with a series of skills classes covering startup friendly topics like software engineering, hiring and data analysis. Nicolle Richard, lead product designer at Fullscreen, spoke about apps you should use to build robust, user-centric designs. Kenny Berlin, CEO of 12 Twenty, spoke about agile company building.
Josh Small, COO of Topline Game Labs, told me at the event that attracting good developers is getting harder, because the competition is deeper than ever, but LA's lifestyle is a magnet when trying to sign up good people. 'We have an office close to the beach,' works as a deal point for a lot of prospective hires. The diversity here is a plus for retention, too. A variety of cultures mingle in LA, and startups draw on a variety of home-grown talent sources, from media, coding, and tech. Silicon Valley can seem homogeneous by comparison.
Kenny Berlin, CEO of 12Twenty, which collects and manages student employment data and deploys a CRM system for universities, told me after his talk that the LA startup ecosystem differs from Silicon Valley's because of the sense of cooperation here. He felt he could call up any other CEO or CTO of any LA startup, and get advice.
Other startup founders and CTOs have told me about this cooperative nature of LA's startup ecosystem, and it surprised me at first. Viewed from the perspective of the VC community, and from the pitching competitions I've seem, the LA ecosystem would seem to be male, macho, mean, and scary. It is all that at times, but behind the scenes there is a sense of collegial cooperation.
'Everybody wants to help you,' Kenny told me. There is a sense of banding together to create an atmosphere of success for all startups working here.
Get hired by a startup, and not only can you expect to be part of a small, hard-driving team, with a chance to advance quickly, you might also be expected to push yourself outside of your comfort zone. This particularly applies to people hired in sales or marketing, or community-building positions in social media. You may be working Twitter and Facebook, but also calling prospects and designing PDF handouts for events, too.
Other prominent startups at the LA Uncubed event included SpaceX, Tinder, the dating app, Bottlenose, a platform for online social intelligence, Whisper, the anonymous social network, and Colony Logic, which makes enterprise business software.
If anyone ever tells me that LA startups are only about fashion or media, I will easily be able to correct them now. The variety of startups is reflected in the varied cultures here, and the industries that have thrived here for years, like aerospace, medical tech, media, and yes, fashion, as well as brand new data-driven industries that are just in the development phase. Startup culture is energizing the small business economy, and startup founders are looking for the right hires to fill out their rosters.
Photo Credit: Uncubed
Calling all HuffPost superfans!
Sign up for membership to become a founding member and help shape HuffPost's next chapter