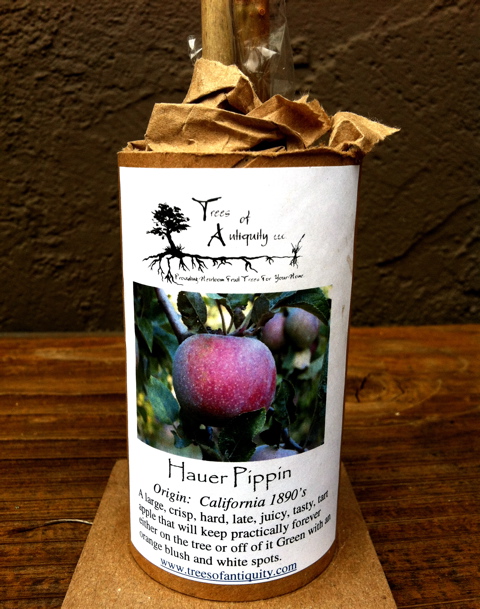 Photo Courtesy of Marin Organic (www.MarinOrganic.org)
Last month, Starwood Hotels and Resorts Worldwide held its 2012 annual sales conference in San Francisco, California. Over 2000 general managers and sales personnel from over 500 Starwood Hotels (Westin, St. Regis, Sheraton, Le Meredien, W Hotel) across the country converged at the Moscone Convention Center for the event. With this year's theme being Make your Mark, Michael Pace, general manager of San Francisco's luxury boutique W Hotel surprised the attendees by spearheading an initiative that would produce a million apples a year for Bay Area schools.
No chilled wine or gift basket was waiting in each hotel room for this sophisticated crowd. Nope. Instead, each attendee had a young organic heirloom apple tree patiently sitting beside their 100% goose-down feather pillow. Surprise! There was a note accompanying the sapling challenging the guest to keep the plant alive overnight.
The next morning the attendees were to bring the tree to the Moscone Convention Center to donate it to an assembly of students ranging from kindergarten to twelfth-grade from school gardens, community gardens and healthy school lunch programs in San Francisco, Berkeley, Oakland and Marin County. A number of trees would also be donated for production to Marin Organic, an innovative non-profit association of organic food producers in Marin County, California, with the intention that a portion of the annual harvest will support the organization's award-winning Marin Organic School Lunch and Gleaning Program, which gives access to healthy, local, organic food to 10,000 children, every week.
"Sustainability is my passion and I was asked to come up with one big idea that would go beyond the usual water or energy conservation so I brainstormed a bit," said Pace. "We tossed some ideas around about reforestation and then met with Helge Hellberg, the project consultant, who suggested we plant fruit trees. I knew Helge from when he was the director of Marin Organic, and I liked the idea of growing something edible but I didn't know where to get the apple trees. Helge said, don't worry. I know people! We all were delighted by the idea of our attendees visiting the city and then leaving a living legacy."
I asked Michael Pace if there were any diehard, city-slicker-sales managers from New York, for instance, like yours truly, who looked at the so-called apple tree and sputtered off a litany of obscenities and questions like Fruit tree? This is a stick. You gotta be kidding. Right? You think I was born yesterday? "Maybe somewhere in the group there were a few but I didn't witness it," he chuckled.
He was more concerned about the attendees actually reading the directions and bringing the sapling with them to the final event where the tree would be donated to the students. "That morning, I walked into the dining room of the W Hotel a little worried that they would have left the 'sticks' in their hotel rooms but to my great surprise there they were eating their eggs and toast and all of them had their little apple tree sitting on the table with them.'"
An hour later, a mass of Starwood Hotel managers handed the saplings to a crowd of cheering school children to carry the torch. "We were all taking pictures of the kids and the trees, and texting photos to our friends and family, "says Pace. "It was really a touching scene. I think being a part of growing these trees and knowing they will be feeding school children for many years ahead really brought out the human tenderness in us all."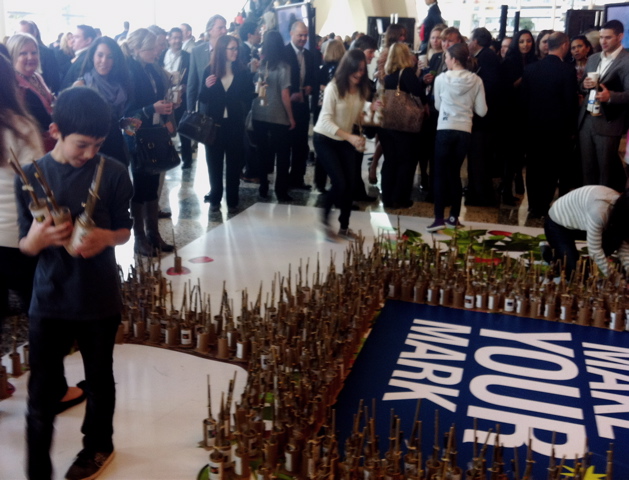 Photo Courtesy of An Organic Conversation Radio (www.anorganicconversation.com)
The trees fruit from mid-August to November, and some varieties will develop their peak flavor during storage, so the varieties selected were ideal for children and food service directors at schools. In four years and onward the total harvest is estimated to amount to about 150 lbs - 200 lbs per tree depending on the variety and if they are managed for maximum production. When managed for maximum production, this number could go as high as 250-400 lbs per tree. At 2,300 trees, the harvest is estimated to amount to a million apples, every year.
"The over 1,000 apple saplings donated to our Marin County farmers will ensure that many generations of children in our schools will be provided the healthiest source of organic apples," said Miguel Villarreal, Director of Food and Nutritional Services at the Novato Unified School District in Northern California. "This generous donation by Starwood Hotels will not only provide our students with local, whole, organic food, but also opportunities to educate the entire family about sustainable farming through gleaning efforts organized by Marin Organic at our local farms."
Villarreal was named one of the '2011 Food Heroes' by Jamie Oliver's Food Revolution for the work he has done phasing out processed junk foods high in fat and sugar, and introducing more organic options. Because of Villarreal and his staff, chocolate milk, sodas, cookies, pastries and juice have been removed from the cafeterias. They estimate that 400 pounds of sugar has been removed daily from the school menus, adding up to over 36 tons a year.
Apples? I know, I know. Who wants to eat fruits and vegetables? Kids want to buy junk food and slime-lime, speed-freak Big Gulps at the 7-Eleven on their walk home from school. Well, sadly that may be true but that doesn't mean we just give up on them and let the junk food industry turn our kids into ailing blobs.
America is rated number 1 globally in childhood obesity. We spend less on food, on a per-capita basis, than any other nation while more on medical services, on a per-capita basis, than any other nationality in the world. We've got some serious 'splaining to do when 75 percent of our health care dollars are spent on treating diseases such as heart disease, diabetes, cancer and hypertension which are caused or exacerbated by eating highly processed diets.
Okay, that was depressing. Let's get back to the happy heirloom saplings. Shall we? These carefully chosen certified organic, semi-dwarf heirloom apple saplings were specially grafted and grown at Trees Of Antiquity, near Paso Robles, California (www.treesofantiquity.com), one of the top certified organic nurseries in California and the country. The chosen apple varieties include: Grimes Golden, Hauer Pippin, Hudsons Golden Gem, Kidds Orange Red, Strawberry Parfait, Spitzenburg, White Pearmain, and Wickson. The trees will allow children in the San Francisco Bay Area to have access to local organic heirloom apples every fall, along with the opportunity to teach them about heirloom varieties and the different flavor of each tree.
"It is wonderful to see an international hotel group become a leader in the world of sustainable hospitality through LEED certified buildings, constant efforts to reduce energy, innovative recycling programs and many other initiatives, " said Helge Hellberg, Starwood's project consultant. " With this project, Starwood Hotels and Resorts Worldwide is now taking it even further and setting new standards for social and environmental leadership and a commitment to a sustainable future."
When asked how a swanky, hip hotel like the W, with its minimalist modern décor and its plethora of avant-garde media and creative types hanging out in the lounge-style lobby has won so many eco-awards,Pace replied, "I love to subtly surprise people with how much you can do and achieve ecologically without really looking different. We are a contemporary hotel. We are extremely modern yet we are one of the greenest hotels in the country. 95 percent of our wine list is organic. It's not rocket science. You just need the passion and determination to do it."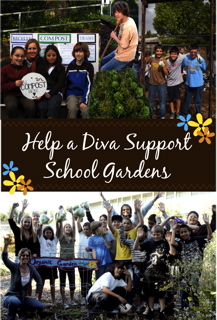 REAL LIFE. REAL NEWS. REAL VOICES.
Help us tell more of the stories that matter from voices that too often remain unheard.