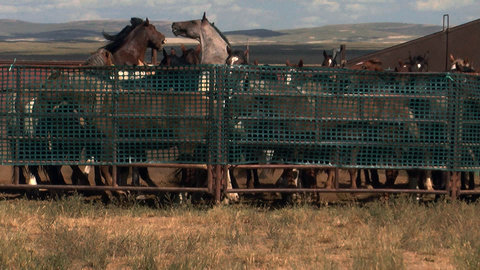 The Starz Denver Film Festival, now in its 36th year, opens this week with an impressive array of cinematic treats. More than 250 features, shorts, music videos and student films will be screened over the eleven day festival with plenty of pre-show parties, post-film panels, Red Carpet Galas and whispers in the Late Night Lounge. We'll roll out the Kleig lights for the soon-to-be-Hollywood-blockbusters; Labor Day, Nebraska, August: Osage County, At Middleton and the Red Carpet Galas that put the "festive" in the Festival, but it's the lesser known films that are often are the most memorable. The SPOTLIGHT ON COLORADO categoryAmerican Mustang, catches my eye.
Nothing embodies the spirit of the West like the iconic American mustang. Director Monty Miranda's full-length feature film of the same name brings these glorious beasts to full gallop in a sweeping tale that is part documentary, part character-driven narrative. Miranda, who attended the University of Colorado to study film and journalism, braids the history, mistreatment and majesty of the mustang with a touching story of a young girl, a wild horse and a cowboy. This is not Miranda's first rodeo; Starz Denver Film Festival 30 featured his directorial debut, Skills Like This. Miranda takes a turn here with American Mustang . His breathtaking images, shot in 3-D on the open ranges of eight western states, bring us a deep appreciation for the life of the mustang running free and are juxtaposed by the Bureau of Land Management round-ups and the captivity that is often their heartbreaking reality.
Executive Producer Ellie Phipps Price, brings Mustang home to Colorado where she spent her early years. Currently living in Sonoma, Ms. Phipps Price produces Dunstan Wines (from the Durell Vineyards) named after the first mustang she adopted from the BLM holding facility in Canyon City. Phipps Price wrote and developed the story's characters with Co-Producer/Co-Writer/Denver resident, Henry Ansbacher, basing them on extensive interviews with the people who live and work in the trenches for (and against) wild horse preservation. Narrated by actress and activist, Daryl Hannah, American Mustang is, in turns, sweeping and intimate; a visually stunning love song and call to action.
American Mustang premieres Thursday Nov. 7, 7 p.m. at the UA Pavilions with screenings Saturday Nov 9 at 2:00 pm (UA Pavilions) and Sunday Nov. 10, 7p.m. at the Wildlife Experience*
*Note: Tickets for this screening only available at www.thewildlifeexperience.org
I'll be covering the ins, outs, ups and downs of the Film Festival here throughout the event with insight and inside stories you won't get anywhere else.
Related
Popular in the Community