On July 13, Smith, who chairs the House Committee on Science, Space, and Technology, subpoenaed not only the two state AGs, but also eight environmental nonprofit groups. He said at the time that the AG investigations "amount to a form of extortion," "threaten legitimate scientific debate about climate change," and that his own actions were necessary to "protect the American people from further infringement of their free speech rights."
As of Tuesday evening ― the day before Smith's deadline for compliance ― it appeared not a single subpoenaed party was planning to hand over the requested communications.
"The committee's rationale for why they need this information is just nonsense," Ken Kimmell, president of the Union of Concerned Scientists, one of the eight nonprofit groups, told The Huffington Post. "And what this really is ... it's a committee of Congress coming to the defense of a private company that's under investigation."
In its 10-page letter, Schneiderman's office called the subpoena an "unprecedented effort to target ongoing state law enforcement" investigations and potential prosecutions ― one that "brings us one step closer to a protracted, unnecessary legal confrontation." The New York AG "objects to the subpoena and cannot, and will not, comply with it," it wrote.
Healy's office took things a step further in its lengthy 20-page letter, calling Smith's actions an "affront to states' rights." 
"Attorney General Healey will not yield to this blatant attempt to chill her investigation into Exxon's conduct," her office wrote.
Both offices argued the First Amendment does not shield or protect fraud.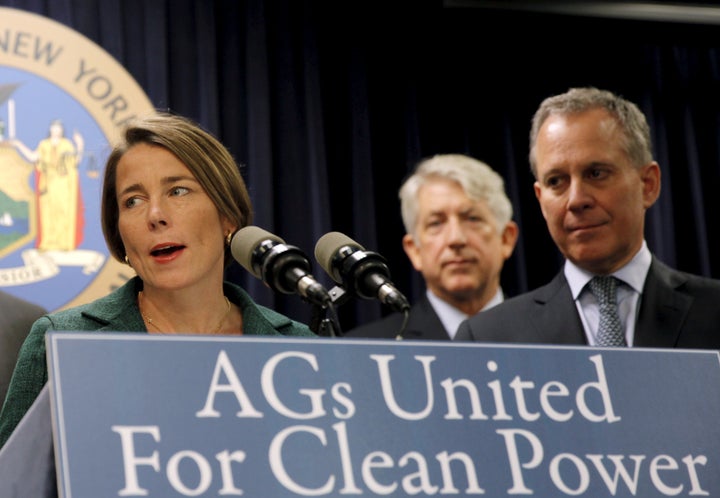 Last November, Schneiderman subpoenaed Exxon seeking documents related to allegations that the company lied to the public and its investors. In March, Healey announced that her office would join the Exxon Mobil probes in New York and California. In June, Exxon filed a lawsuit against Healy in an effort to bar a so-called civil investigative demand from her office.
Also this spring, a larger coalition called AGs United for Clean Power formed after reports by InsideClimate News and the Los Angeles Times found that Exxon executives were aware of the climate risks associated with carbon dioxide emissions, but funded research to cover up those risks and block solutions.
Despite a mountain of evidence against big oil, Smith and other Republicans maintain that the probes threaten free speech rights ― an argument that has been a go-to defense for the industry. Environmental groups, however, say the subpoenas are just the latest example of Exxon and its allies in government working to intimidate and silence industry critics.
Smith issued a statement Tuesday saying his committee was "disappointed" in the attorney generals' refusal to comply with "lawfully issued subpoenas," the Boston Globe reports.
"These actions only raise additional questions about why the AGs refuse to be open and honest about their coordination with environmental extremist groups," he reportedly said. "The Committee will use all tools at its disposal to further its investigation."
It's somewhat unclear what will happen next, as Smith's attempt to obtain information related to state attorney generals' ongoing investigations appears to be a first. Both attorneys general, however, requested in their letters Tuesday that if Smith further pursues compliance of the subpoenas, they be given an opportunity to be heard by the full committee.
Anything less, Schneiderman's office wrote, "would show a profound disrespect for the important constitutional interests at stake." 
Calling all HuffPost superfans!
Sign up for membership to become a founding member and help shape HuffPost's next chapter
BEFORE YOU GO
PHOTO GALLERY
Here's What The 10 Leading GOP Candidates Think Of Climate Change