WASHINGTON -- With marriage equality gaining support nationwide, opponents are scrambling to figure out how to stop, or at least delay, the seemingly inevitable flood of change. Increasingly losing in the courts and in the court of public opinion, state legislators are now introducing bills that would allow businesses, religious organizations and even public servants to not recognize same-sex marriage and discriminate against gay individuals.
"This is about giving a license to employees and businesses to discriminate against same-sex couples in all manner of anything that could even remotely be seen as related to the marriage itself," said Sarah Warbelow, state legislative director at the Human Rights Campaign. "So it's not just the wedding. An employee could say, 'I refuse to process benefits for a same-sex couple who's getting domestic partner benefits. ... A restaurant owner could say, 'Oh, you're here celebrating your anniversary? You need to leave, because I won't act in furtherance of your relationship.'"
Evan Hurst, associate director of the Chicago-based Truth Wins Out, equated the bills in an interview with Mother Jones to the "Jim Crow-style" laws in the South that targeted African Americans.
"It's backlash, for sure," said Warbelow, referring to the sudden spree of these bills. "It's a reaction to what's happening in the courts around the country, and frankly, the other legislatures as well."
In Tennessee, activists feverishly worked with the business community and members of the legislature to raise awareness of the bill, SB 2566, which came to be known as the "Turn the Gays Away" bill. It would have protected businesses that denied services related to a civil union, domestic partnership or same-sex marriage.
Chris Sanders, president of the Tennessee Equality Project, was at the center of the fight against the measure and helped come up with the nickname for SB 2566.
"We just used [the name 'Turn the Gays Away'] consistently to give folks a clear picture of what the bill does. And that helped us immensely in media and with our members to get them to know there's clear and present danger here," he said. "When the bill was released, our marketing and leadership team met and we settled on that name, and I think that helped."
The Tennessee Equality Project also mobilized its activists around the state, getting them to call all the members of the State Judiciary Committee, where the bill was being considered. It also worked with the business community to put pressure on lawmakers.
"We have a professional lobbyist who worked on strategy with business associations in the state to talk to legislators and say, this is really not good for the image of Tennessee. So I think we had a good coordination between our professional lobbying and our grassroots, and just thousands of people responded," said Sanders.
A key opponent of the bill was AT&T Tennessee, whose president, Joelle Phillips, publicly came out against the measure.
State Sen. Brian Kelsey (R), the original sponsor of the bill, had dropped it because of responses from his constituents. Sen. Mike Bell (R), who picked it up from him, also dropped it Tuesday, effectively killing it for now. He said he was convinced that "current Tennessee law protects our business owners from the type of lawsuit harassment we've seen in other states," and therefore SB 2566 was not necessary.
AT&T also intervened in another state. Kansas AT&T President Steve Hahn spoke out against the bill there, HR 2453, arguing, "This legislation is impossible to implement. The bill promotes discriminatory behavior by businesses against their customers; and, it interferes with AT&T's management of our employees. It eliminates the use of fair business practices with customers in Kansas."
HR 2453 went even further than the bills in some of the other states, allowing government employees to refuse to serve same-sex couples. Although the measure passed the House last week, state Senate President Susan Wagle (R) made clear the bill has no immediate future in her chamber.
"After an initial review, I've grown concerned about the practical impact of the bill," she said last Thursday. "A strong majority of my members support laws that define traditional marriage, protect religious institutions, and protect individuals from being forced to violate their personal moral values. However, my members also don't condone discrimination. If we cannot find ample common round to ease legitimate concerns, I believe a majority of my caucus will not support the bill."
But in Arizona, LGBT activists are fighting an uphill battle. A measure that would allow discrimination on the grounds of religious freedom passed the state Senate Wednesday and is expected to also pass the House when it heads there.
Twenty-nine states already have what is known as Religious Freedom Restoration Acts, which aim to block new laws that inhibit the free expression of religion, but these new laws go further.
"Certainly no state in the country has a law that explicitly says it's fine to discriminate against same-sex couples with regard to wedding-related services," said Warbelow.
But, she added, the growing support for LGBT rights may doom these bills in the end.
"I think particularly for states in the South, they're tired of being seen as unwelcoming and not accepting of gay people, when it just isn't true in so many regions of the South," said Warbelow. "And so to have a bill that just paints Southern states in this negative light once again is really upsetting to many residents of these states."
Before You Go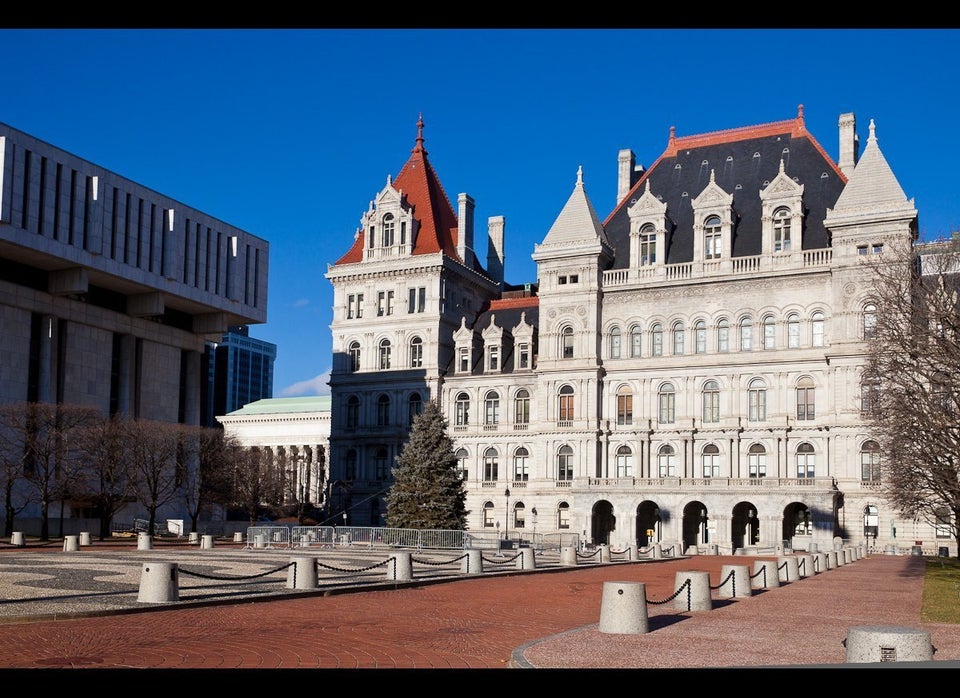 Gay Marriage In The United States
Popular in the Community