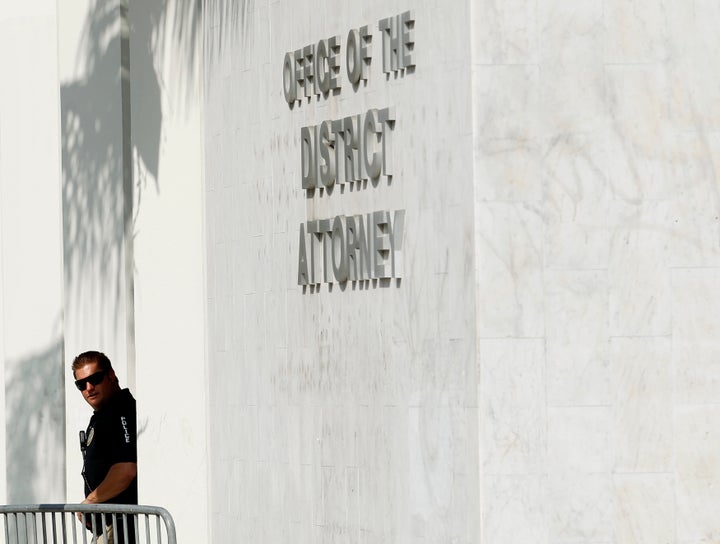 The State Bar of California has recommended that a prosecutor from the beleaguered Orange County District Attorney's Office be suspended for at least a year after finding that she willfully withheld evidence from a defendant during a child abuse case.
In a ruling filed this week, state bar Judge Yvette Roland recommended that veteran OCDA prosecutor Deputy District Attorney Sandra Lee Nassar be placed on a three-year probation with at least the first year including a suspension from practicing law.
"A prosecutor's failure to timely turn over exculpatory and impeachment evidence is extremely serious misconduct," Judge Roland wrote in an opinion published this week. "Even when facing difficult situations, such as the protection of witnesses, prosecutors must operate within the confines of the law."
OCDA did not immediately respond to request for comment.
The accusations of misconduct stem from a 2011 child abuse case that Nassar was prosecuting. Nassar accused Carmen Iacullo, the boyfriend of Orange County resident Lori Pincus, of abusing the woman's 5-year-old son. Pincus also faced charges of child abuse and of acting as an accessory to child abuse.
While Iacullo and the boy's mother were held in a local county jail in 2011, Nassar requested a "mail cover" to track correspondence between the pair, enabling staff to intercept the mail, copy it, and provide it to Nassar for review before it was sent to its intended recipient. 
By 2012, the boy's mother pleaded guilty to both charges against her and agreed to testify against Iacullo. Later in 2013, Nassar was transferred into a new unit, as part of her office's regular rotation of assignments, and the prosecution for the case was taken over by another OCDA prosecutor, Deputy District Attorney Jennifer Duke.
Duke found that the mail cover had amassed more than 1,000 pages of correspondence. Concerned at the sizable collection of documents, she asked Nassar if the pages had been turned over to the defense ― prosecutors are obligated to turn over any evidence that could be favorable to a defendant ― and Nassar responded, "Why would I?" according to the ruling.
Failing to turn over the mail cover materials seemed odd to Duke, the ruling states, so she discussed it with her supervisor who confirmed to Duke that the materials should have been turned over to Iacullo's defense team.
The letters contained critical details about the case. One letter, the boy's mother writes to Iacullo that she knew he "didn't do what they're saying" because he wasn't home during the time of the abuse, but that "they accused me of lying to protect you." 
Duke would go on to hand the materials over to the defense and also cancelled the mail cover. 
During a 2013 hearing, Superior Court Judge Thomas Goethals, asked Nassar why she never turned over the documents. Nassar said "it relates to trial strategy," arguing she wasn't required to turn over Pincus' letters with exculpatory information to Iacullo's defense because it was already in Iacullo's possession. 
Goethals would ultimately recuse her from the case. 
"I don't know if [Nassar] doesn't know what the law is," Goethals said. "That's no excuse. Ignorance of the law for an experienced prosecutor for engaging in Brady misconduct is not a reasonable excuse either. That was a willful violation." 
State bar Judge Roland said the court found Nassar's testimony about the issue "deeply disturbing," especially as the prosecutor said she would engage in the same conduct again. 
"In her capacity as a prosecutor, [Nassar's] lack of insight on this subject represents a tremendous threat of future harm to the public and the administration of justice," Roland's ruling reads.
The disclosures in the letter cache ultimately would lead prosecutors to negotiate a plea with Iacullo, who ultimately pleaded guilty to child abuse and received a 12-year prison sentence. Iacullo had faced a maximum sentence of life in prison for the original charges.
Roland's recommendation for disciplining Nassar, who according to court records had no previous record of misconduct, will now go before the state Supreme Court for approval. 
Orange County prosecutors are no strangers to allegations of misconduct. For years, prosecutors at OCDA have been accused of egregious misconduct linked to illegal use of a jail informant program and the withholding of evidence gleaned from it. 
The informant scandal has led to the unraveling of more than a dozen murder, attempted murder and felony assault cases in the county and threatens to upend countless more. Just last month, Scott Dekraai, the shooter in the worst mass killing in Orange County history, was sentenced to eight consecutive life terms in prison without the possibility of parole, rather than receiving the death penalty, because of government misconduct linked to a jail informant program. In a rare move, Goethals excluded the death penalty as a punishment option after concluding that county prosecutors and sheriff's deputies had engaged in misconduct in the use of the county's now-notorious jail informant program.  
REAL LIFE. REAL NEWS. REAL VOICES.
Help us tell more of the stories that matter from voices that too often remain unheard.
BEFORE YOU GO
PHOTO GALLERY
The Huffington Post's Jail Deaths Project