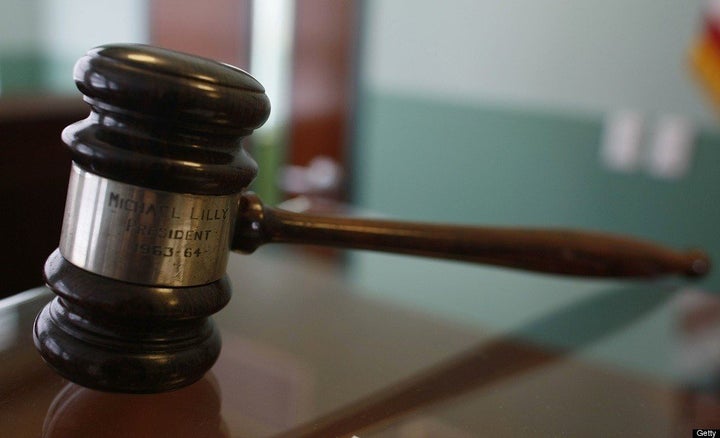 WASHINGTON -- Brian and Patty Baxter's daughter wasn't even two years old yet when they moved into their place in New Hampshire in 1996. The landlord had recently sanded and repainted the apartment, making it seem fresh and new.
That good deed would punish the Baxers. The old paint was contaminated with lead and by sanding it off, the landlord had turned the entire place into a waste pit for lead paint dust -- an especially toxic environment for a baby.
The Baxters filed suit in 2001, when the effects of the lead poisoning became more apparent in their daughter. Ten years later, their case still hasn't been heard.
"My clients are besides themselves," said attorney Chris Seufert of Seufert Law Offices, who is representing the Baxters. "Their child is ready to graduate from high school. She was poisoned when she was 18 months, and now she's going to be a high school graduate! I mean, come on!"
The case has gone on so long that his partner, who was originally the lead attorney on the matter, has retired.
"This is the greatest thing since sliced bread for the insurance industry, because a plaintiff who's an injured victim can't get their day in court," Seufert added.
Seufert doesn't blame any one person within the judicial system for the delay. And this sort of lag time is not unique to the Baxters or the state of New Hampshire. But it is becoming increasingly common, a trend that worries everyone from judges to legal aid workers to businesses who want to bring their own claims to court. An analyst with the National Center for State Courts said nobody is cataloguing the precise overall decline in funding for state courts but that the cuts have been deep and sustained.
"In the past few years, state court budgets nationally have been declining," said Greg Hurley, senior knowledge management analyst at the National Center for State Courts. He pointed out that unlike many government agencies that can cut inventory or or pare back purchases, the courts facing cuts have to quickly trim jobs, since personnel makes up such a large portion of their budgets.
The deep budget cuts to judicial funding, coupled with an uptick in filings, are causing significant delays at the state level, similar to what the Baxters are experiencing. It's true that state lawmakers are dealing with tough economic circumstances, but many court advocates bristle that the third branch of government is being treated as nothing more than a state agency begging for scraps.
Courts are trying to cut costs even in the smallest ways. In Georgia, the state Supreme Court's chief justice had to ask research database company LexisNexis for pens and pencils to give to her law clerks. Elsewhere, plaintiffs and defendants have to bring their own paper.
Compounding the problem is the fact that these cuts are coming as the need for access to the courts is increasing, with Americans looking for solutions to the foreclosure crisis and employment disputes arising from the economic recession.
Stephen Zack is president of the American Bar Association (ABA) and has established a Task Force on Preservation of the Justice System, which has been conducting hearings and gathering stories for a report about about the funding crisis facing the courts.
"No one can deny the economic issues have impacted [court funding]," said Zack. "But there are people who really think the courts get in the way," -- people, for instance, who may be facing lawsuits for lead poisoning -- "and they actually don't have any desire to fully and actively fund them, because it's easier to do what you want that way. ... When it comes to prioritizing -- and that's what legislatures do -- they've got to see the judiciary as fundamental, not a luxury."
To cope with the cuts, courts are having to freeze or reduce salaries, lay off staff, reduce operating hours, increase the fines and fees paid by the public and leave positions for judges and support staff unfilled.
Several radical strategies are being considered to fully fund the judiciary. Some people are looking at establishing state citizens' groups that determine the judicial budget, subject to a veto by the governor and legislature. Others are considering a constitutional attack, arguing that the failure to adequately fund the judiciary is a violation of the U.S. Constitution under the separation of powers clause.
The attack on courts at the state level is coinciding with one of the worst federal judicial crises the country has seen. When Democrats took control of Congress in 2007, they had little interest in confirming President Bush's arch-conservative judicial nominations, knowing they'd likely hold the White House if they simply waited it out. But President Obama has been slow to nominate his own judges and the ones he does send up are often denied even a vote.
Today, there are 92 judicial vacancies on the federal level. Many highly qualified nominees, such as Goodwin Liu, have been blocked because of ideological and partisan fights in the Senate; others have gotten snagged in unrelated squabbles.
The problem is so severe that it prompted Supreme Court Chief Justice John Roberts, the conservative legal scholar nominated by President George W. Bush, to call on the Senate to approve more of President Obama's nominees.
Former Supreme Court Justice Sandra Day O'Connor has said the courtroom is "the one safe place where a person can have a fair and impartial hearing to resolve a legal issue and we have to keep that."
That safe place is disappearing.
"What's happening now is that the United States justice system as we all remember it is being dismantled and butchered down," said former New Hampshire Supreme Court chief justice John Broderick. "At some point, I guarantee you, you'll wake up and say, 'What happened?'"
NEW HAMPSHIRE: TRYING TO PROTECT THE 'LEAST POWERFUL'
New Hampshire's court budget is approximately $70 million per year. While that may sound like a significant amount for a small state, to put it into perspective, the state prison system gets about $104 million a year.
Broderick served on the New Hampshire Supreme Court from 1995 until November 2010, and he was chief justice for the last seven years of his term. He is now the dean and president of the University of New Hampshire School of Law.
In an interview with The Huffington Post, Broderick said that every year he was chief justice, the budget was cut. When he arrived, there were 620 people behind the counters at their 43 court sites. That number has now fallen to 470 because of all the cuts.
[Keep reading for a map showing the cost-cutting measures courts have taken.]
"No other branch of government has lost that percentage of their staff," Broderick lamented. "We are down about 12 percent in judicial positions, which when I was chief, we asked the governor not to fill -- not because we didn't need them, but because we didn't have the money within our budget to fill them. We were using those vacancies and those judicial slots to pay the rising health care costs and rising benefit costs."
This cut in funding coincides with a rise in the number of people who are coming to the courts without representation, in large part because they can't afford an expensive lawyer in the tough economy. When people don't have a lawyer to represent them and explain the court system's complicated procedures to them, they need extra assistance from judicial staff -- who are now in short supply because of the budget cuts. "Often the people who come without lawyers are the least powerful people in our society, so they don't have much political clout, and no one's worried about their votes," said Broderick.
And most people's direct experiences with courtrooms don't exactly leave them with fuzzy feelings, leaving little public sympathy for the branch. Part of the reason it's so easy for legislatures to cut court budgets, in fact, is that there isn't a core constituency to lobby against the cuts. When lawmakers think about what to cut, they'll hear far less outcry if they cut court budgets than if they cut health care for children or low-income families, or subsidies for energy producers.
Neither New Hampshire House Speaker William O'Brien (R-Mont Vernon) nor Majority Leader D.J. Bettencourt (R-Salem) returned requests for comment.
Last fall, a group of plaintiffs filed a lawsuit against the state of New Hampshire, seeking "sufficient funding of the judicial branch of State government to enable it to meet its obligations to our fellow citizens."
Among the plaintiffs were a couple locked in a custody dispute with the wife's parents to regain permanent guardianship of their young children.
On June 15, 2010, the couple's lawyer -- Kirk Simoneau of the firm Nixon, Vogelman, Barry, Slawsky and Simoneau -- filed a motion for visitation, asking the court to let the parents see their children.
Two weeks later, the court issued an order granting exactly what Simoneau had asked for. The problem, however, was that Simoneau didn't receive the order until September, despite his repeated calls to the court asking if the order had been granted. It had been sitting in a pile of papers that court staff had not yet gone through, simply because there were not enough staffers to get through it expeditiously.
What prompted Simoneau to finally get a call about the long-lost order in September was that the day before, a story had run in a state newspaper about the large lawsuit against the state.
"It's completely ridiculous," said Simoneau. "You sue the state and you make the big papers, you get a hearing in a week. You try to get your kids back, you wait for your order for three months. That's fair."
Court delays don't just hit individuals. Businesses have also been frustrated by delays, which force them to spend more money on litigation and less on creating jobs and products.
"If a case is scheduled for trial or a hearing, and that trial or hearing gets put off, everyone has to re-prepare. So resources of the business are devoted to that -- including the time of employees, including executives, and there's a cost to that, as well as the expense of lawyers," said attorney Richard Samuels, who is on the board of directors of the Business and Industry Association of New Hampshire, which acts as the statewide chamber of commerce and business advocate.
"Businesses that have to be diverted from the business of business and spend more money on litigation -- well, that's not good for the employees of business and the populace, in this case, of New Hampshire as a whole," he said.
Click on a state to see the cost-cutting measures courts have taken. (Information from the National Center for State Courts. Map created by The Huffington Post's Jake Bialer.)
CALIFORNIA: ABSORBING THE LOSSES
California courts are in the middle of trying to absorb the $350 million in cuts legislators handed down in an attempt to balance the state budget. One local newspaper dubbed it "Courtmageddon."
Twenty-five of San Francisco's 63 Superior Court chambers will be shutting down, and 200 of its 480 employees will be let go.
"It will take a year and a half to get a divorce in San Francisco and to get a child custody order. If you file suit, we won't do anything with your case for five years," San Francisco Superior Court spokesperson Ann Donlan said.
The state legislature reduced the court's budget by $200 million in March. H.D. Palmer, a spokesman for the California State Department of Finance blamed the legislature for refusing to pass Gov. Jerry Brown's (D) budget submitted in May, which did not include any additional reductions to the judicial branch's budget.
"Back [in May], the governor was proposing that the temporary tax increase levels that were scheduled to go off the books on June 30 were to be extended until a vote of the people could be had later on this year," said Palmer. "But in the May revision, it was indicated that if the governor's proposal were not to go forward, we had to go to what would essentially be an all-cuts budget, and a number of additional reductions would have to go on the table. One of those would be a further reduction to the judiciary's budget."
The result was an extra $150 million cut from the California judiciary's funding, resulting in a $350 million reduction to a $3.5 billion budget. Over the last three years, the court system has seen a 30 percent cut in state general funds.
"It falls on the public that relies on the California courts, at a time when they're the most vulnerable," said Los Angeles Superior Court Presiding Judge Lee Smalley Edmon. "The public looks to the courts to protect them from harm, to reunify them with their children, so that they have a forum to resolve their business disputes and force contracts. All that is at risk when they don't have a court system to come to."
The economic impact of these cuts could potentially be much larger. A December 2009 study by Rob Weinstein and Stevan Porter of Micronomics, Inc. looked at what the economic impact on Los Angeles County would be if the state significantly cut funds to the Los Angeles Superior Court system.
In addition to the expected losses of jobs and tax revenue, the uncertainty created by the delays in the legal system could ripple throughout the local economy. Businesses, for example, would be "less prone to invest and expand operations" while waiting for the verdicts in their cases.
"Litigants do not know the outcome of their dispute until it is resolved," the report concluded. "Until then, they operate in the presence of uncertainty, the effect of which is commensurate with the amount at issue."
LEGAL AID: THE LAST RESORT
Legal aid is one of the only options for people who need representation but lack the resources for a pricey attorney. But even that avenue is facing severe funding cuts at the federal level.
The Legal Services Corporation (LSC) is the national nonprofit that distributes funding for 136 legal aid branches around the country. Under a GOP proposal from the House Appropriations Committee, the organization's funding would be cut to $274.4 million from its current $378.6 million -- a 27.5 percent reduction. Representatives from the House Appropriations Committee did not return a request for comment.
The potential cuts are deeply troubling to legal aid groups nationwide.
Community Legal Services of Mid-Florida, Inc. receives approximately $3 million of its $7 million budget from LSC. Larry Glinzman, the group's public relations and campaign manager, said that the funding loss would be a huge blow as the organization finds its help sought by an increasing number of Floridians.
Without the assistance of legal aid, according to Glinzman, courts will see the problem of people coming in without representation compounded.
"What happens when we get cut is more people go in [to the courts] without any assistance or advice or representation at all, which means that they most likely end up in the worst situation -- losing their home and all the negative consequences of answering the questions wrong or not having the information," he said. "People can walk away, lose their house and still have tax consequences 20 years down the road. There's more of that because there's less of us to go and assist them."
Foreclosures are a major reason for the uptick in people seeking help from legal aid and the court system. But the recession has also led to an increase in the number of domestic violence and employment cases.
Melanie Shakarian, attorney and director of development at the Legal Aid Society of Cleveland, Ohio, said her organization gets about $2 million a year from LSC. The number of incoming domestic violence cases has doubled in the last three years.
"Often when there is a bad economy, domestic violence has increased and our intake of domestic violence cases has doubled," said Shakarian. "We're also at the epicenter of the foreclosure crisis here in Northeast Ohio. ... About 25 percent of our cases last year were foreclosures. Our intakes of those have gone through the roof in the last three years, and we anticipate the number of landlord-tenant [disputes] will increase."
Silvia Argueta, executive director of the Legal Aid Foundation of Los Angeles, is seeing the same trends.
She is worried that steep cuts to legal aid will undermine the basics of American democracy, in which every person is entitled to access to justice.
"The founding fathers really looked to equal access to justice," she said. "Legal aid has been the bellwether for that. ... It's a fundamental constitutional protection to ensure that you have a civil society, that you have those individuals who are able to access the court and the system, and legal aid has traditionally provided that."
Popular in the Community