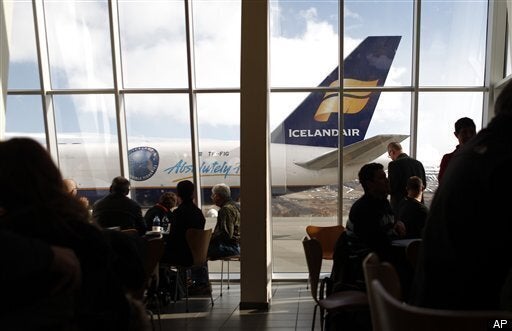 After volcanic activity in Iceland on April 14th caused air space closures in England and around Europe, stranded English travelers received assistance quickly while efforts to assist US citizens stranded abroad seem to be lagging.
In response to the unprecedented flight ban, the U.S. State Department website was quick with explanations, rather than solutions, as to why no evacuation plans had been arranged to assist the approximate 40 thousand U.S. Citizens stranded in England.
A representative with the State Department confirmed that the U.S. government had orchestrated no emergency evacuations, reporting that they instead referred all stranded U.S. citizens to their local embassy.
On April 20th, five and a half business days after the initial volcanic disruption, Philip J. Crowley, Assistant Secretary with the U.S. Department of State discussed the U.S. government's response to the crisis during a daily press briefing.
"We just decided yesterday we needed to have a more intensive look at this and monitor it on an ongoing basis," Crowley said. "But we have been focused on this since late last week, but now we have a team that is actually on an ongoing basis receiving reports, engineering calls, and also seeing what impact it has on our overall State Department operations.''
Crowley went on to describe the State Department's actions.
"We've taken a number of actions. Embassies have dispatched consular officers to airports to check in with Americans and see what their needs are. We are helping Americans with recommendations on low cost lodging and other alternative travel arrangements, how to fill prescriptions, how to wire funds if citizens are running low. In particular, our Ambassador Lou Susman in London met with a couple of groups of Americans today. We've installed some computers in the waiting area outside of the consular section so we make sure that citizens have access to the latest travel information."
The U.S. embassy in London fielded calls from displaced Americans and took down many thousands of names. But, ultimately, they were only able to assist the most financially strapped, offering loans to cover unexpected hotel, food, and other expenses.
When asked what the US government was planning to do to help citizens stranded abroad, embassy officials reported that they had no information beyond what what was available in the news. They have reported the urgency to Washington, and suggested to at least one stranded US citizen that calls should be made to congressmen and women.
"Look, if your inference is that we haven't been paying attention to this, we have been paying attention to this," responded Crowley to an insinuation that the State Department had not done enough. "As you get into day five, day six of what is a unprecedented situation, certainly in terms of -- I mean, you go back to reports of volcanoes in the 18th or 19th century -- but this has had a profound impact on the aviation transportation system in Europe."
The U.S. Embassy did not provide much more help to stranded American travelers. Their website urged moored Americans to contact their airlines, but one stranded passenger complained that, because of long waits and international charges, these calls to rebook canceled flights alone were often as expensive as $100 per call.
During the air restrictions, the E.U. and British governments increased ferry services and used a military ship to help assist their citizens. The private cruise line, the Queen Mary 2, with a two-thousand person capacity, room prices ranging from $1,250 to $23,000, remained the only sea-based recourse for stranded U.S. citizens.
Prior to Iceland's volcanic activity, the Queen Mary 2's schedule departure for New York on April 22 was only half full. When air spaces closed, the waiting list grew to well over 600 names. Their next cruise is not until May 15th, but it too had a waiting list while air space remained closed.
Nicole Thompson from the Press Office of the U.S. Department of State reiterated the importance of traveler safety, but blamed universal problems for the delays.
"The safety and security of Americans citizens overseas is the top priority of the Department of State," Thompson said. "The staffs of U.S. embassies and consulates throughout Europe continue to do everything possible to assist U.S. citizens who are understandably frustrated and inconvenienced by flight cancellations caused by the volcano. Unfortunately, U.S. Government evacuation options during the volcanic ash fall were constrained by the same factors that affected commercial transportation."
Improved weather conditions, decreased ash spew and changes in rules regarding acceptable ash levels in flyable air spaces allowed largely for air spaces to reopen on April 21.
Popular in the Community