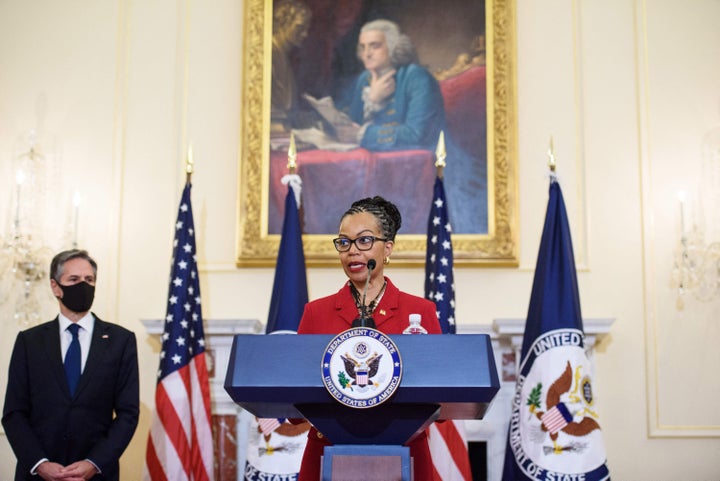 The State Department's first chief diversity and inclusion officer, retired Ambassador Gina Abercrombie-Winstanley, is leaving her post, Secretary of State Antony Blinken announced on Tuesday.
"The only way to ensure our foreign policy delivers for the American people is to recruit and retain a workforce that truly reflects the American people," Blinken said in a statement. "Thanks to Gina's leadership, the Department has made significant progress to live up to our commitment to create a more inclusive workplace."
Abercrombie-Winstanley did not respond to HuffPost's requests for comment.
Abercrombie-Winstanley's appointment in April 2021 attracted significant attention. The powerful agency has long been dominated by a "pale, male and Yale" ethos that excluded historically marginalized individuals, like women and people of color, and tolerated workplace harassment and discrimination with few options for holding abusers accountable. President Joe Biden and Blinken repeatedly promised to prioritize diversity work, with Blinken telling Congress he saw the issue as a barometer by which to measure his success as secretary.
But change has been slow and procedures for reporting mistreatment remain byzantine and lacking, multiple current and former State Department officials told HuffPost earlier this year. In one instance, a Biden nominee for a senior State Department job is facing a sexual harassment accusation that congressional staff believes the department has failed to properly investigate ― yet HuffPost found the State Department had no plan to address their concerns.
Reacting to the news of Abercrombie-Winstanley's departure, a U.S. official said her appointment ultimately ended up being "a box-checking exercise."
"This was a missed opportunity because a lot of the changes were performative and it didn't get to the heart of structural reform," said the official, speaking on condition of anonymity.
The departing diversity officer "did everything she wasn't supposed to do according to her own report," argued a State Department official, referencing a report produced by a task force at the Truman Center for National Policy think tank that Abercrombie-Winstanley co-chaired. She "just became a talking head with no substance. It let people off the hook from doing the real work."
The official requested anonymity for fear of professional repercussions.
Some 44% of State Department personnel have experienced discrimination, harassment or bullying while on the job, according to an unpublished survey of employees conducted last year and reviewed by The Wall Street Journal. Most people in that group said they did not report the issue due to fear of retaliation or because they did not think there would be any consequences.
Meanwhile, lawmakers and advocacy groups repeatedly raised the alarm last year about Fritz Berggren, a diplomat who runs an antisemitic website. In April, the department told Jewish Insider it was still employing Berggren.
A State Department spokesperson sent HuffPost a fact sheet offering the agency's view of Abercrombie-Winstanley's accomplishments. The document cited the publication of a strategic plan on diversity, equity, inclusion and accessibility ― noting that the State Department was one of few government agencies to publish such a plan ― and creation of a leadership council and data working group. It added that her office made tweaks to the department's hiring processes and handling of settlement agreements.
In her first major media interview in her role, Abercrombie-Winstanley told HuffPost she foresaw an uphill battle but was serious about reform ― and that the process could get ugly.
Traditionally, the agency asked staff "to put your head in the sand, to ask employees to suffer and … suck it up," she noted.
"Everything before us is difficult," Abercrombie-Winstanley said. She added that she hoped to soon "be out of a job."
Despite Biden's emphasis on improving diversity at national security agencies, many observers have soured on his approach. "We were simply political props for this administration," one Biden appointee in touch with a group of disaffected staff at such departments recently told HuffPost.
Popular in the Community