 Environmentalists are fuming over the conclusion from the State Department that the Keystone XL pipeline -- a fiercely-debated proposal to transport heavy crude from Alberta's oil sands deposits 1,700 miles to the U.S. Gulf Coast -- would be "environmentally sound."
The government claims in the report released on Friday that the pipeline project wouldn't significantly alter climate change. Such an assessment is at odds with the warnings of experts and advocates -- more than 40,000 of whom recently convened in Washington to rally against Keystone. The report also is inconsistent with President Barack Obama's renewed pledge to tackle global warming, environmentalists said.
James Hansen of the NASA Goddard Institute and Columbia University is among top climate scientists who have argued that approval of the pipeline would essentially mean "game over" for the climate.
"To say that the tar sands have little climate impact is an absurdity," Hansen said in a statement on Friday evening that followed the late-day release of the State Department's draft environmental impact statement. The report, which focuses on the northern portion of the proposed pipeline, makes no recommendation about whether the project should be built, cheering the oil industry.
The European Union's climate commissioner, Connie Hedegaard, told The Huffington Post in an interview on Thursday that she had been "interested to see" the impact assessment. She emphasized the importance of acknowledging that greater greenhouse gas emissions result from the extraction and burning of tar sands oil, compared with normal crude oils.
A study published in January by the advocacy group Oil Change International bolstered this point. The pipeline project, it concluded, would have more profound effects on the climate than previously thought, due largely to the oft-overlooked emissions of petroleum coke, a refinery byproduct from tar sands oil.
The State Department's new impact statement also suggested that Alberta's oil sands would be developed at pretty much the same rate with or without Keystone.
Hansen refuted that claim as well.
"The total carbon in tar sands exceeds that in all oil burned in human history, and if the pipeline is built, ways will be found to extract more and more of it, burning fossil fuels during the extraction and destroying the local environment," Hansen said.
Stephen Kretzmann, executive director of Oil Change International, offered a similarly skeptical view. "Please. If this were true, why would the Canadian government and the oil industry be hell-bent on building it? They know it's key to their expansion, and so do we," he said in a statement. "The State Department is overlooking the fact that the pipeline is likely to trigger at least 450,000 barrels per day of additional tar sands production capacity."
The State Department's assumption doesn't necessarily agree with what industry itself has been saying in recent months. The climate advocacy group 350.org has posted quotes from the industry that the group said show that stopping Keystone would mean vast amounts of tar sand oil will stay in the ground,.
"All of the crude oil export pipelines are pretty much full, running at maximum capacity," Vern Yu of Enbridge Inc. told The Globe and Mail in November. "And we're not likely to see any meaningful capacity added to these networks until the end of next year."
Obama in January 2012 rejected pipeline operator TransCanada's original route for the Keystone pipeline, citing environmental concerns. The State Department report considered TransCanada's revised route. Obama has said he'll decide whether to approve the pipeline this year.
Not surprisingly, Friday's signal from Washington was met with support from pro-pipeline Republicans and industry groups.
"Today's report again makes clear there is no reason for this critical pipeline to be blocked one more day," House Speaker John Boehner (D-Ohio) said in a statement. "After four years of needless delays, it is time for President Obama to stand up for middle-class jobs and energy security and approve the Keystone pipeline."
"It is time for our leaders to make a decision. ... Canada's did a long time ago," Daniel Kish, senior vice president of the industry-backed Institute for Energy Research, said in a statement. "Too many are hurting and too much is at stake for any more time or money to be wasted on trivial matters and long addressed and re-addressed chimeras advanced by opponents of any and all affordable sources of energy."
Hedegaard was hesitant to offer specific recommendations for the Obama administration's domestic policy. "How Americans will deal with Keystone is up to Americans," she said.
But the climate commissioner warned of the danger in simply extracting "all the fossil fuels that we can find in the world." As HuffPost reported earlier on Friday, doing so would jeopardize any hope of keeping the increase in global temperatures below 2 degrees Celsius -- a benchmark agreed to by world leaders as critical for avoiding the most dangerous effects on the climate system.
Europeans were cautiously optimistic after Obama gave substantial attention to climate change in both his inaugural and State of the Union addresses, according to Hedegaard. A similar attitude has permeated U.S. environmentalists working to slow climate change.
Friday's news may have quelled much of that optimism.
"President Obama and John Kerry have eloquently pledged to respond urgently to climate change," Daniel Souweine, of the climate change advocacy group Forecast the Facts, said in a statement.
If the State Department's determination becomes final, Souweine added, "it would mean that these speeches were empty words that will do nothing to help the millions of Americans whose lives and livelihoods are already being destroyed."
Before You Go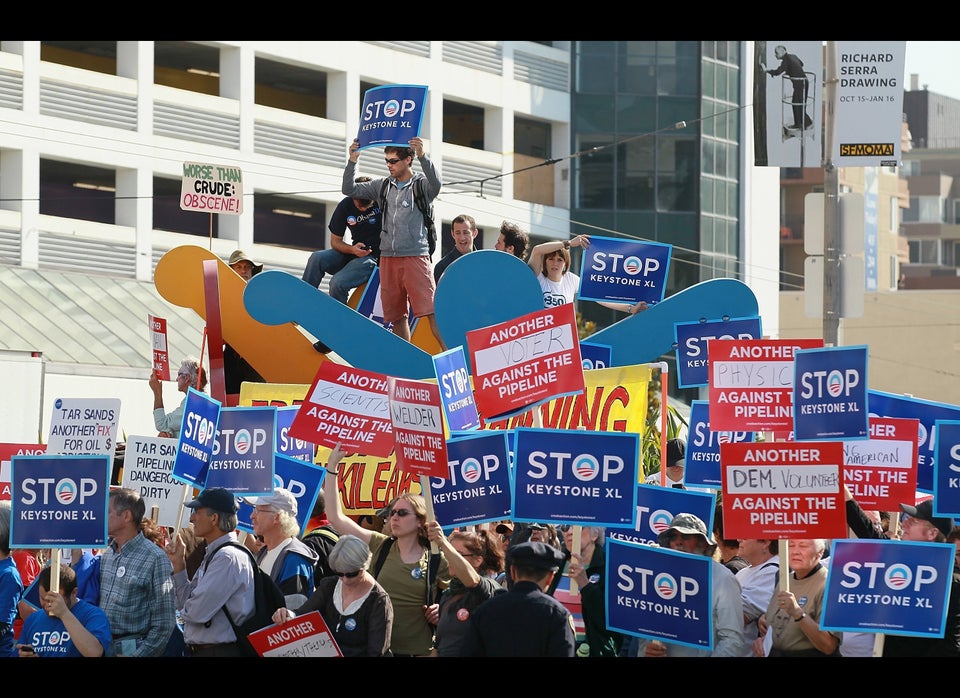 Keystone XL Protests
Popular in the Community