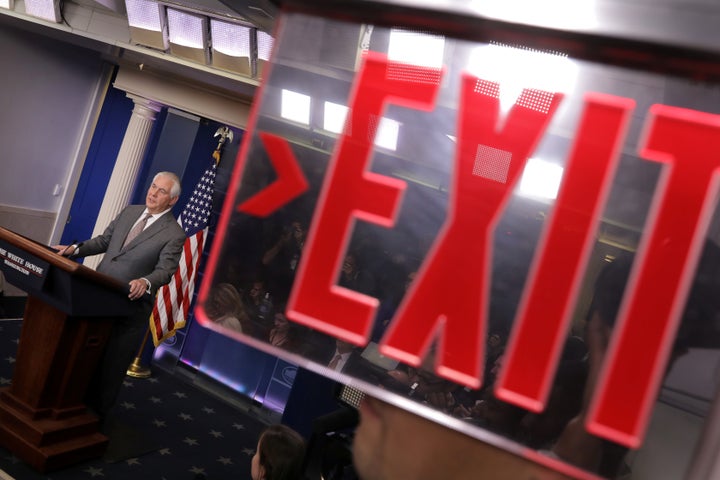 The senior official charged with remaking the State Department in Secretary Rex Tillerson's image has resigned after three months on the job, an agency spokesman confirmed to NBC on Monday.
Maliz Beams, who was touted on the State Department website as having led "highly successful organizational transformations" at various financial firms, stepped down as a counselor to the department and said she would return to Boston, according to the spokesman's statement. Tillerson's deputy chief of staff, Christine Ciccone, will "step in to lead the Redesign effort."
"We appreciate Maliz sharing her expertise with us over the past few months," the spokesman said. "We wish her the best of luck in her next venture."
Tillerson has launched a dramatic campaign to reorganize the State Department since taking office earlier this year, including the hiring of two consulting firms to help spearhead the changes. He has called the effort "the most important thing" he can do as secretary and has pledged to slash the department's budget and push out thousands of career diplomats.
"If I accomplish that, that will go on forever, and you will create the State Department of the future," Tillerson said of the reorganization during a September speech at the U.S. Embassy in London.
"The amount of talent leaving the State Department endangers the institution and undermines American leadership, security and interests around the world," they wrote. "We remain profoundly concerned over what appears to be the intentional hollowing-out of our senior diplomatic ranks."
Republican lawmakers ― including Sens. Bob Corker (Tenn.), chairman of the Foreign Relations Committee, and John McCain (Ariz.), chairman of the Armed Services Committee ― have said those concerns are "bipartisan in nature."
Tillerson, for his part, has denied that spirits at the department are low.
"I walk the halls, people smile," he told Bloomberg in October. "If it's as bad as it seems to be described, I'm not seeing it, I'm not getting it."
Popular in the Community