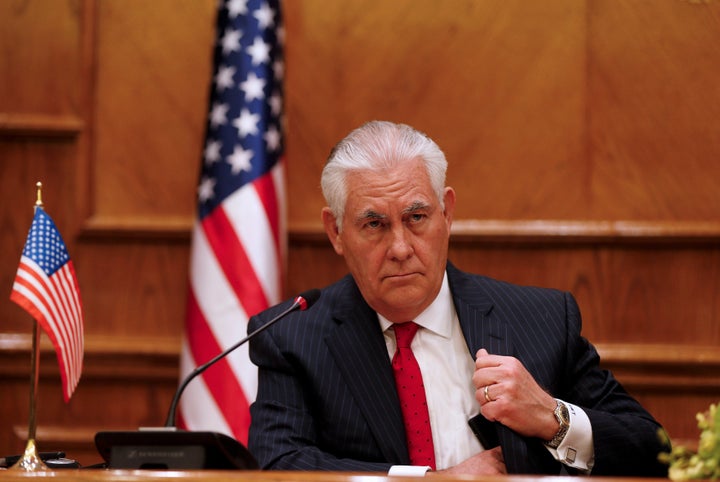 Despite the massive budget, Secretary of State Rex Tillerson has done little to thwart a sweeping influence campaign by the Russian government, and an office tasked with countering such efforts has no employees that even speak Russian due to an ongoing hiring freeze.
Tillerson himself has continued to doubt the ability of his department to combat Russia, and just last month said that if Moscow wanted to meddle, it was "going to find ways to do that."
The report comes as American intelligence officials and lawmakers warn that the Kremlin is, once again, working to influence upcoming elections, using a coordinated campaign of social media trolls and disinformation in an attempt to sway voters.
Congress directed the Pentagon to give $60 million to the State Department in late 2016 to combat such efforts. But the Times reported Tillerson took seven months deciding if he should spend the money, and when the agency finally asked for it, the fiscal year was almost over and the request denied.
Another $60 million became available for the next fiscal year, but both State and the Department of Defense have been at loggerheads over how much money to send over. After media outlets, including the Times and Politico, began asking about the funding, the Pentagon said last Monday it would direct $40 million to the State Department sometime in April.
Rather, State's Global Engagement Center would use the funding to develop means to combat social media campaigns to influence voters. The Times notes the office could do so by crafting anti-propaganda projects, or amplifying pro-democracy voices.
President Donald Trump has done little himself to combat Russian meddling. Rather, he's moved to deny the influence of Moscow in his own election, despite many of the nation's leading intelligence agencies saying otherwise.
When Special Counsel Robert Mueller indicted 13 Russians last month for such interference, Trump tweeted that his campaign "did nothing wrong" and once again emphasized that there was "no collusion!"
Regardless of the president's opinions, however, intelligence officials warned last month that Russia was using the internet once again to sow discord among American voters.
"We expect Russia to continue using propaganda, social media, false-flag personas, sympathetic spokespeople and other means of influence to try to exacerbate social and political fissures in the United States," Dan Coats, the director of national intelligence, told the Senate in February. "There should be no doubt that Russia perceives its past efforts as successful and views the 2018 U.S. midterm elections as a potential target for Russian influence operations."