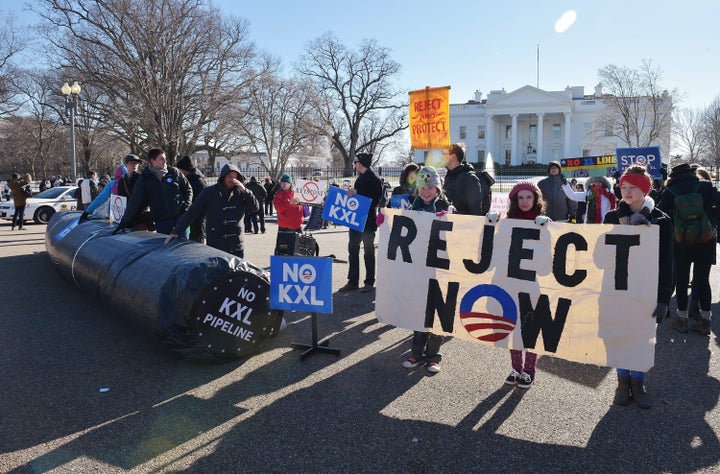 WASHINGTON -- The State Department on Wednesday rejected developer TransCanada's request that it halt its review of the Keystone XL pipeline. 
TransCanada asked the department earlier this week to pause its review, which has stopped and started a few times over the course of seven years. The State first received the permit application in 2008. 
The developer wanted the State Department to hold off on any decision until the Nebraska Public Service Commission completed its review of Keystone's route through the state. The move appeared to be a last-ditch effort by the company to push a final decision into the next presidency.
"We have communicated our decision to continue our review and we've communicated that in writing today," State spokesman John Kirby said Wednesday.
The pipeline, a project of TransCanada, would carry oil sands from Canada to Gulf Coast refineries. The southern leg of it is already built and carries oil from Cushing, Oklahoma, to the Gulf.
Oddly enough, TransCanada's reason for asking the administration to put a hold on the review has been used by the White House itself when it decided to pause the process. 
"I'm fairly confident in telling you that in the secretary's view, respecting the process in this is respecting the time, and resources, and the energy, and effort that went into the review process to date," Kirby said. 
TransCanada spokesman Mark Cooper said the company would "respect the decision." 
"Our efforts will continue to demonstrate that Keystone XL is in the national interest of the United States," Cooper added. 
The pipeline's profile has risen throughout its review process, becoming a target for the environmental movement to combat climate change. But proponents argue it's impact on the environment is minimal compared to other industrial sources like cars and power plants. 
Over the past year, President Barack Obama's comments about the pipeline have been increasingly critical, causing both opponents and supporters alike to predict the project will ultimately be rejected by the president. 
The White House has said Obama plans to make a decision on the pipeline's fate by the time he leaves office. If he denies the pipeline's permit, however, TransCanada can and likely will reapply to build the pipeline when the next president takes office -- especially if Republicans win the White House. 
PHOTO GALLERY
Least Environmental Senators
Calling all HuffPost superfans!
Sign up for membership to become a founding member and help shape HuffPost's next chapter