Previous administrations have served dishes like boiled mutton (the Washingtons), aspic (the Kennedys), hot dogs (the Roosevelts), and Grand Marnier soufflé (the Reagans)--read more about that here--and the Obamas' first state dinner will be similarly innovative.
CBS White House Correspondent Mark Knoller reports that tonight's dinner, prepared by guest Chef Marcus Samuelsson and White House Executive Chef Cristeta Comerford, will feature Indian-inspired dishes. All the wines are American.
Potato and Eggplant Salad
White House Arugula w/ Onion Seed Vinaigrette
2008 Savingnon Blanc, Modus Operandi, Napa Valley
Red Lentil Soup w Fresh Cheese
2006 Riesling, Brooks "Ara", Wilamette Valley
Roast Potato Dumplings w Tomato Chutney
Chick Peas and Okra or Green Curry Prawns w caramelized Salsify w smoke Collard Greens and coconut aged basmati
2007 Granache Beckman Vineyards, Santa Ynez, CA
Pumpkin pie tart
Pear tatin
Whipped Cream and Caramel sauce
Sparkling Chardonnay, Thibaut Janisson Brut, Monticello, VA
Petits fours and Coffee
Cashew Brittle
Pecan Pralines
Passion fruit and vanilla gelees
Chocolate dipped fruit
Twitpics posted by Mark Knoller and courtesy of Frank Thorp of CBS News. What do you think? Scroll down to vote in a poll.
The tables: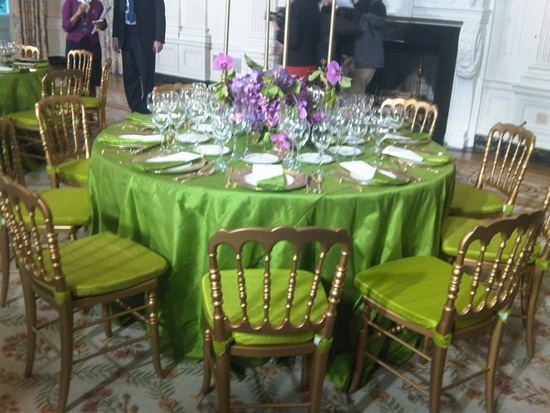 The place settings: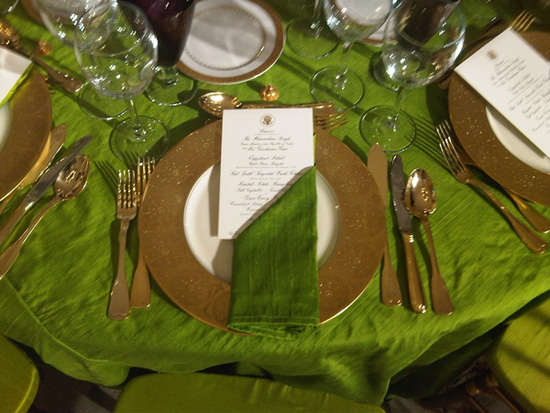 The menu: