Editor's Note: Lesley Blume's piece below originally ran on the occasion of the Obamas' first White House state dinner honoring Indian Prime Minister Dr. Manmohan Singh, for which Marcus Samuelsson was the guest chef. Rick Bayless guest-cheffed their second state dinner for Mexican President Felipe Calderon. (View Samuelsson's state dinner menu here and Bayless's menu here.)
In anticipation of tonight's third state dinner honoring Chinese President Hu Jintao, we thought we'd have a look again.
* * *
Tonight President Obama and Mrs. Obama will host their first state dinner at the White House, honoring Indian Prime Minister Manmohan Singh. Few events are more glamorous than these; they make Vanity Fair's famous annual Oscar party seems like kindergarten in comparison. A thousand egos must perish on the vine when state dinner invitations go out and don't land on certain doorsteps.
After all, as author Peter Schifando says in his book Entertaining at the White House with Nancy Reagan, "a published list of guests is taken as a barometer of who is in favor and who is out."
Social politics (not to mention political politics) aside, state dinners also offer a barometer of another sort: they showcase the state of American culture - and this time around, the world is eager to see Obama-lot revive the glamour of Camelot's grand fetes. After all, state dinners and other similar events allowed the Kennedys to show the world a new side of our country: one premised on youth, chicness, and a uniquely American cultural sophistication.
"State dinners [are] not just an opportunity to show off American hospitality," says one-time First Chef Walter Scheib in his book White House Chef: Eleven Years, Two Presidents, One Kitchen. "They are a chance to parade American food and wine before the world."
For more than 200 years, American presidents and their wives have used state dinners to display the best that America has to offer. In this special edition of my Lets" Bring Back column (which celebrates forgotten events, objects, personalities, and pastimes from bygone eras), I've looked into how some First Couples have touted American cuisine - and by extension, American identity - in the past.
It's fascinating to see how presentation and palates have evolved over the years, and how historical context and presidential personality all influence this facet of American showmanship. Yet one thing has always been consistent: the desire to make a distinct impression.
Below, the Kennedys tout the virtues of aspic, the Franklin Roosevelts scandalize the polite world with an all-American entrée, and George Washington gives new meaning to the phrase "no frills."
PHOTO GALLERY
State Dinner Menus of Eras Past
* * *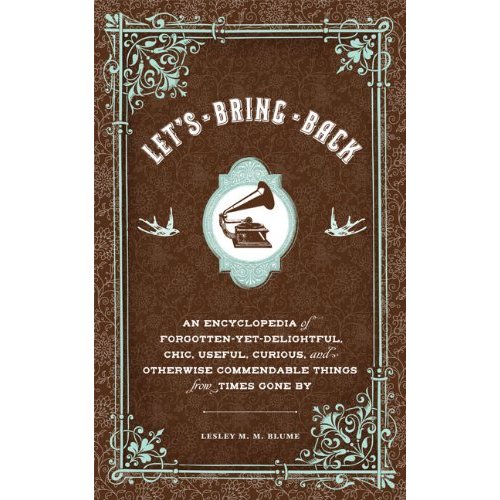 BUY THE BOOK: Click here to purchase Let's Bring Back.
Follow Let's Bring Back on Twitter: @LetsBringBack
For publicity inquiries, please contact April Whitney at Chronicle Books: April_Whitney@chroniclebooks.com
REAL LIFE. REAL NEWS. REAL VOICES.
Help us tell more of the stories that matter from voices that too often remain unheard.