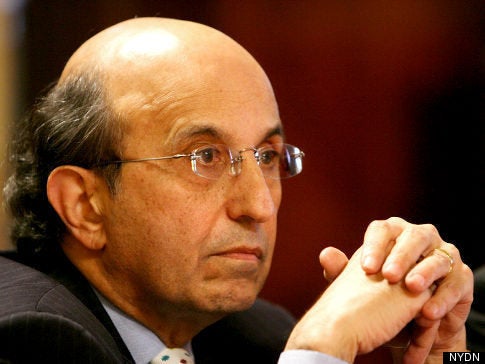 During the past few days I have received emails from friends and readers wanting to know my response to the resignation of Joel Klein as New York City Schools Chancellor and Mayor Michael Bloomberg's nomination of Cathie "Hearst" Black to succeed Klein. It took me a couple of days to clarify the issues for myself. Here is my reply.
New York City Councilmember Charles Barron and Assembly representative Inez Barron (they are married as well as political allies), are spearheading a campaign to block the nomination of Cathie "Hearst" Black as New York City's next Schools Chancellor. According to a press release issued by the Barrons, "Bloomberg's decision to appoint Cathie Black is arrogant, absurd and unacceptable." Before Black can serve as Schools Chancellor, New York City will have to submit a waiver proposal to the State Education Department explaining her "exceptional qualifications" for the position.
I agree with the Barrons. But not only do I want the appointment blocked, I want the State Education Department to use this as an opportunity to launch a full-scale investigation of the Bloomberg-Klein regime's performance while in charge of the city's public schools during the past eight years. Personally, I would like to see dictatorial Mayoral control over the schools end and be replaced by a system of checks and balances that includes a decision-making role for the City Council as well as for parents and teachers.
Basically, the entire situation in New York City stinks. During the Bloomberg-Klein regime, test scores have been inflated, parents were ignored, teachers and their representatives were berated and scapegoated, and students were shifted around between equally ill-performing schools.
Klein is jumping ship now that the State has reassessed student test scores on standardized exams and discovered that the supposed student improvement was largely a sham. In 2008, Bloomberg and Klein testified at a Congressional hearing that they had found the "magic bullet" that would improve the academic performance of inner city minority youth. They claimed, "Over the past six years, we've done everything possible to narrow the achievement gap" between White and Asian students and Black and Latino students and "in some cases, we've reduced it by half." But when New York State reconfigured scoring guidelines to make standardized tests better predictors of student academic performance, passing rates plummeted, especially for Black and Latino students. On some tests passing rates dropped by 25% and the performance gap between Blacks and Latinos and Whites and Asians climbed significantly higher. The racial achievement gap is now at the same level as it was when the Bloomberg/Klein team took control over the city's school system in 2002.
Leonie Haimson of the advocacy group Class Size Matters charges that Klein is leaving behind a legacy of classroom overcrowding, communities fighting over the placement of new mini-schools, kindergarten waiting lists, unreliable school grades based on faulty test scores, the abandonment of the arts and humanities in favor of intensive test prep. Meanwhile, the teachers are working without a contract, which promises a new round of confrontation between the Department of Education and the people who are responsible for educating our children.
Not only is Klein jumping ship, but he is going to work for the enemy. His new job will be as an executive vice president for Rupert Murdoch's News Corporation (owner of Fox News) where he will earn millions of dollars promoting entrepreneurial opportunities in education. As far as I can tell, that means finding ways to dismantle public school systems so private companies can move in and make mega-profits at the expense of taxpayers, parents, teachers, and children.
Mayor Bloomberg nominated Cathie Black to replace Klein after a secret search that was so secret no one in the New York City Department of Education or the New York State Education Department even knew that Klein was leaving. No real search was ever done and no effort was made to find a candidate with the credentials to run a major school system. Bloomber described Black as "a superstar manager who has succeeded spectacularly in the private sector." Black is the chair of Hearst Magazines, which publishes Esquire, Cosmopolitan, Seventeen, and Good Housekeeping. What Bloomberg neglected to mention was that this world-class manager was demoted over the summer from president of Hearst Magazines, the position where she actually managed things.
If anything, when it comes to operating a public school system, Black's life experience makes her even more clueless than Joel "Clueless" Klein. As a girl she attended Catholic private schools in Chicago, and she later went to a religious college. She owns two homes. A ten million dollar co-op on Park Avenue in Manhattan and a Connecticut estate where her children attend boarding school. Her husband is a lawyer and wealthy Republican donor.
Suspiciously, Black continues the Murdoch connection. Since this summer, she has served on the advisory board of a well-financed Manhattan charter school. Murdoch is co-chair of the board.
There is an online petition to New York State Education Commissioner David Steiner demanding that he deny the waiver needed to appoint an unqualified candidate as the new School Chancellor. You can sign the petition at petitiononline.com/DenyWaiv/.
Related
Popular in the Community