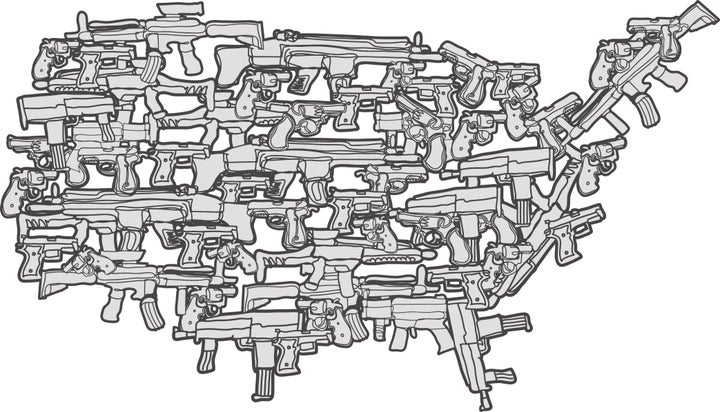 With gun violence claiming more than 30,000 lives in the U.S. each year, there's plenty of debate over how, or if, public policy can drive these numbers down toward the rates seen in the rest of the developed world.
Many lawmakers on Capitol Hill, along with their powerful allies in the gun lobby, maintain that trying to do so is pointless, which could help explain why Congress hasn't passed a single piece of gun control legislation in recent years. But a new study released this week could add to a growing wealth of research that calls into question the supposed ineffectiveness of gun regulations.
The Law Center examined state gun laws across the country, assigning points to those that have enacted measures like universal background checks for all gun sales, prohibited domestic violence offenders from accessing guns and limited bulk firearms purchases. Among other measures, it deducted points from states that have expanded access to guns in schools and bars, allowed concealed carry in public without a permit or passed "Stand Your Ground Laws" -- which remove the duty to retreat and allow people to shoot potential assailants, ostensibly in self defense.
The states that ended up with the most points received the best grades. Perhaps unsurprisingly, heavily blue states like California, New York and Massachusetts scored the highest, among the six that earned A-minus grades. Deep red states like Kansas, Mississippi and Wyoming scored the lowest, among 26 states that got failing grades.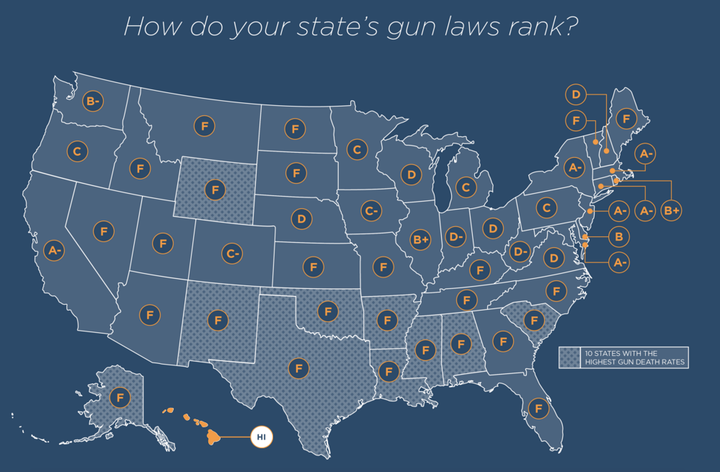 The Law Center then looked at the rate of gun deaths in each state, tallying homicides, suicides and other accidental shootings from the Centers for Disease Control's 2013 Fatal Injury Report, the latest year for which data is available. The report found that the gun death rate tends to get higher as firearms laws get weaker. In fact, the average gun death rate in states with failing grades was more than twice as high as it was in those with A grades.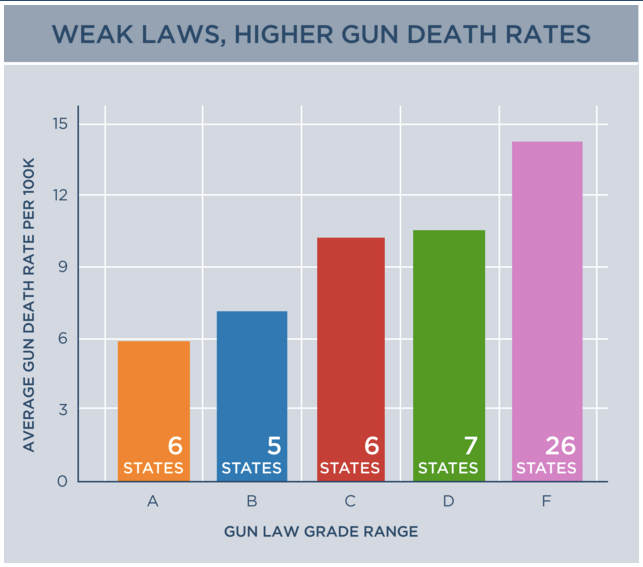 While the study demonstrates a strong correlation between weak gun laws and increased gun violence deaths, it doesn't directly prove causation. And indeed, as other studies have suggested, the rate of firearms-related fatalities may be affected by a variety factors, such as poverty and educational attainment.
But the Law Center study does reinforce previous research that suggests gun laws and gun violence are connected. Last year, the Violence Policy Center compared rates of gun ownership against gun deaths in 2011, finding that deadly gun violence was more common in states with weak gun laws and higher rates of firearms ownership.
Other academic studies have similarly found that in places where more people have guns, more people get killed with them -- including in suicides. In 2014, a report on "right-to-carry" laws, which let people carry concealed firearms in public and are often held up by gun advocates as crime deterrents, found that such laws were "associated with substantially higher rates" of aggravated assault, rape and robbery. In others words, more guns didn't result in less crime.
Further research has shown that while the U.S. has a disproportionately high murder rate in the developed world, other nations see rates of non-lethal violence that are somewhat close, suggesting that our problem is in part due to the pervasiveness of guns. This flies in the face of the pro-gun argument that people who want to kill will simply find another way to do so, even if they can't get a firearm.
No study has been able to show that any U.S. law can prevent gun violence entirely, or even impede any single, horrific incident. As we look at the shootings that tend to attract national attention -- often mass murders, like in San Bernardino -- it's hard to find examples in which a specific policy would clearly have stopped a shooter. Laws are obviously not unbreakable, and the gun measures being proposed and adopted in the U.S. are far less expansive than those often touted in other nations, like Australia. But if we view gun violence as a broader public health problem, research increasingly shows that stronger regulations on firearms are connected with reductions in fatal shootings.
If stronger gun laws can indeed save lives, the Law Center said several states will soon see such benefits. Since the 2012 mass shooting at an elementary school in Newtown, Connecticut, 41 states and Washington, D.C., have passed 125 new laws intended to prevent gun violence. These include provisions to strengthen background checks and allow families and law enforcement to file "gun violence restraining orders," which can empower a court to temporarily remove firearms from individuals who have exhibited behavior that could make them a danger to themselves or others.
Still, several states -- many of which already experienced higher concentrations of gun deaths, according to 2013 numbers -- have further weakened their laws since Newtown. These new measures include lowering barriers for gun purchases and reducing restrictions on where firearms can be carried, among others.
Despite the persistent disagreement on the merits of gun control at both the state and federal level, Robyn Thomas, executive director of the Law Center, said she's happy with the movement she's seeing.
"While Congress has shamefully failed to act on widely supported firearms policies like universal background checks and prohibiting gun possession by those on the terror watch list, we have seen encouraging, lifesaving progress at the state level," she said in a statement. "The 2015 Gun Law State Scorecard shows that smart gun laws make a real difference. State legislators can make their communities safer by enacting common-sense gun laws, following in the footsteps of states like California and New York. Change isn't just possible -- it's happening."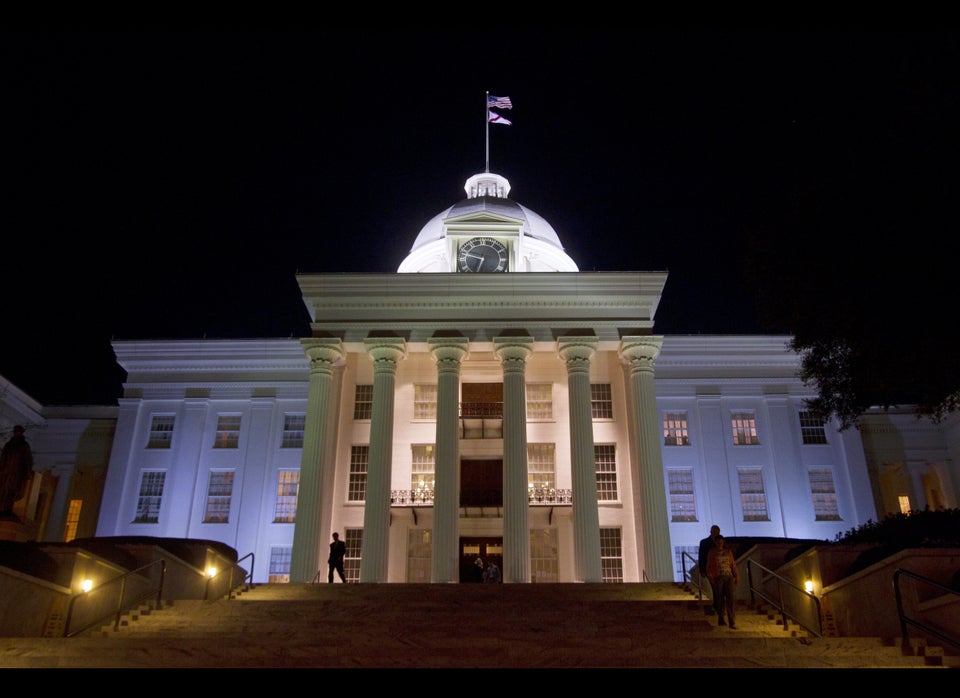 U.S. State Capitol Buildings
Popular in the Community