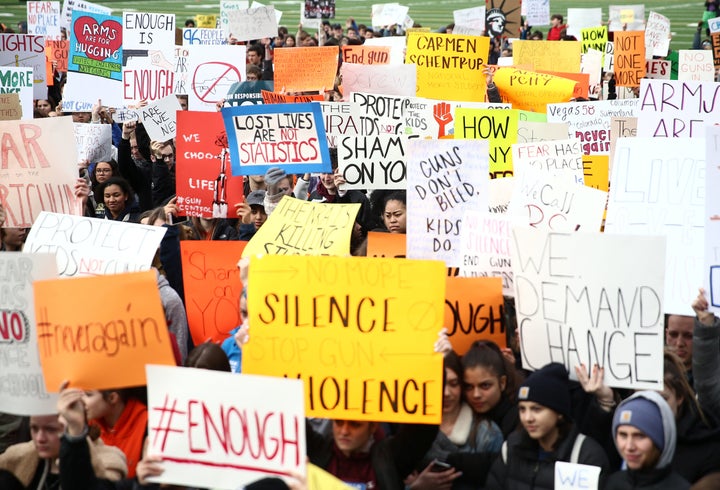 In the wake of mass shootings in Las Vegas; Sutherland Springs, Texas; and Parkland, Florida, millions of Americans have rallied behind a budding movement of student activists demanding legislative change. Their calls may not have resonated in Congress, which hasn't passed a major gun control law in nearly a quarter-century, but a new report finds that lawmakers in 26 states have picked up the slack, passing 55 gun safety bills in just five months since the Parkland massacre.
It's a nearly unprecedented period of success for firearms safety advocates, according to the Giffords Law Center to Prevent Gun Violence, the national nonprofit that tallied the bills. Fear of the gun lobby and its supporters appeared to fade somewhat this year.
"Increasingly, lawmakers are understanding that inaction in the wake of tragedy is no longer acceptable," Allison Anderman, managing attorney of Giffords, said in a statement. "The horrific tragedy at Marjory Stoneman Douglas in February brought renewed fervor to the demand from Americans everywhere for our lawmakers to take action to save lives from our gun violence crisis."
The state-level initiatives that passed cover a number of areas, from strengthening background checks and keeping firearms away from domestic abusers, to funding urban gun violence prevention programs and restricting access to certain types of weaponry.
Some of most popular measures were enacted in response to the particulars of recent high-profile shootings.
This year, eight states banned bump stocks and other firearms accessories designed to accelerate a weapon's rate of fire, following reports that the Las Vegas gunman had outfitted more than a dozen semi-automatic rifles with bump stocks. When his 10-minute attack was over, he had sprayed more than 1,000 rounds of fire into a crowd of concertgoers, killing 58 people and injuring more than 500 in the deadliest mass shooting in U.S. history. Add those states that earlier banned bump stocks and similar devices, and nearly a dozen states now have such laws on the books.
Eight states have passed "red flag" laws since the Parkland shooting, allowing family members or law enforcement to petition to have firearms removed from individuals who pose a danger to themselves or others. Supporters of such legislation say it can prevent domestic violence and suicides. They also argue that it would make it easier to disarm people like the young man now charged in the Marjory Stoneman Douglas High School massacre who showed a pattern of disturbing and violent behavior before the shooting.
In the past, gun safety bills have often been caught up in partisan disputes in the state legislatures or vetoed by Republican governors. That, too, appeared to change this year, as GOP governors in 15 states signed such measures into law, according to Giffords.
"We've seen governors from every part of the country sign strong gun safety laws this year, showing just how formidable the gun safety movement has become," Robin Lloyd, director of government affairs at Giffords, said in a statement.
In March, Florida Gov. Rick Scott (R) broke with the National Rifle Association ― which had previously given him an A-plus rating ― to sign a set of bills that included a red flag measure and a hike in the minimum age to purchase a firearm from 18 to 21. Another provision allows trained school staff to carry handguns.
There were signs of movement even in deep-red Louisiana, Kansas and Tennessee, all of which strengthened laws prohibiting people convicted of domestic violence from owning guns.
Mass shootings have ignited vigorous debates about firearms in the past, but the public outcry has rarely translated into the sort of concrete action seen in recent months. In the year after the massacre at Sandy Hook Elementary School in Newtown, Connecticut, nearly two-thirds of the new gun laws passed at the state level were actually designed to ease restrictions and expand the rights of gun owners, according to a 2013 analysis by The New York Times.
States have also passed a few measures to further loosen gun laws in the months since the Parkland shooting. But many of these efforts have fallen short. Gun safety advocates defeated measures in 19 states to put more weapons in schools and stymied proposals in 14 states that would have allowed people to bring firearms onto college campuses and other locations, according to Giffords.
With more than 33,000 shooting deaths across the U.S. each year, gun safety advocates are optimistic that the tide is beginning to shift in their favor.
"There's no going back now," said Lloyd. "We'll continue to build on these efforts so that we can better address our country's gun violence crisis and as a result, save lives."
The 26 states that have passed at least one bill to end gun violence since Parkland are: California, Connecticut, Delaware, Florida, Georgia, Hawaii, Illinois, Indiana, Kansas, Louisiana, Maryland, Massachusetts, Nebraska, New Jersey, New York, Ohio, Oklahoma, Oregon, Rhode Island, South Dakota, Tennessee, Utah, Vermont, Virginia, Washington and Wisconsin.
Popular in the Community