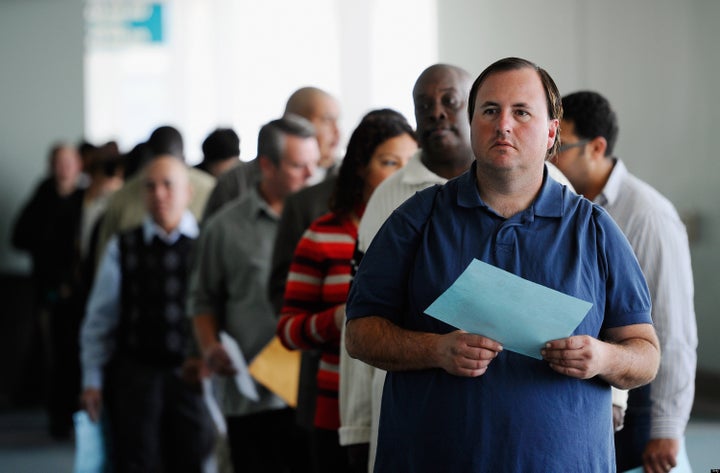 WASHINGTON -- Republican lawmakers in Missouri are balking at accepting federal dollars to pay for 20 weeks of unemployment benefits for the long-term jobless, even though the spending would not affect state budgets, and legislators in Michigan may follow suit.
Five Republicans in the Missouri Senate have launched a filibuster to prevent their legislature from implementing a technical change to its laws that would allow the state to accept the funds, which total roughly $96 million.
"What my senator is saying is, 'Let's send this money back,'" said James Murphy, a spokesman for state Sen. Jim Lembke (R), who is leading the filibuster. "He calls the money 'opium' -- 'other people's money.' He wants to send back the opium that the federal government sends to the states."
That money pays for the Extended Benefits program, which kicks in for workers who exhaust 26 weeks of state-funded benefits and 53 weeks of federally-funded Emergency Unemployment Compensation. In December, Congress reauthorized both EB and EUC for all of 2011, but many states need to tweak their laws in order to remain eligible for EB because of how the aid "triggers" into place based on unemployment trends in the previous two years.
Some unemployed Missourians will stop receiving benefits after April 2 unless Lembke and his colleagues relent. Murphy said Republican leaders in the Missouri House and Senate disagree with Lembke's position.
In Michigan, House Speaker Jase Bolger (R) hasn't made up his mind whether to support accepting the federal funds, according to spokesman Ari Adler. "He is sympathetic to the unemployed who would lose their benefits," Adler said. "On the other hand, you would have businesses facing having to pay for the extension."
The Michigan Chamber of Commerce is lobbying against the benefits legislation, which it says "will result in a tax increase on Michigan job providers and more government debt."
Approximately 150,000 unemployed workers could be affected by the loss of the EB program. "These are individuals who are currently on EB and those who could exhaust all of their benefits on the federal EUC extension before the end of this year and then will be unable to apply for EB," the Michigan Department of Energy, Labor and Economic Growth's deputy director, Steve Arwood, said in a statement. "The state unemployment agency is in the process of notifying those in the Extended Benefit program that benefits will cease for everyone receiving EB effective the week ending April 2."
Adler said Bolger will make up his mind next week.
In Missouri, next week is the legislature's spring break. Lembke's spokesman said the senator is committed to his filibuster and that the legislation has no chance of passing. He said 79 weeks of benefits instead of 99 weeks would not make a huge difference to Missouri workers. "The average Missourian uses 24 to 26 weeks of unemployment," he said. "We don't think it will affect a lot of our hardworking constituents."
The Republican speaker of the Missouri House supports the measure and said the rejected money "is not going to go back to pay off people who have notes in China," according to the St. Louis Post-Dispatch. "It's going to be absorbed."
"'Rejected' funds simply wouldn't be paid out of the Unemployment Trust Fund," said Meg Reilly, a spokeswoman for the Obama administration's Office of Management and Budget. While state trust funds cover the standard 26 weeks of state benefits, the federal trust fund pays for extra benefits during times of recession. The state and federal trust funds are supported with dedicated taxes on businesses and workers.
The National Employment Law Project estimates that 14,500 jobless Missouri workers could lose their EB next month, and that another 20,000 would lose them by the end of the year. As NELP Senior Staff Attorney George Wentworth noted, four or five other states will have to make similar decisions within the next several months.
Popular in the Community