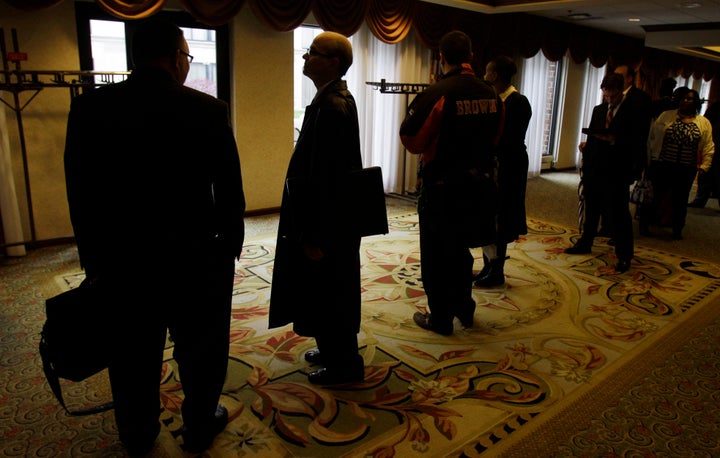 State lawmakers in Tennessee and North Carolina want a legislative do-over after their states became ineligible for 20 weeks of federally-funded unemployment insurance last month.
Democrats in Tennessee, where the unemployment rate is 9.5 percent, are trying to revive the Extended Benefits program. They didn't learn of the program's untimely death until constituents reported that their checks had stopped after April 16. The U.S. Congress had previously reauthorized the EB program through the end of the year for states with persistent high unemployment.
"We were pretty surprised to learn it had happened and there weren't other efforts to get it remedied," said Sen. Lowe Finney (D), who introduced legislation last Thursday to restore the federal EB program. "I've been hearing from constituents for a few weeks."
Rep. Craig Fitzhugh (D), who introduced the same bill in the state House of Representatives, also said constituents brought the lapsed benefits to his attention. "It's certainly something, in my opinion, we should move forward on," Fitzhugh said.
In North Carolina, Democratic Gov. Bev Perdue vetoed a bill saving the benefits because Republican lawmakers attached big budget cuts to the legislation. But now Democrats and Republicans in the North Carolina General Assembly have said they want to cut a new deal to reinstate the benefits, according to the Charlotte Observer.
The federal Extended Benefits program provides the final 20 weeks of checks for the long-term jobless who have exhausted up to 73 weeks of state and federal benefits without finding work. (That full complement of 99 weeks of benefits is available in only 25 states.)
States are eligible for the EB program if they've got unemployment above 8 percent and if the rate is 110 percent of what it was two years ago. Since unemployment rates have been flat since then, Congress told states in December that they could amend their EB laws to look back three years instead of two.
Some 28,000 Tennesseans missed out on checks last month as EB expired with little or no public debate, even though the federal government put states on notice about how the program might lapse and what lawmakers could do about it. Sen. Finney said that the bill, if passed, would pay benefits retroactively for anyone who has missed checks since April.
Republican leaders in the Tennessee General Assembly did not immediately respond to requests for comment.
A potential obstacle to the bill's passage is its cost: While the federal government would pay $57.7 million, the state would be on the hook for $396,000, according to the legislature's fiscal review committee. That's because states cover the cost of layoff claims from state, local and tribal governments, which the National Employment Law Project estimates amount to 2 percent of all claims.
Finney said he didn't know if the legislation will be taken up by the assembly before it adjourns for the year this month.
"When we're this late in the legislative session it's difficult to get bills heard, and some committees have already shut down for the year," Finney said.
Popular in the Community