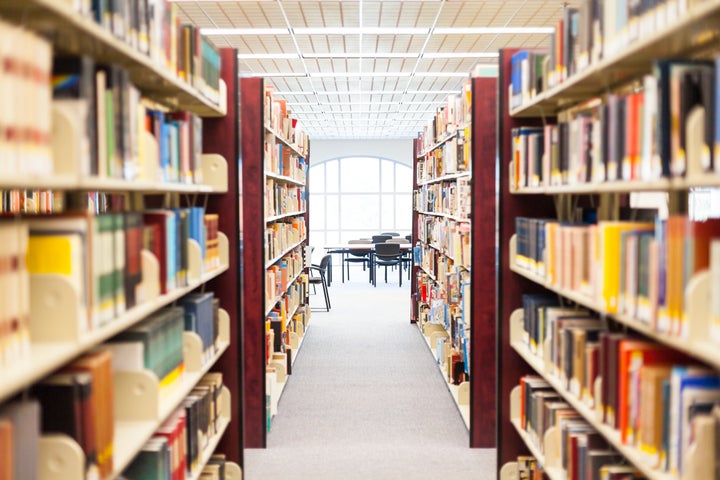 Providing our children with the best educational resources and empowering all our children to access, evaluate, and use information for academic and personal learning - this is the critical mission of school libraries and librarians. As an educator and president of the American Library Association (ALA), I am concerned that school administrators may not fully understand the critical role school libraries and their librarians play in fostering and academic achievement and student success in a technology-driven world.

As school libraries celebrate National Library Week (April 14 - 20) and School Library Month during April, the American Library Association's State of America's Libraries Report, an analysis of data from 2011 to 2012, projects a stormy horizon for our nation's school libraries.

The report shows that funding for school libraries in 2013 is more uncertain since sequestration began on March 1, 2013. The full effect of sequestration on school libraries and student education will become more apparent as time passes, but some effects are already clear. Under sequestration funding to the Department of Education was cut more than 5.2 percent. This is likely to have a direct impact on grant programs that provide school library funding. One example is the Innovative Approaches to Literacy program. The Library Services and Technology Act (LSTA) also has been cut by more than 5.2 percent. This is the only federal funding that is exclusively set aside for libraries. This reduced funding comes at a time when school libraries are already dealing with budget reductions at the state and local level.

Recently the ALA has tracked multiple news reports regarding school districts that have placed school librarian positions on the chopping block in response to budget deficits. Do school officials who are making these decisions understand the valuable resource that they are casting aside? Do they know that that the ability to find accurate and reliable information to solve problems and make decisions has been identified as an essential 21st century skill by business leaders? Do these school districts consider the effects of eliminating librarians on student learning and student success?

For example, Pasco County (Fla.) School Superintendent Kurt Browning proposed a plan to eliminate 28 school media specialist positions in the next school year because of a budget shortfall. Such a reduction will have a strong negative impact on students' academic learning, their opportunity to pursue personal interests, and even their motivation to read.

In Sarasota, Florida, more than 18,000 middle and high school students may be without a school librarian. Local school board officials there are considering a proposal to eliminate all school media specialists. If this action is taken, there will be no school librarian to support classroom learning and the students' self-directed education outside of the classroom.

School Districts in Louisiana, Maryland, Washington State and New York State also are considering proposals or reorganization plans that would eliminate school librarians. Tough choices must be made in this economic climate, but eliminating school librarians and slashing funding for school library resources is not the answer.

School librarians offer students much more than access to books. They serve as a vital component of the education teams found in today's schools. Librarians teach essential skills of inquiry, critical thinking, digital citizenship and technology. They foster a love of reading. Their efforts to educate our children are recognized by the National Board for Professional Teaching Standards. They are understood to be educators whose instruction can be measured to meet standards for professional teaching excellence.

How will students meet the new Common Core Standards without the guidance of school librarians? Schools are adopting more technologies to meet the Common Core guidelines. Yet it seems that many school administrators hold a false assumption that search engines, Wikipedia, and social media are adequate substitutions for the research expertise - and the guidance of - school librarians.

This assumption could not be further away from the truth. School librarians help more than 30 million students each week navigate a vast landscape of digital content, because the majority of students still lack the ability to analyze information found online.

The Pew Research Center's Internet & American Life Project Online Survey of Teachers found that although the Internet has opened up a vast world of information for today's students, their digital literacy skills have yet to catch up. Twenty-four percent of those surveyed stated that students lack the ability to assess the quality and accuracy of information they find online. Another 33 percent reported that students lack the ability to recognize bias in online content.

It has been proven time and again that school librarians are essential to effective learning throughout K-12 education. More than 60 education and library studies have produced clear evidence that school library media programs staffed by a qualified school librarian have a strong and positive impact on student academic achievement.

As budgets continue to tighten and tough choices need to be made, I urge local and national leaders to recognize the value of our school libraries and librarians. School librarians make a significant difference in student achievement and their work is a critical component of the success of all of our children.
Maureen Sullivan is the president of the American Library Association (ALA). The ALA is the oldest and largest library association in the world, with 58,000 members. Its mission is to promote the highest quality library and information services and public access to information.
Related
Popular in the Community