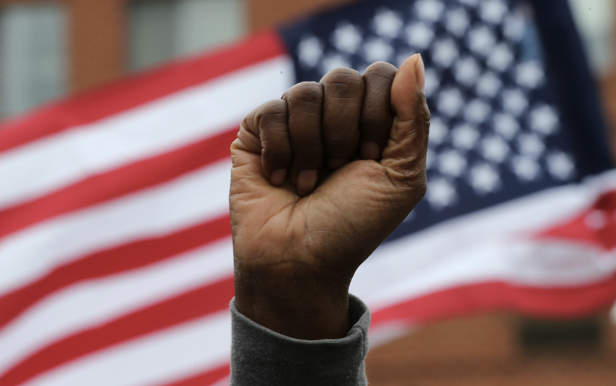 Black America is falling way behind, and a new report released Tuesday shows just how unequal the country is when it is divided along racial lines.
The 2016 "State of Black America" report is an annual study issued by the National Urban League that takes a detailed look at the quality of black life in America compared to whites. This year's report, which marks 40 years since the study was founded, not only examines the current state of black America across areas like economics, health, education, social justice and civic engagement, but it also explores the successes and setbacks black people have faced in these segments over the last four decades from 1976 to 2016.
"This is one of the most important reports that's going to be released this year," Marc Morial, the president and chief executive of the National Urban League, told The Huffington Post. "This is not a public opinion poll, these are the facts on where this country stands today on the challenging issues of racial disparities."
The comprehensive study allows for deeper insight into the challenges the black community faces and establishes the need for stronger policies that confront racial inequality across America. Here's a break down on some of the key findings and recommendations included in the study:
Black America Is Just 72.2 Percent Equal To White America
The report reveals that the 2016 equality index of black America stands at 72.2 percent. The equality index, as explained by the National Urban League, measures the share of the whole pie, at 100 percent, African Americans get when compared to whites, who are used as the "benchmark because the history of race in America has created advantages for whites that continue to persist in many of the outcomes being measured," according to the report.
The National Urban League weights each category of the outcomes being measured based on the importance they decide to give to each. The figures below show a more visual and detailed breakdown on how the equality index is determined: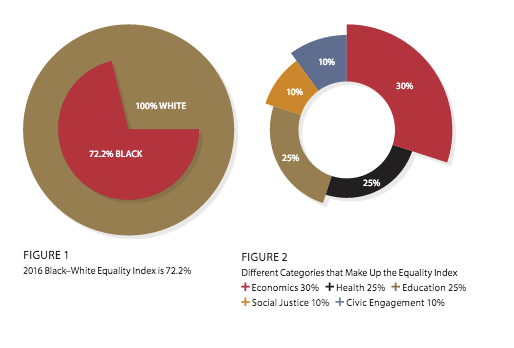 The Overall Equality Index For Black America Has Only Improved By .2 Percent Since 2015
In 2015, the equality index for black America stood at 72 percent, showing only slight improvement in the quality of black life over the course of a year. The area that showed the most improvement in this year's index was education, which increased from 76.1 percent to 77.4 percent. Economics saw a small increase from 55.5 percent to 56.2 percent -- which is due, in some ways, to decreasing the digital divide and lower denial rates for black people seeking mortgage loans, according to the report -- as did social justice, which went from 60.6 percent to 60.8 percent partly because of a sizable decline in the black incarceration rate. However, there were drops in the civic engagement index, which went from 104 percent to 100.6 percent due to lower voter registration and the health index, which decreased slightly from 79.6 percent to 79.4 percent. The chart below shows a more detailed comparison of the slow change across various categories: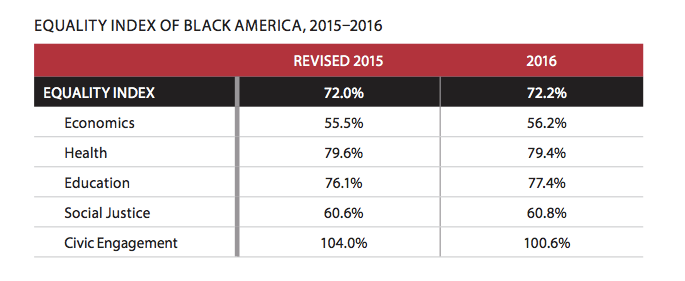 The Unemployment And Income Inequality Index Show Different Paces Of Recovery Across Metro Cities
The list of top ten cities for income inequality remained relatively the same since 2015 (six of last year's top 10 metros made it back to the list). Riverside-San Bernardino-Ontario, California remained in top spot for the income equality ranking with a black-white index of 76.5 percent.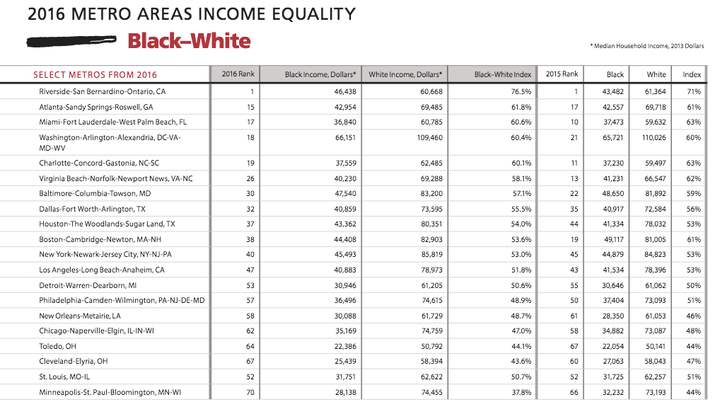 Meanwhile, cities ranked in the top ten for the unemployment inequality index during the same period have seen some significant shuffling (only three of last year's top 10 metros returned to this year's list), according to the report. The Providence-Warwick, RI-MA metro area ranks highest with the smallest black-white unemployment gap and an index of 68.7 percent (as shown in the image below).
When it comes to income inequality, Toledo, Ohio, has the lowest median black household incomes in the country ($22,386), and even with the city's white household incomes as one of the lowest ranking for white America ($50,792), it still outpaces more than double that of black America.
"It's interesting to me that you have a very high black unemployment rate in a place like Toledo, so you see these high black unemployment rates in places where manufacturing has declined," Morial said. "Our cities and communities need to confront these challenges."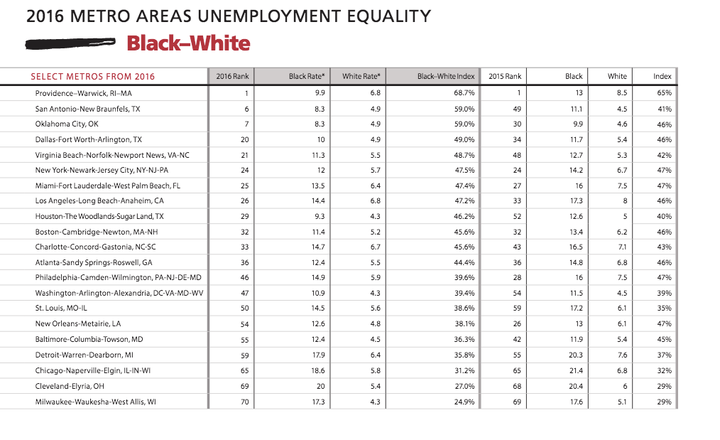 In response to the findings in the report, the National Urban League proposed the Main Street Marshall Plan. The plan, which requires a $1 trillion investment that would be applied to infrastructures within America's urban cities, hopes to deliver significant and more immediate progress to some of the country's most neglected cities.
"It is a realistic proposal, it just takes political will," Morial told HuffPost in response to the "chorus of naysayers" he expects will critique the proposal. "Where is the nation's priority? We can't just sit back and watch the challenges of cities go by and throw our hands up and do nothing. This is really a call to action and we're really determined to move the agenda."
""Where is the nation's priority? We can't just sit back and watch the challenges of cities go by and throw our hands up and do nothing."
Although much more remains to be done, Morial credits President Barack Obama for his efforts in improving communities of color. As Obama's presidency nears its end, many have already begun to assess the progress black America has made under his leadership. Obama, according to Morial, has not only stood as a strong symbol of black achievement, but has also made a profound difference in the lives of black Americans and the policies that impact them most like education and healthcare.
"The president has demonstrated that a black man can competently and effectively lead and manage the country as its commander-in-chief," Morial said. "Anyone who had any doubts about that, those doubts have been erased and that question should never be asked again. That's a very important breakthrough of the highest glass ceiling that exists in America."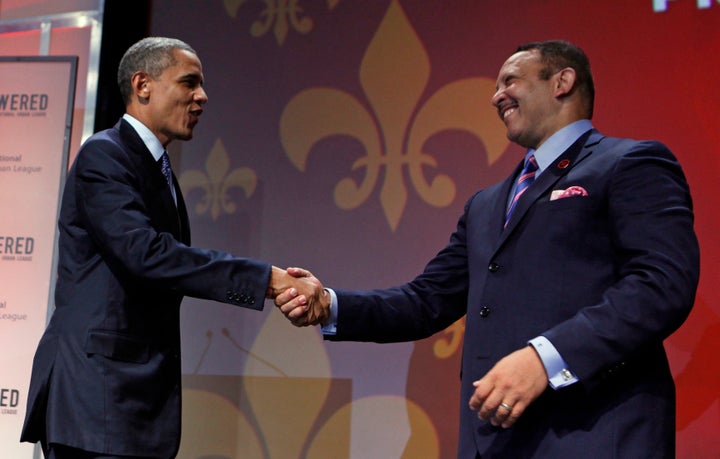 In looking back on the 40 years since the State of Black America report was established, Morial believes it is both interesting and disheartening to observe how racial disparities have persisted in that wider span of time -- yet it doesn't mean progress isn't underway.
"It's interesting to me to look at '76 to 2016 and note that here has been some changes and improvements in educational attainment and high school graduation degrees," Morial said. "There has been some change in health outcomes and some slight narrowing in health care disparities."
Morial went on to explain that although the country as a whole has seen significant changes in the last four decades, black and brown communities have yet to witness or experiences such progress to the same degree -- and that must change.
"What struck me was that the poverty rate for whites and black remained almost where it was 40 years ago," he added. "It certainly demonstrates that for as much as the country's economy has grown since 1976, that prosperity hasn't been shared particularly with people at the bottom. That's what the numbers show, that economic growth over a 40-year period has benefited some but not all."
Before You Go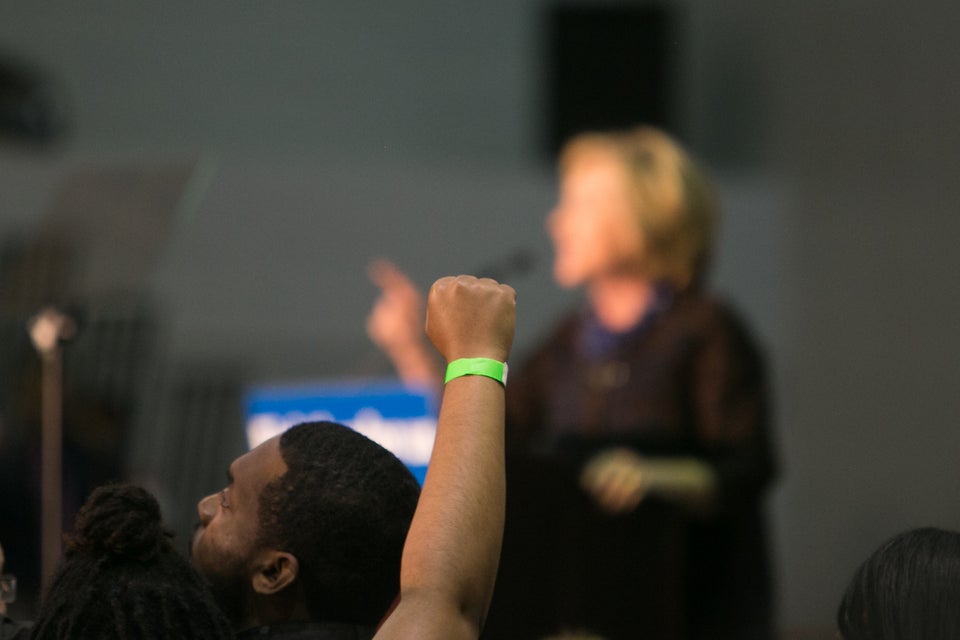 11 Things Black Activists Accomplished In 2015