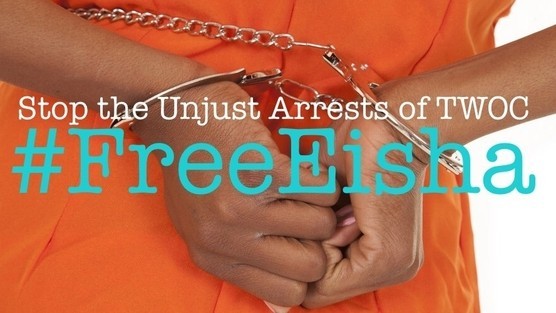 Self-defense is murder when you're a transgender woman of color.
At least that's what Illinois' Cook County seems to be saying. Eisha Love, a 26-year-old transgender woman of color, is currently in Chicago's Cook County Department of Corrections awaiting trial. According to an Aug. 22 Facebook post by trans-rights activist Channyn Lynne Parker of Chicago House, Eisha defended her life in the midst of an alleged hate crime in late August and now faces a 10-year sentence for attempted murder.
Here is the sequence of events according to Parker: Eisha and a friend were at a gas station in the west side of Chicago when they were approached by two neighborhood men. The men violently harassed Eisha and her friend, using slurs and yelling that, because she's a transgender woman, she was not welcome in her own neighborhood. Eisha refused to be taunted, so one of the men struck her in the face. Eisha continued to fight back, so her attackers called for backup.
As the two women entered their car to escape further violence, two more men pulled up in a vehicle, blocking Eisha and her friend from behind. The women were outnumbered, two against four. The man who'd struck Eisha was now pulling at her door to force her out of the car. He made his way around the front of the car, and, in a panicked frenzy, Eisha drove forward into the man, pinning his leg to the wall. Amidst the chaos, the two women fled and hid from their attackers in safety until friends arrived. Eisha's mother urged her to talk to the police, and in doing so, two things happened: Eisha discovered that her attacker had ended up losing his leg, and she was arrested by local police for attempted murder.
This story strongly resembles that of CeCe McDonald; in fact, for transgender women of color, it's all too common. In June 2011 CeCe and her friends were walking down the street when she was assaulted by Dean Schmitz and Molly Flaherty. After Flaherty smashed a glass tumbler on CeCe's head, CeCe tried to escape the violence, and Schmitz charged after her. In self-defense, she reached for the fabric scissors in her bag and warned Schmitz not to come any further. With meth pumping through his veins, Schmitz leaped forward, and CeCe stabbed him in the chest to save herself. She didn't want her life to "end as a grim statistic, the victim of a hate crime," as Sabrina Rubin Erdely writes in her piece "The Transgender Crucible."
In a 2013 report by the National Coalition of Anti-Violence Programs, it was reported that of 72 percent of victims of anti-LGBTQ homicide were transgender women, and 89 percent of victims were people of color. Just this summer alone, there have been seven reported killings of transgender women of color in the United States: Kandy Hall in Maryland, Zoraida Reyes in California, Yaz'min Shancez in Florida, Tiffany Edwards in Ohio, Mia Henderson in Maryland, an unnamed woman in Michigan, and, just recently Alejandra Leos in Tennessee. Many of the women's causes of death have not been released, but from what is known, the victims were either shot, burned, or stabbed to death.
In the past two months there have been two more attacks on transgender women of color in Detroit, as well as the stabbing of a 15-year-old transgender girl in Washington, D.C., Metro. Fortunately, the teen survived, but the attack comes one year after the stabbing of Bree Wallace, two years after the fatal stabbing of Deoni Jones, and three years after the stabbing of another unnamed transgender woman of color, all of which happened in D.C. August was also the month in which 21-year-old Islan Nettles was brutally attacked in 2013, and the month in which 24-year-old Tyra Hunter died from medical transphobia in 1995. Tyra was in a car accident at the corner of 50th and C in Southeast D.C., and due to the transphobia of the on-site EMT and doctor, she passed away from treatable injuries. And in 2002 both 19-year-old Stephanie Thomas and 18-year-old Ukea Davis were executed in the same cross streets as Tyra's accident.
The frequency of stabbings in attacks on transgender women of color comes as a concern. The act of stabbing is a very personal form of murder and raises the question of the intensity of the attacker's transphobia. Though it can be argued that some suspects choose to stab rather than shoot due to the easy access to knives over guns, and to ensure lighter sentences if caught and tried, the assertion of dominance over women's bodies with a phallocentric object is a symbolic rape of the victim. Suspects often justify their attacks with the "trans panic" defense, the concept that, in the heat of the moment, internalized transphobia causes them to irrationally attack transgender individuals who "provoke" them. In spite of that, the American Bar Association has demanded that lawmakers restrict the "panic" defense, and California is currently working on becoming the first state to ban it.
But the war against transgender women doesn't end there. The blatant misgendering of victims of anti-transgender hate crimes by news stations and writers, describing the women as "transgender men," invalidates their gender identities and perpetuates transphobia. When Cemia Dove was murdered in Ohio last year, news sources felt compelled to post details of a past arrest record and state that she had "odd clothing," trivializing the reason for the attack. By pointing out the clothing, professions, or neighborhoods of the victims, some of whom were sex workers or lived in areas where sex work was prevalent, reporters are blaming the victim, shaming sex workers, and perpetuating the "transgender woman as temptress" myth to justify the attacks. Fortunately, in response to the misgendering and misrepresentation of Cemia in the media, GLAAD created online resources that explain different identities and show how to appropriately report crimes against transgender victims.
Despite these useful resources, anti-trans individuals are actively working against transgender women to deny their gender identities. It was discovered this month that a staffer in the U.S. House of Representatives was altering the Wikipedia page on Orange Is the New Black's Laverne Cox, changing her description from "a real transgender woman" to "a real man pretending to be a woman." In a Pride Source article, GLAAD President and CEO Sarah Kate Ellis commented on the anti-trans changes made by the Capitol Hill staffer: "It's chilling to think that this dangerous misinformation about transgender Americans could be coming from our nation's Capitol."
While the trans community's trust in public officers withers and the violence against transgender women of color increases, visibility of gender-nonconforming identities is inarguably on the rise. Due to the strength and resilience of women like Laverne Cox, Janet Mock, Angelica Ross, and Monica Roberts, the general public is learning more about the daily experiences of transgender women of color. As transgender women defy the odds and take a stand through film, art, literature, and technology, their success and happiness threatens the patriarchy and the "cistem," the conditioned norm of cisgender identity. Although it cannot be said that all acts against transgender women are hate crimes, it's difficult to ignore the increasing amount of attacks against transgender women of color as the community rightfully demands recognition and respect. The visibility of and violence against transgender women of color are undoubtedly interconnected.
So what's the next step? Should transgender women of color stay quiet to reduce potential violence, or should they stay firm in their pursuits, standing together in solidarity against transmisogyny and racism?
Even behind bars and facing a 10-year sentence, Eisha Love encourages the community to keep fighting: "When are we ever gonna stop being afraid? I'm begging you and everybody else, don't back down from this." When Channyn Lynne Parker visited her last Thursday, Eisha shared her gratitude and vision:
I always knew I wanted to help create change and make an impact. I said a long time ago that I wanted to help advocate for my community. I guess you were right after all, Ms. Channyn, everything really does happen for a reason. I'm excited to be a part of something that I hope will create change.
Addison Rose Vincent is the author of a change.org petition demanding that Eisha Love be freed from Cook County Department of Corrections.
Popular in the Community