T he freedom to marry feels inevitable in 2015. Nearly 72 percent of Americans live in a state that views same-sex relationships as equal to opposite-sex ones. But how did we get here? For many, including small town Vermont lawyers Beth Robinson and Susan Murray, with Boston-based attorney Mary L. Bonauto, the journey began in the 1980s.
"The State of Marriage," a new documentary, recounts the challenges in gripping detail as the story of Vermont's historic establishment of same-sex marriage unfolds. Not without setbacks, the freedom to marry has since radiated throughout the world. In the film, the pioneering efforts of the men and women who sought to eradicate cultural and legal barriers for same-sex couples come into focus.
"Without the strategic exclamation point on it, I think Vermont was essential to keeping this movement alive," Bonauto told The Huffington Post. "The film captures that exciting story."
The film's timely premiere on June 18 at the Provincetown International Film Festival arrives as the United States Supreme Court prepares to rule on the constitutionality of same-sex marriage. "The film is a bookend," said Murray. "[The Supreme Court's ruling] will hopefully, finally put this issue to rest."
In the early '90s, the LGBT community was "under siege," says Freedom to Marry founder Evan Wolfson. Without any legal recognition for same-sex couples in the U.S., people were losing their kids in custody cases, getting fired from their jobs for being gay and discriminated against even after years of military service. The movement for LGBT equality was waiting for an opening and someone to take charge.
As a young law clerk in 1989, Robinson admired Murray's work for lesbian and gay families. Murray described Robinson as a "small, incredible bundle of energy" with an "exquisite legal mind" fueled by Pixy Stix. It was the beginning decadeslong personal and professional relationship. Years before the legal battles began, they engaged in a grassroots movement, traveling to state fairs in Vermont to tell stories of real same-sex couples.
In 1994, Bonauto, the Civil Rights Project director at Gay & Lesbian Advocates & Defenders (GLAD), pulled together a group of New England attorneys to discuss marriage equality. Skeptics thought it was "folly" or even "reckless," she recalls, but "Beth and Susan clearly said there's a path forward in Vermont." After a series of hard-won victories, including the override of a gubernatorial veto, Vermont became the first state to legalize same-sex marriage through the legislature.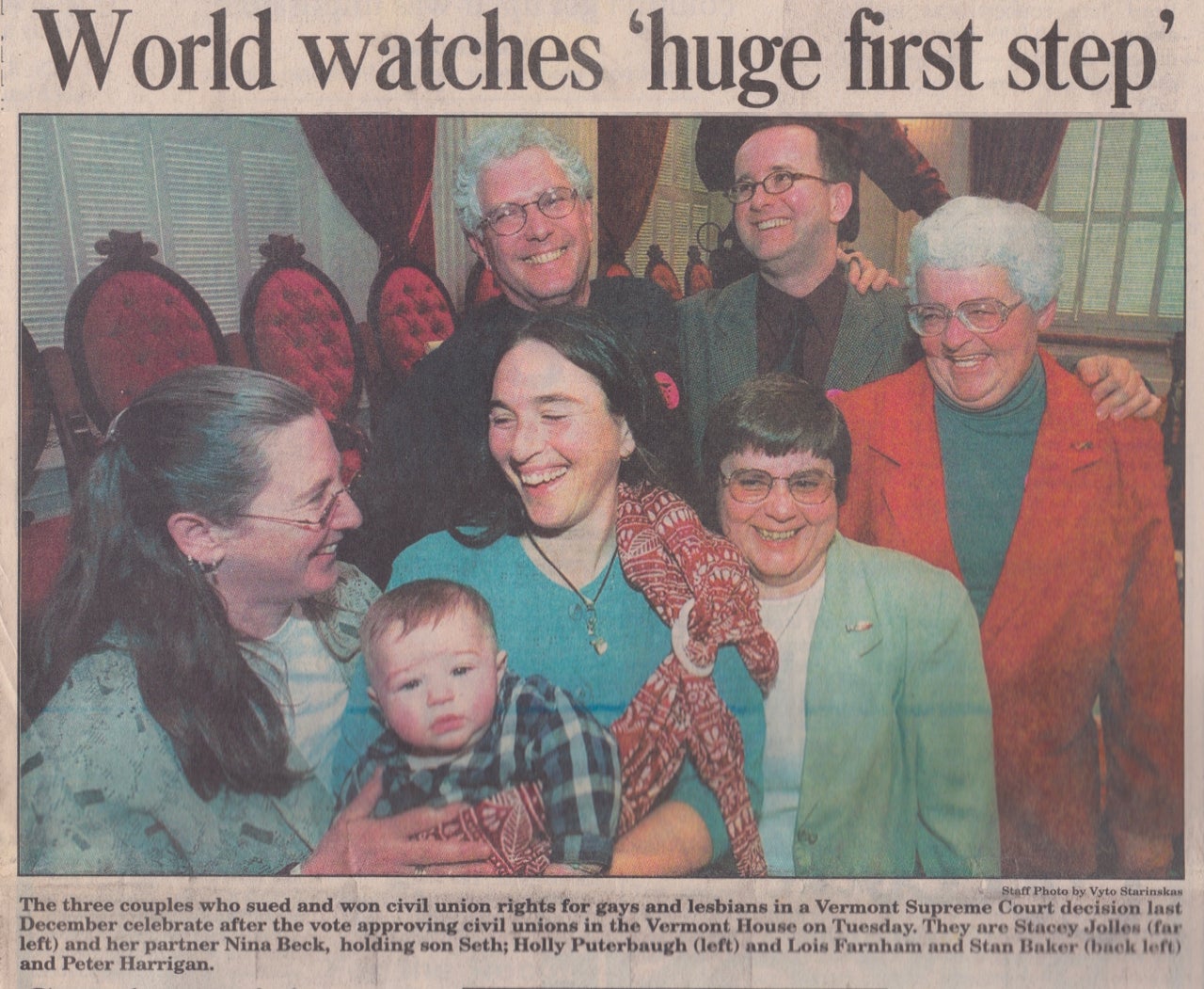 Working tirelessly, Murray and Robinson (now a Vermont Supreme Court justice), fought for the rights they knew their fellow Vermonters deserved. "[Murray and Robinson] are not self promoters. They did it because it was the right thing to do," said "The State of Marriage" co-producer Marcia Ross. "They deserve national recognition for the contribution."
"Both Beth and I were in private practice and not getting paid for this, and it took away from time that we would have spent building up our careers," explained Murray. "We could not have done it but for the support of our law partners who were also willing to sacrifice in so many ways."
Though opponents in the film speak virulently about the "consequences" of legalizing same-sex marriage, those in favor cite the changing tide of public opinion as evidence that equality encourages acceptance.
"The law plays a leading role in helping people understand what's acceptable and what's not," Murray told The Huffington Post. "If the law throughout the land is that gay people are allowed to marry, that in turn is going to help a broader acceptance of gay lives. I've seen that in person in Vermont. It's changed the societal message."
"In the Civil Rights Movement, I saw with my own eyes that it cannot have equality for some and not equality for all. Everyone must be included. Everyone must have a palce at the table," says Rep. John Lewis (D-Ga.), who emerged as a civil rights leader in the 1960s. "What Susan and Beth did was in keeping with what Rosa Parks and others did."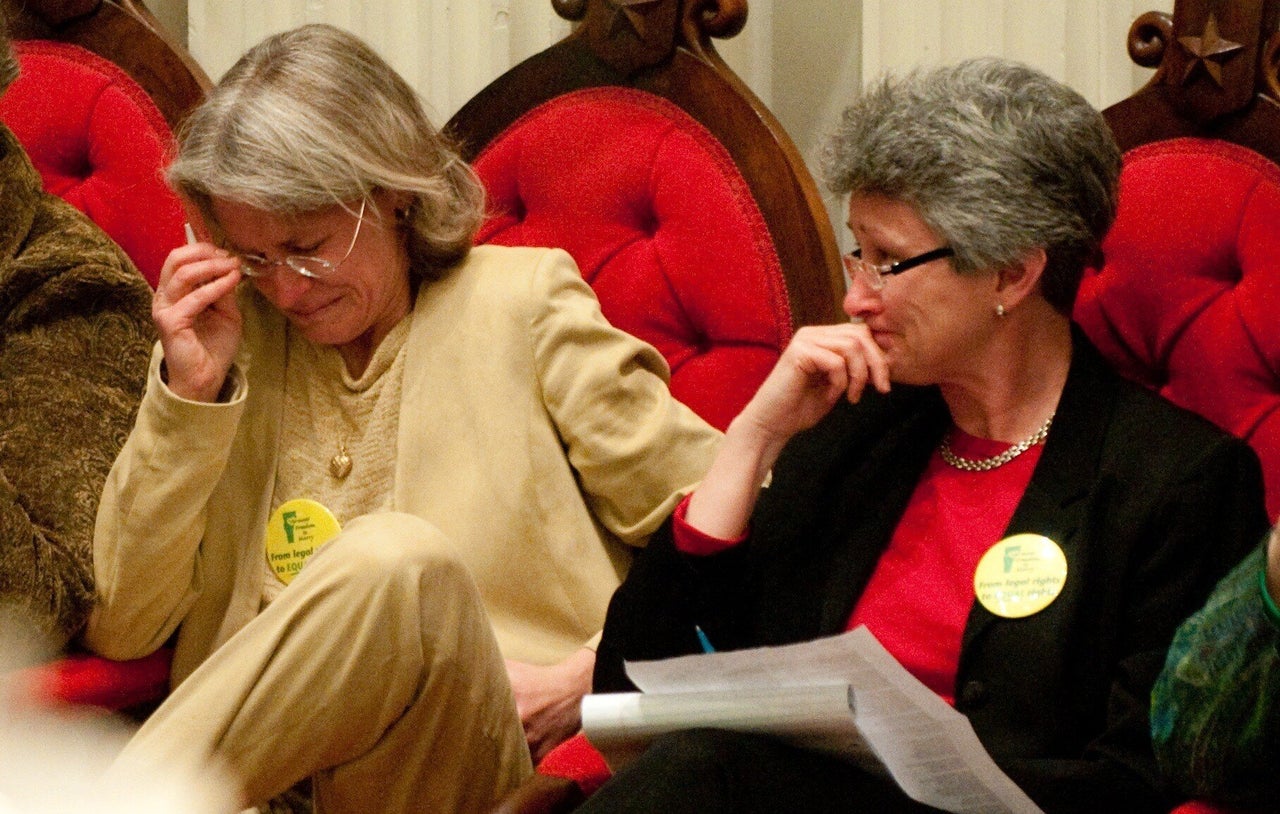 Bonauto has since stepped onto the national stage to argue a pivotal same-sex marriage case that could bring marriage equality to all 50 states. In her opening arguments before the U.S. Supreme Court in April, representing more than a dozen gay and lesbian couples in Obergefell v. Hodges, she asked the justices to wipe out the "stain of unworthiness" that marriage bans produce.
"I hope that if we are fortunate enough to have a win in the Supreme Court -- and I am not one of those people who sits around counting on anything, but should we win? In my view, yes -- I'd like to think we'll have the fourth decision in a row that says stop treating gay people differently because of who they are," said Bonauto. "And I'd like to think that that would have an effect on things like non-discrimination laws. We have so much work to do from my perspective, like ensuring basic non-discrimination so that young LGBT people can grow up in a world where they are safe and respected. We face an epidemic of homelessness. There are so many systemic issues that haven't received the attention they deserve."
A sense of inevitability worries director Jeff Kaufman as well. "One of the things that we encountered while making the film is that there's a lot of complacency these days," he told HuffPost. "People don't realize that political gains often slip back."
"I don't think you can totally understand what they had to go through until you understand what they were up against," added Ross. "If we don't have a sense of our past, it gets lost and distorted. So much of the movement started with such humble resources, and it not only took over the country, but the world. When they started this process, people thought they were nuts. It's important to have a sense of that vision to spark further change and inspiration for the future."
Knowing the outcome in Vermont doesn't diminish the power of "The State of Marriage." Instead, with the procedural tedium of momentous legal cases made digestible, the film presents itself as a legal thriller. Audiences will cheer. They'll be reminded of how far we've come, and how far is left to go.
Popular in the Community