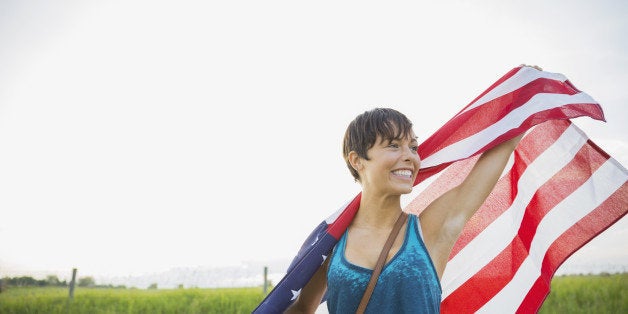 As the president of EMILY's List I spend a lot of time talking about opportunities for women to run for political office and become leaders in their communities. But there is another kind of opportunity that every American woman -- and man -- deserves. Economic opportunity. Because the only way we can move our country forward is when everyone has a chance.
Those are the values I grew up with in Montana, where you looked out for your neighbors, where we knew we were all better off when we were all better off. That's the America that women and families deserve.
And that's the America that President Obama outlined in tonight's State of the Union. And he called Congress to action, saying "Most Americans want for all of us in this chamber to focus on their lives, their hopes, their aspirations. And what I believe unites the people of this nation, regardless of race or region or party, young or old, rich or poor, is the simple, profound belief in opportunity for all -- the notion that if you work hard and take responsibility, you can get ahead in America."
Unfortunately too many Americans are facing economic concerns every day, they are working hard but feel like the path forward is disappearing. The issues discussed at kitchen tables in households across America are economic ones -- can we pay this month's bills? Are there good jobs available? What kind of opportunities will exist for our kids?
American families know that in order for everyone to have a chance at a bright future our country needs to take action. Actions like raising the minimum wage, protecting unemployment benefits, and making sure kids have access to a quality education.
As the President said, "Here in America, our success should depend not on accident of birth, but the strength of our work ethic and the scope of our dreams." We need to make that vision a reality.
Right now, a person working full time and earning the minimum wage lives on just $14,500 a year. That's well below the poverty line for a family of four meaning millions of hardworking parents can't keep their families out of poverty. This is a problem with an outsized impact on women; a full 64 percent of minimum-wage earners are women.
A real solution, the current bill in the Senate, would increase the minimum wage to $10.10, and reduce the number of people living in poverty by 4.6 million. And we've already Democratic women leading the way. The bill already counts 10 Democratic women among its sponsors.
When the research organization American Women asked women about policy initiatives that they thought would improve their lives, they overwhelmingly backed an agenda with common sense initiatives to help them and their families make ends meet now and pave a road towards a stronger future.
The women that American Women spoke to are working hard to make ends meet, but the current economy has left them struggling to do so. We heard it over and over again, "It seems like we get paid, we pay bills, we wait 'til the next payday to do the same." Another said "If I could get a job that paid well enough for us to get back on top, that would definitely ease the stress level." Another said, "Our finances are the biggest stress I have right now. It seems like there's always something that needs to be bought or someone who needs to be paid."
Women across the country are looking for a fair shot in a fair game. They want policies like access to quality education for their children, so their kids have a chance at a bright future -- from pre-kindergarten education to job skills training to affordable college degrees. They backed a ten dollar minimum wage. And they want to know that their hard work is being rewarded at the same level as their male counterparts, because in far too many offices there's still an income gap that exists from cubicle to cubicle.
And they know who is on their side in Washington. For Democrats, this isn't just an agenda -- creating a level playing field with opportunities for everyone is at the heart of the party platform. And Democratic women elected officials, who know firsthand what it's like to make decisions about choosing your child care and education, have long been focused on policies to make life a little more fair for women and families across the country.
Republicans, however, are insistent upon an almost cruel agenda of opposing policies that could help create even a little more opportunity. And, as has become their custom, instead of offering real solutions, they're attending trainings. This time, they're learning how to appear empathetic to voters when talking about unemployment.
Hearing President Obama's vision for a country where everyone has a chance at economic success in tonight's State of the Union -- the reaffirmation that "Opportunity is who we are. And [that] the defining project of our generation must be to restore that promise" -- reminded me of the values I grew up with in Montana.
There are problems we need to fix in our country, but if I've seen any positive trend in Washington lately, it's that when you need to solve a problem, you can count on women to get it done. That's why EMILY's List is so focused on sending more Democratic women to Washington, to fight for the real solutions that Americans need and deserve.
Calling all HuffPost superfans!
Sign up for membership to become a founding member and help shape HuffPost's next chapter