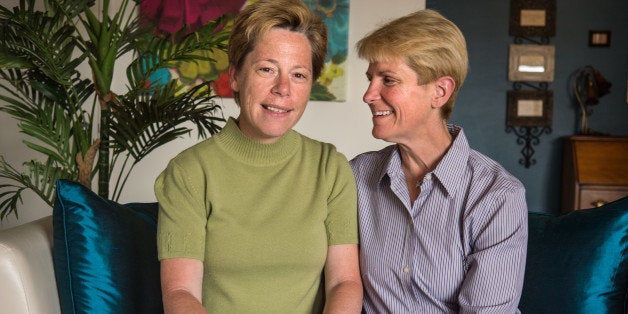 It was an honor and privilege to be a personal guest of the First Lady for President Obama's 2013 State of the Union address. I was selected because I co-founded an organization called the Military Partners and Families Coalition (MPFC), a non-profit organization to focusing exclusively on LGBT military families following the 2012 repeal of Don't Ask/Don't Tell. My wife Brigadier General Tammy Smith, the nation's first openly gay military general/flag officer, attended the White House reception with me and we were greeted by Mrs. Obama and Dr. Jill Biden.
The state of our gay military unions has transformed considerably since I represented military families at this event. In 2013, I personally witnessed the President make this promise: "We will ensure equal treatment for all servicemembers, and equal benefits for their families -- gay and straight." The President's words were powerful, and I was eager to hear them. I stood up and cheered at his words.
The repeal of Don't Ask/Don't Tell (DADT) was incredibly significant. Gay and lesbian Servicemembers could finally serve the nation without fear of discharge. But repeal was neutral for gay military families. Despite the Department of Defense commitment to provide a safety net and benefits for all military families, gay military families were excluded regardless of DADT repeal. We remained second-class families, supporting our Servicemembers without the support of the military institution.
This situation was bittersweet. We were collectively relieved that there was no longer a fear of discharge from the military for simply being gay or lesbian, but our families did not exist legally. The Defense of Marriage Act (DOMA) cornered us into the second-class citizen status.
After the State of the Union address, I met face to face with President Obama. He looked me in the eye and promised that gay military families would have access to military benefits and he assured me: "We are going to get this done."
He was right, and the Windsor Supreme Court DOMA case triggered the amazing change for gay military families. In record time for a bureaucracy, the Pentagon issued a statement that it would recognize same-sex married couples for purposes of family status and benefits. The Department of Defense put in place procedures to recognize married couples regardless of gender combinations following the Windsor decision. On September 3, 2013, I went to a Defense Eligibility Enrollment Reporting System (DEERS) site at Ft Bragg, North Carolina and was declared "equal" to all married military couples. I received my military family member identification card. I was no longer a second-class citizen. This simple act that straight couples take for granted was a moment of celebration for my wife and me.
Since the 2013 State of the Union our gay military families continue to experience many firsts -- our military families are now living on military installations in family housing. We are bearing children in military hospitals with our wives at our side. Servicemembers discharged under DADT have rejoined the military and reaffirmed the oath with their spouse looking on. Our spouses have been recognized at change of command ceremonies, promotions and retirements. Gay and lesbian Servicemembers have attended unit organizational days and also invited Ally Servicemembers to help plan pride celebrations at their installations.
We have so much to be grateful for in 2015, but we are not finished. We still have pockets of second-class citizen status. Status of Forces Agreements (SOFA) still limit access to assignments with same-sex families in certain countries, creating unequal access to competitive assignments. Certain military chaplain denominations are working to exclude interacting with us, even to perform last rites on the battlefield, under the outrageous banner of "religious liberty." Our transgender brothers and sisters still suffer silently, completely unaffected by our forward progress. Neither Servicemembers nor families have status as a protected class within an Equal Opportunity category, leaving space for discrimination without recourse. This is unacceptable for Americans who choose to serve their country. We need to hold on to our victories but we must continue to push forward, working until the President's words "equal treatment" become a reality for all our military families.
I am thankful that I got to look President Obama in the eye and hear him promise me that our families would be treated equally in the future. He made good on that promise, with some help from the Supreme Court. As I reflect on the State of our Unions, I know that the State of Our Gay Military Unions are strong. We have made amazing progress since 2013. Our families must commit to being out, being visible, and integrating fully into military communities. Together we must break the barriers remaining that result in a second-class citizen status, and we must continue to fight until all military families are treated equally.
REAL LIFE. REAL NEWS. REAL VOICES.
Help us tell more of the stories that matter from voices that too often remain unheard.