Posted by Crystal Bridge's Copy Editor Linda DeBerry
On November 11, 2013, the second anniversary of the Museum's opening, Crystal Bridges Museum of American Art announced State of the Art: Discovering American Art Now. As part of the initiative, Museum President Don Bacigalupi and Curator Chad Alligood traveled to all regions of the country to visit nearly 1,000 artists in their studios and conduct hundreds of hours of one-on-one conversations in search of the most compelling art being made today.
Now, the research and planning phase of the journey is complete and the Museum has selected 227 artworks by 102 artists for State of the Art, debuting at Crystal Bridges on September 13. The artists range in age from 24 to 87 and come from every region of the the country. Their diverse styles and voices reflect what's happening in American art right now.
As the opening date approaches, the physical transformation of Crystal Bridges' gallery spaces is well underway and artists have begun to arrive in Northwest Arkansas to oversee installation of their work. Last week the second of several State of the Art works to be installed in the Museum's public spaces was completed. [Read about the first installation by Dallas-based artist, Gabriel Dawe, in Crystal Bridges' Blog.]
Located on the South Lawn of the Museum, Mille-fleur, by Boulder, Colorado-based artist Kim Dickey, is a 21-foot-long wall covered in 10,000 painted ceramic floral shapes. From a distance, the work presents a formal garden pattern reminiscent of a sixteenth-century tapestry. Up close, the individual shapes and colors of each ceramic element become apparent, and the experience of the artwork becomes more abstract.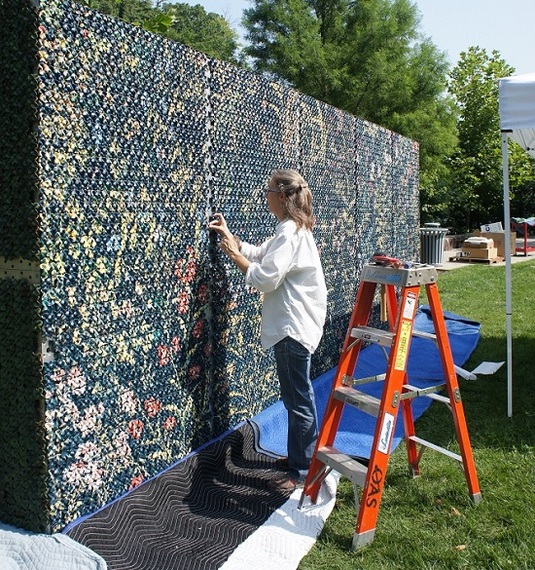 Each floral unit that covers Dickey's work is both the same (in shape) and unique (in its painted surface). The work revels in opposites-- minimal and decorative, abstract and floral, architectural and organic. Ultimately, the garden wall occupies the precise boundary between nature and culture and is well-suited to Crystal Bridges' South Lawn, situated along one of the beautiful nature trails that traverse the Museum's 120-acre grounds.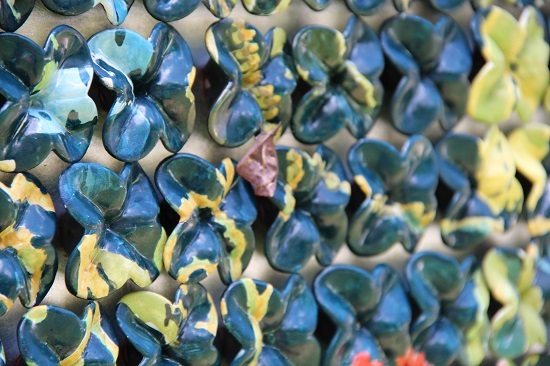 State of the Art will include works in a wide array of media, including video, ceramics, photography, paper, glass, and more. The exhibition will occupy approximately 19,000 square feet of gallery space, reaching beyond the temporary exhibition space and activating community areas both indoors and out.

State of the Art: Discovering American Art Now will be on view at Crystal Bridges September 13, 2014 - January 19, 2015. Read more about State of the Art here. Admission to the exhibition is sponsored by Walmart and Sam's Club.
Popular in the Community