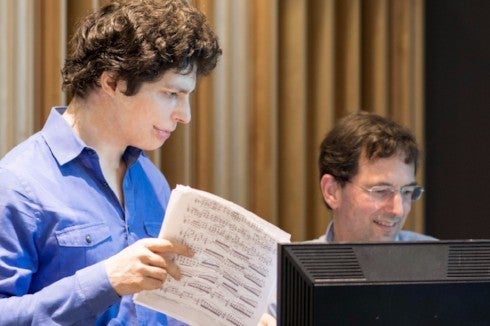 It's taken a long time for Paganini's 24 Caprices to take their place alongside such staples of the solo violin repertoires as Bach's Six Sonatas and Partitas, with which they seem suddenly to belong. They were composed between 1802 and 1817 and they take the violin on a journey of impossibly high-risk, high-return adventures that only a virtuoso with his own casino in Paris and a contract with the devil could encompass, embrace and enlarge.
How early did Paganini's Caprices become part of your musical DNA?
Paganini's music was a major part of my musical upbringing in Italy, and over the years I have often performed his Caprices as encores. I have dreamed of recording these Caprices ever since I first worked on them as a child. In Paganini's works, the technical fireworks always serve the music, not the other way around. As he explores different virtuosic acrobatics, he reveals himself to be a thoughtful and inspired composer. The Caprices are charming, funny, entertaining and thrilling, some are dramatic and passionate, and yet others serene and lyrical.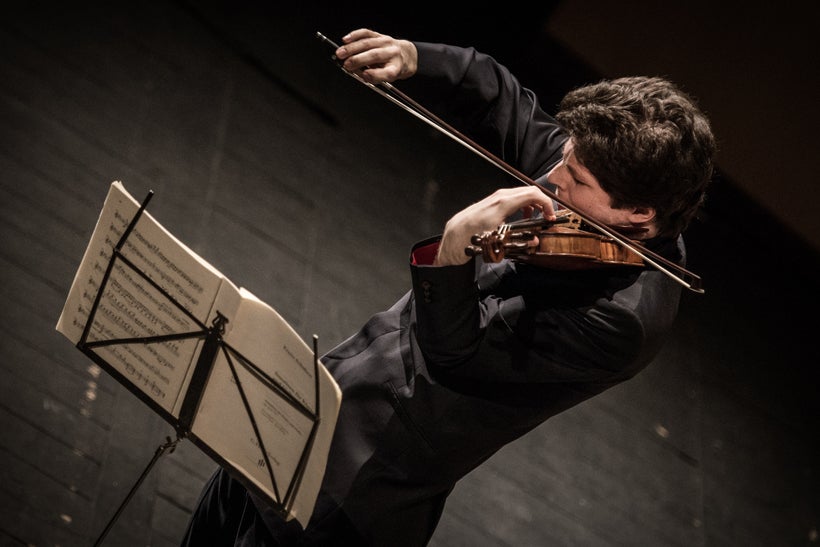 Why did you decide to record the Caprices now?
My recordings leading up to this one were mostly concertos - Mendelssohn and Bartók, Sibelius and Adès, Tchaikovsky and Lalo, and Dutilleux's concerto L'arbre des songes - as well as a recent album of Franck, Kurtág, Previn, and Schumann with pianist Joyce Yang. I felt that now is the perfect time to delve into this solo violin repertoire, and I'm delighted that this will be my first album on Warner Classics!
Which are your favorites for waking up to? It depends whether I want to wake up gently - the dark and misty Caprice No. 6 would be great for that - or with a real jolt to the system - in that case, No. 5!
Which are the most difficult? Overall, the first six Caprices are probably harder than the rest (he wrote them down in groups of six, six and twelve). Also, No. 12 is notoriously difficult, and although it's a very beautiful piece, it feels as though it's written purposely to be as hard as possible. The famous No. 24 is of course very hard because each variation throws some other crazy technique at you - but I think it's also the most violinistic, suited perfectly to the violin. 
What makes them so Paganini? When Paganini performed, men and women often wept and fainted, not necessarily because they were dazzled by his virtuosic feats, but rather by his beautiful Italian bel canto melodies. Many of his compositions are in the operatic, humorous style of Rossini. In my opinion this humor is the most essential and overlooked characteristic of Paganini's music. And could there be a more Italian Caprice than No. 21, which to me sounds like you're listening to a gondolier in Venice?
What gear did you use? Over the past 7 years I've been very lucky to be able to play on a wonderful Stradivarius violin, made in Cremona in 1723 called "Ex-Kiesewetter" after a violinist who played it in the 19th century - during Paganini's time actually. I play with a French bow by Paul Simon. I use Pirastro strings: Evah Pirazzi for the lower three strings, Pirastro Gold Wondertone for the E-string. 
Where did you record them? The recording sessions took place at the Fraser Performance Studio at WGBH in Boston.
Over how many days and sessions? They were recorded over 4 sessions, of 2 days each, between September 2016 and June 2017.
How did you prep for the project overall and then for the sessions themselves? Given how difficult each Caprice is, and since I wanted to give even the smaller, lesser-known or "easier" Caprices a lot of thought and attention, I split them up into 4 groups, of 8, 6, 5 and 5 Caprices respectively. Each group included some Caprices that I knew extremely well and had performed many times as well as some that I hadn't played in public. Some of the difficulties are very extreme, and it's one thing to perform a Caprice in concert (playing it once) and another to stand in a studio playing it again and again. Because of this, I was also careful to distribute them in such a way that it wouldn't be too tough physically. Whereas for other recordings I have sometimes played 6 or 7 hours in the studio on each day, with these Caprices that was definitely not possible, since after 4-5 hours of this music the body needs recovery time.
What has changed since the days of Heifetz and Oistrakh to make playing all 24 possible? Although the Caprices were notorious and famous already, many of the great violinists of the early 20th century did not play them. Heifetz played some of them but never all 24. It was much later that violinists such as Michael Rabin, Shlomo Mintz, and Alexander Markov embarked on projects of recording all 24. My recording is intended to be an homage to Paganini the composer, not only Paganini the virtuoso - I wanted to make each Caprice, even the ones that are least known, into something special and focus on their charm, lyricism and expression rather than only the technical aspects. Paganini's Caprices are often considered merely études used to improve technique - in Italy where I grew up he is recognized for what an important composer he was. Just look at all the composers who arranged or based their music on his works: from Schumann and Brahms to Liszt and Rachmaninoff all the way to Lutosławski!
Have you played them all one on night? From memory? I have them all memorized, but playing them all in one concert is something I haven't done. That kind of program would be tiring not only for the player, but also for the audience, and it just wouldn't be a great concert program. The Caprices are works that in my opinion are best listened to in smaller groups - they were not conceived by Paganini as a cycle to be performed together in concert.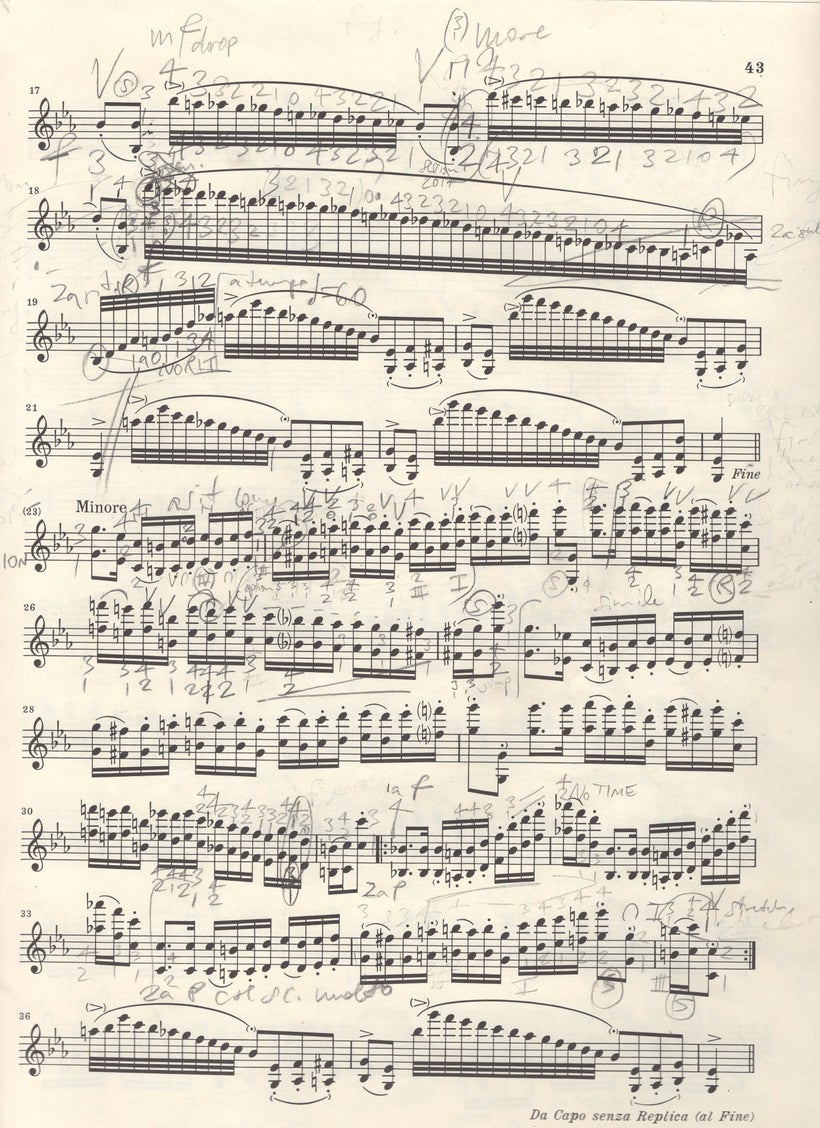 Which edition do you use? Most editions have countless misprints, because Paganini never took the time to proofread for the first edition of the Caprices and therefore problems with the text started right away. There is now a scholarly and accurate edition by Henle, which closely based on the manuscript. However, the full scan of Paganini's manuscript can also be viewed and downloaded for free at the IMSLP Petrucci Music Library. It looks beautiful and is quite accurate aside from a couple obvious oversights, and I highly recommend to anybody working on a Paganini Caprice to compare their edition with the manuscript.
Is your own performing copy full of fingerings and markings and comments? Could we use a page for the interview? See this page from Caprice No. 17.
You are known for your lush expressive tone - did you have to modify this for what seems like very unlush music? Paganini is opera! Listen to Caprice No. 4, which is so dramatic and lyrical and emotional, or No. 21. Paganini is one of the early Romantics, a contemporary of Rossini, writing these works during Beethoven's time, and heavily influenced by Mozart, so sometimes the approach should be elegant and lean, more like what is required when playing Mozart. But just like in Mozart, Paganini is always thinking operatically, even when he writes violin works.
Your recording with Anderson and Roe was very special - any chance you'll expand your repertoire with them? I hope so! We had a great time recording that track together - "Die Seele ruth in Jesu Händen" by Bach - in their arrangement in 2014, and I'd already been a big fan of them and their projects for years, especially their innovative and beautiful music videos.
Who's writing the liner notes? I did! I always love writing liner notes myself, as it makes my CDs a bit more personal and gives me a chance to share some of my thoughts.
Calling all HuffPost superfans!
Sign up for membership to become a founding member and help shape HuffPost's next chapter
This post was published on the now-closed HuffPost Contributor platform. Contributors control their own work and posted freely to our site. If you need to flag this entry as abusive,
send us an email
.