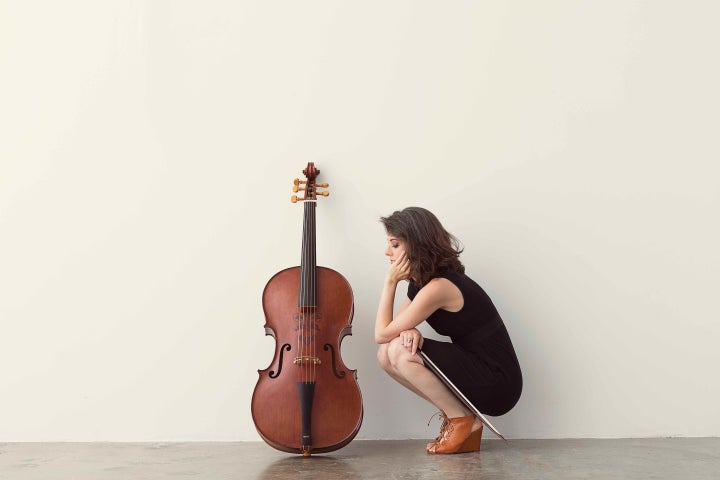 There is something magical about the cello before Bach. I am not talking about the physically similar viola da gamba, member of a distantly-related family with a fretted fingerboard, an inconstant number of strings, and held between the legs lightly so as not to disturb the vibrations.
I am talking about the cello before Bach which I peg up until 1750: Four strings only, nonfretted so that each touch of the finger was a step into uncharted new intonational territories, and held between the legs firmly so as to feel first through your legs and the your whole body each sine wave of the instrument's enhanced resonating powers.
As time wore on and the full power of the cello before Bach became apparent, weight supporting devices in the form of endpins, first fixed then retractable into the body of the instrument, made for greater security and allowed for even greater resonance. Already in full swing by the mid 18th century this change coincided with Bach's death 1750 which led to the rise of the cello after Bach.
Among the champions of the cello before Bach none shines more brightly than Elinor Frey. Her Berlin Sonatas CD with fortepianist Lorenzo Ghielmi was nominated for a Juno (the Canadian Grammy) award. In May, joined by Ghielmi and soprano Suzie LeBlanc, she released world premiere recordings of music by a delightfully obscure cello before Bach composer named Angelo Maria Fiorè. An even newer CD with her Pallade Musica mates of trio sonatas by Telemann, CPE Bach, and Otto Ernst Gregorius Schieferlein - this latter even more obscure than Fiorè - is ridiculously gorgeous.
But it's not all about before Bach for Frey. She recently commissioned brand new music for her "old" Baroque cello by Scott Godin, Linda Catlin Smith, Ken Ueno, Isaiah Ceccarelli, Maxime McKinley, and Lisa Streich. She recently performed Witold Lutoslawski's Cello Concerto and a new work by Colin Labadie; next April she will premiere Keiko Devaux's new Cello Concerto with Montréal's Ensemble Arkea chamber orchestra and conductor Dina Gilbert.
I caught up with Frey, first from Mexico City where she was "madly preparing" for a big recital, a lecture, and a master class at the Universidad Nacional Autónoma de México - a UNESCO World Heritage site with murals by Diego Rivera and David Alfaro Siqueiros - then from Montréal where she was playing at Alexandra Scheibler's marvelous Montréal Bach Festival.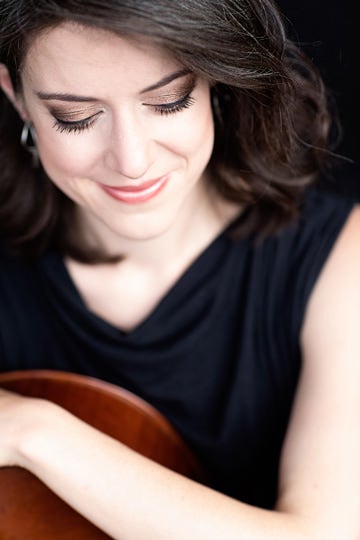 What's the coolest thing about being Elinor Frey?
The coolest thing about being Elinor Frey is my enthusiasm every day about music, people, ideas, beauty. I have hard days but enthusiasm energizes me, keeps me working longer, helps me open my heart to others. Of course this is not just about music; I'm also thinking about my boyfriend, my family, food, travel, nature, life. I am not blasé. I'm never indifferent. I am amazed and delighted by so much, and I express that enthusiasm all the time.
Yes, I love food!!! Why else would I tour the world exhausting myself playing concerts? I talk about it all the time, especially when I travel. I realized a while back that food is our common ground. You show up in some far away place, ask them about food, you tell them about your first meal, and somehow you're already friends, and they are telling you where to find the best coffee, the best taco, the best spaghetti, the best treats. These people, whoever they are, might not be into the cello like me, or have a similar background, but we have a lot in common already: we both like their food!
Do you cook much yourself?
No, I don't cook much. I assemble well though. If I buy some really nice high quality ingredients I can put them together on a plate and make something worthwhile. Imagine a big beautiful heirloom tomato, a nice piece of buffala mozzarella, amazing olive oil, fancy salt, and a bit of fresh basil. Slice it up, drizzle a bit: I win!
What have you learned from your experience in the CD business?
Two things the CD business has taught me: first, that I liked and wanted to devote myself to projects. That means I research something about the history of the cello, learn all about a place, or composer, or different instrument or techniques, and then share those discoveries with the public through concerts, CDs, talks, teaching. Second, I get to hear myself playing the cello really up close during the editing. It teaches me a lot about interpretation, sound, and connections between notes. I'm still refining that. These are only some of the life-long and endlessly fascinating parts of cello playing.
What do you mean by "connections" between notes?
I mean the space between notes. How smoothly, with how much articulation, with a sense of how they lead to one another. Whether two notes participate in the same gesture or not. Whether they change color, harmony, direction, and whether they breathe. A lot of this comes in the details of the resonant space between notes, which in Baroque music is where the "action" is in terms of speech and rhetoric.
You play an important role in Greg Iles' new novel Mississippi Blood: when the hard bitten protagonist puts on your recording of Capriccio Primo … your bowing "slows his pulse … deep within him a motor begins spooling up."
Yes, I know about Greg Iles' book! A friend told me about it and sent me a photo of him reading it. Very cool. Then Greg wrote me on Twitter. He was so kind and told me how he listened to my playing while he writes. We decided to do a little creative exchange. I sent him my recent CD and he sent me a couple of books.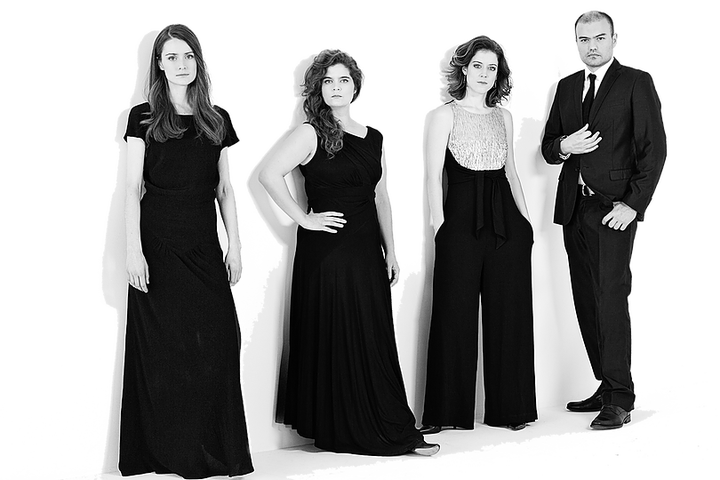 You recently played in Bach's Christmas Oratorio at the Festival Bach Montréal with the Caprice Ensemble and the Studio de musique ancienne de Montréal. What's it like when so many great period instrument players and their fabulous instruments get together?
It tells me that this is a great time for instrument making. I put a lot of time, effort, and money into participating in this tradition, to help keeping it alive. Many of the instruments I play on are made by living luthiers and archetiers. I play a ton on a 5-string cello made by Francis Beaulieu, and I'm commissioning a new Baroque cello by Karl Dennis, due in early January. I also have just commissioned the Italian bow maker Antonino Airenti for a new cello bow to be used in underhand [not underhanded] playing, and currently I play on bows by the legendary Charles Espey, Jérôme Gastoldi, and Pieter Affourtit. I have literally 100 different pictures of 16th-19th century cellos: Five strings, four strings, underhand bows, overhand bows; many are strange hybrids between gamba and cello.
What's your favorite book about music?
Luciano Berio's Remembering the Future. It's so stimulating! I think about "virtuosity of knowledge" alla Berio, where musicians may engage in an expansive view of virtuosity that is not only technical but intellectual, expressive, and historical.
What are you reading now?
The Art of Partimento by Giorgio Sanguinetti. It's an academic history almost like a novel about four Neapolitan music conservatories during the Enlightenment. A handbook, a guide, and incredible music! Neapolitan music is such a great area to learn about!
What do you read in those dusty, musty old Italian research libraries?
This autumn I read all four Neapolitan novels by Elena Ferrante. They are huge best sellers right now and a TV mini-series is coming! It's a fascinating portrait of friendship and Italian life.
What type of a reader are you?
I like browsing! When I go over to the bookshelf and hover for a while, let my eyes fall across the names, I am reminded of so many things: things I know, things I want to learn, connections between the composers, where each item came from, etc. Even the different colors of the bindings spark memories.
What about hi-tech reading?
Of course I have tons of stuff on the computer, but no iPad, Kindle, etc. I simply don't want to add more hours staring at a glowing screen! I'll send you a picture of my sheet music library.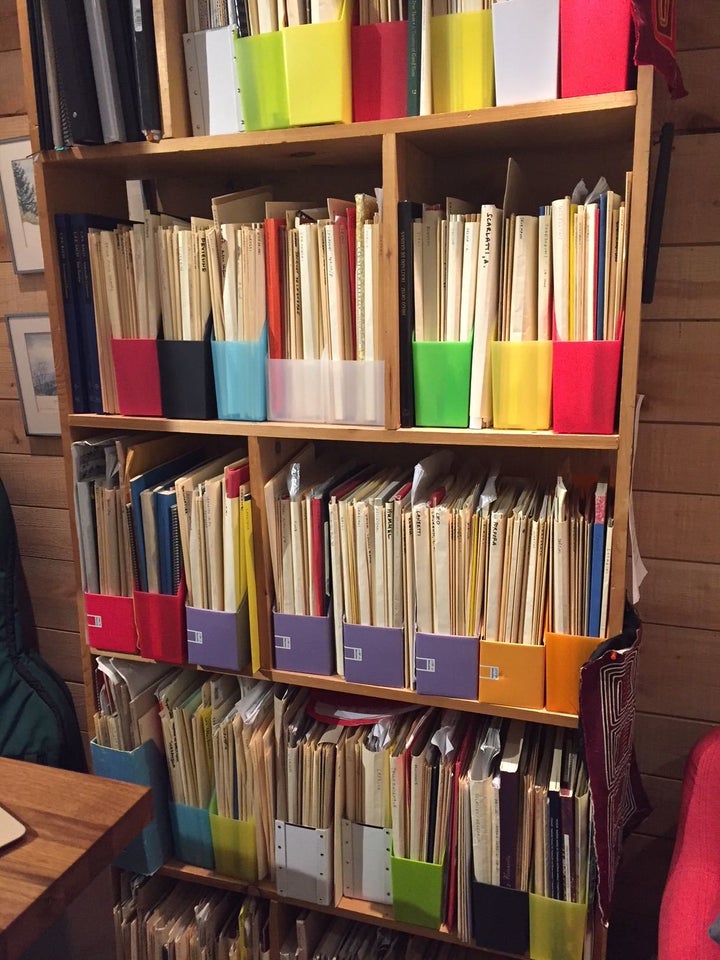 Popular in the Community