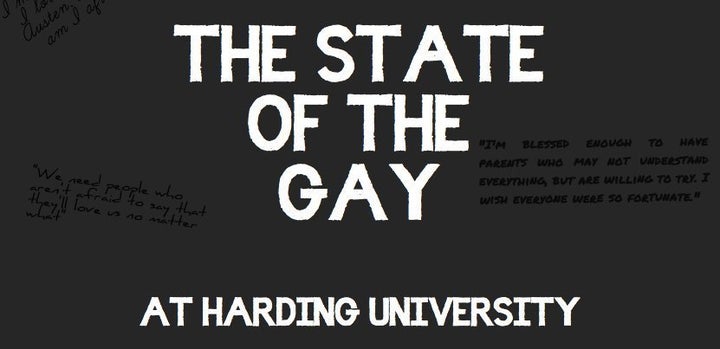 The zine, called State of the Gay, was distributed in hard copy to members of the Harding community and posted online Wednesday. A few hours later, the site was blocked on the campus network.
The zine states its mission as "aim[ing] to give voice to the experiences of gay and lesbian students at Harding." Editors go on to describe the publication as "part storytelling, part religious and political critique, and partly a manifesto of hope for Harding's future."
Despite the school's attempts to prevent access to it, the zine has created quite a viral buzz -- prompting student reactions and garnering widespread media attention.
According to the Bison, Harding President David Burks spoke to students on Thursday about the institution's decision to block access to the e-zine. "I think it is important for you to know that we are not trying to control your thinking on this," said Burks. "But it was important for us to block the website because of what it says about Harding, who we are and what we believe."
He added that he found the website degrading, and refused to mention the zine's url -- huqueerpress.com -- because he found it offensive in itself.
Harding representative David Crouch gave the Times a statement detailing the school's decision:
Harding University is a private Christian university whose mission and policies are rooted in biblical principles. All students are given a copy of the handbook and know about our mission and policies before their first day on campus. The student handbook states that the university holds to the biblical principle that sexual relationships are unacceptable to God outside the context of marriage and that sexual immorality in any form will result in suspension from the university.

Based on that policy, university administrators felt that having this website available on campus goes against said mission and policies. In addition, the handbook states that any literature distributed on campus must be approved by the Office of Student Life and must state the name of the sponsoring organization. These pamphlets were both printed and distributed anonymously with no prior approval, and the website is an online version of that pamphlet.
But some find this explanation unacceptable. A letter to Harding officials asking them to allow access to the site has gathered 250 signatures from students and their supporters. And one student told the Bison that she feels administrators "left their intentions ambiguous." She added, "If they did it to follow through with the Harding handbook, that's legitimate; from an outsider's point of view, it could be seen as censoring [the students] because they disagreed."
What do you think of this story? Let us know in the comments section below.

Related
Popular in the Community