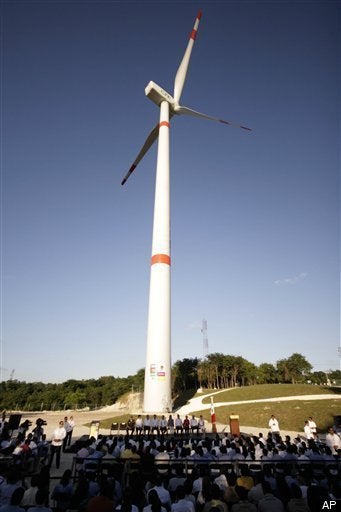 $150 billion in the next ten years--that's what the Obama administration has been promising in government spending for clean energy since the president was still just a candidate running for office.
When the president delivers his State of the Union address this Tuesday, he is expected to announce his intent to support programs that will help the nation to pursue cleaner sources of energy--a potentially large source of new jobs.
Obama's rhetorical commitment to clean energy has been well documented. But despite the fervor of his speech, his follow-up on a clean energy agenda, both in early-stage innovation and in large-scale deployment, has been seriously hampered by the administration's inability to pass the legislation necessary to facilitate a thriving clean energy future.
Obama has vowed to transform the landscape of the energy economy, weaning America off its foreign oil dependence and shifting to renewable sources over the next ten years. Specifically, he has repeatedly promised to devote $15 billion dollars in clean energy investment each year, as well as announcing his intention to pass sweeping energy reform legislation to reduce greenhouse emissions.
"This is the beginning of the 2012 elections," said Mark Muro, an energy expert at the Brookings Institution. "I think we're going to hear very powerful rhetorical arguments, but meanwhile, the budget realities don't seem very promising. There are simply areas where we have done too little, and we need to invest much more."
In the 2010 State of the Union Address, Obama promised to pass "a comprehensive energy and climate bill with incentives that will finally make clean energy the profitable kind of energy in America," echoing his 2009 statement that he wanted Congress to send him "a market-based cap on carbon pollution." The energy bill that would have delivered these very things languished in the Senate this summer before finally vanishing altogether--in what may have been the Obama administration's best chance for passing energy reform. The right-shift that hit Congress this November will only make it more difficult for legislators to get any major energy reform passed.
"We really are in the clean energy arena, wrestling with what comes after cap-and-trade if we're not going to have it," said Muro. "But there's no way around the fact that we're going to need some revenue."
And that revenue has been at the heart of Obama's promises since back in his campaign days, when he pledged to "invest 150 billion dollars over the next decade in renewable energy" during his 2008 speech at the Democratic National Convention--a figure he reiterated up until his 2009 State of the Union Address. With the passage of the American Recovery Act, $59 billion dollars were allocated to clean energy expenditures, with $400 million going to found ARPA-E, a government lab for energy innovation. Of those $59 billion dollars, $32.5 billion has been spoken for, and about $3.5 billion has actually been spent--in part because of the long-term nature of such projects. But some experts fear that the unspent money will be subject to pushback in Congress.
"It's fair to say that money that hasn't been spent and hasn't been granted is certainly subject to recall or removal," said Gerry Langeler, managing director of OVP Venture Partners, a venture firm with a clean energy focus. "I'm sure we'll see some of that."
Over the years, Obama's promises on clean energy have grown less specific, if not any less passionate. After the recent BP Oil Spill, he again reaffirmed the need to "seriously tackle our addiction to fossil fuels," rattling off a series of possible solutions without committing to any one of them. "The one approach I will not accept is inaction," he concluded. It may be that the president recognizes the steep challenge he faces to push through serious energy reform in a divided Congress. In a recent interview with Rolling Stone, he affirmed that the energy policy may have to be done "in chunks, as opposed to some sort of comprehensive omnibus legislation."
But for all of his ardent talk, Obama has not yet been able to introduce the transformative changes he has sought. On Tuesday night, many will be watching to see what renewed commitments he will make to the sector--and whether he can follow through.
"I think there's a little bit of lip service--this has been publicly his agenda for some time," said David Cheng, a senior analyst at Cleantech Group, a clean energy research and consulting firm.
While introducing Immelt, Obama singled out GE for "investing in innovation, building a clean energy center, an advanced battery manufacturing plant, and other state-of-the-art facilities in Schenectady that are resulting in hundreds of new American jobs and contributing to America's global economic leadership."
Immelt is a member of the American Energy Innovation Council, a group of business leaders who have urged strong action on the clean energy front, including recommending expenditures of $16 billion for research and development each year--last year, the U.S. spent about $5 billion in the sector.
"No business will invest when there is no certainty about what a market will look like two, five or 10 years into the future," he said in their report. "If we're serious about transforming our energy markets, we must send the right signals and create demand for the technologies that solve these problems."
Those who've watched Immelt navigate GE through the changing energy field are enthusiastic about his experience, as well as his ability to turn clean energy into a viable buisness venture.
"Jeff Immelt and GE have made clean energy a profitable business segment for them," said Dennis Costello of Braemar Energy Ventures. "They're now a major player in that industry."
But Immelt, in statements to the Financial Times, didn't seem too optimistic about the prospects for comprehensive national energy reform. "In the short term, it's going to be driven by companies, and maybe some states. I think a city and a state in the US can still be a catalyst," he said. "It's not going to be a high priority of this Congress to attack all this stuff, but there will be plenty of activity that takes place even without that."
Still, clean energy players seem optimistic about the appointment of a private sector leader in what will be a very public role.
"The beauty of appointing Jeff and specifically someone who's running GE is that they have so consistently thought both long term about their business and particularly about being a leader," said Langeler. "His mindset is not only should the U.S. create jobs, but where will we create them and how competitive will we be in the world when we do. He's going come out helping the country as best he can to lead."
The president claimed recently that he keeps a checklist in his pocket of the promises he made during the campaign, and that his administration has accomplished 70 percent of what he had set out to do.
The short energy checklist of the Obama-Biden campaign promised the following: the creation of five million jobs through the investment of $150 billion dollars in a decade, saving more on oil in ten years than was then imported from the Middle East and Venezuela combined, putting 1 million hybrid cars on the road by 2015, 25 percent dependency on renewable sources by 2025 and 80 percent gas emission reduction by 2050 through cap-and-trade.
Though for many of these changes it will take years, even decades, to fully judge their implementation, the concrete goals that have been set seem to be mired in administrative difficulties. Still, Obama's greatest accomplishment may be his public dedication to clean energy--words that resonate, even if they don't do.
"Time and time again he's demonstrated that he understands that the greater problem that are going to affect America are not just economic but environmental," said Cheng. "This president has been the most progressive, the most aggressive in terms of pushing out a clean energy agenda than any other president in the past."
Related
Popular in the Community