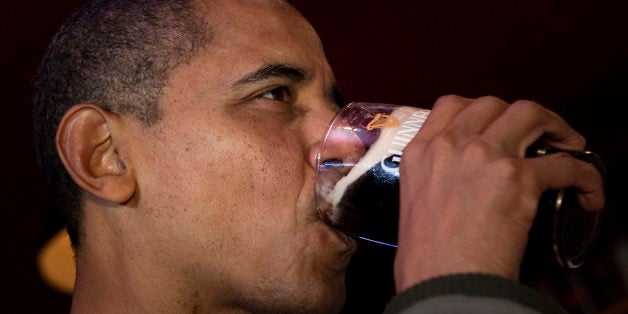 Good morning, America. Today is Tuesday, Jan. 28, and you know what that means!
Spoiler alert: It means that tonight, President Barack Obama will be delivering the 2014 State of the Union address before a joint session of Congress, the Cabinet, the Supreme Court, and a few people who actually don't have jobs, but are the most deserving of them among all those assembled.
Tonight's big topic? Income inequality. Bummer stuff, really. Which means it's as solid an excuse as any to get good and soused.
We want to serve as America's gentle enabler, but we also want to "take on the big issues," so we've prepared our annual State of the Union libation enhancement guide with an eye toward giving you the most substantive and informed scuppering available in the contiguous United States.
We've sat through way too many of these things, and we've read all of the advance rumors about what's being discussed tonight, and so we hope we can offer some realistic predictions of what's about to happen -- while accounting for the improbable and implausible, as well.
All in good fun, is how we see it, and lord knows, this never-revelatory occasion could use something of a boost in the enjoyment department. As always, however, we urge you to behave responsibly! Somebody has to! It's going to have to be you, I'm afraid.
What is the State Of The Union?
Obama says, "The state of the union is strong."
Obama says, "The state of the union is heading in a just and equitable direction for all Americans."
Obama says, "The state of the union...I mean, I've seen worse."
Obama says, "Just got to be honest with you, folks, y'all pretty much came in at the end. Who's up for the sort of easy comfort that many second-rate nations enjoy?"

Hot State Of The Union Topics
Obama discusses income inequality, the minimum wage, unemployment, infrastructure spending.
Obama discusses foreign policy goals, ongoing Iran negotiations, his "promise zone" proposal, comprehensive immigration reform.
Obama announces he'll re-up on trying to pass a background-checks bill for gun sales, talks up student loan forgiveness, energy alternatives.

Finish the bottle
Obama laments the fact that the majority of Americans weren't willing to give "Low Winter Sun" an honest chance.
State Of The Union Themes
"It's time to restore the promise of economic mobility, the idea that we give our kids a better chance than the one we had."
"This modest rise in the minimum wage is the least we can do, and yet it will mean so much to millions of Americans."

Pound a shot
"Basically, if I even urge Americans to brush your teeth twice a day, the Heritage Foundation is going to come out in favor of tooth decay by 11:30 tonight."

Finish the bottle
"We'll never be royals. It don't run in our blood. That kind of luxe just ain't for us. We crave a different kind of buzz."
Obama apologizes for bungled roll-out of Healthcare.gov, asserts that the law is nevertheless proceeding according to plan.
Obama mounts robust defense of Affordable Care Act, goes on the offensive against red-state governors who have impeded their constituents' access to health-care options.
Obama says, "I'll be honest with you, Obamacare is TOTALLY a ruse that's intended to lead to single payer. You got me!"
Obama starts to talk about Obamacare, and releases hundreds of puppies and kittens from hidden kennels behind the dais. "Where did all these fellas come from?" he says, adding, "Just look at their cute faces! Wow, I forgot what I was even talking about!"
Goals for the Coming Year
1. 2014 will be a "year of action" intended to end the diverging fortunes of the middle class, reversing decades-long trend of widening income inequality.
2. Will fight to end the discrimination against the long-term unemployed that's currently keeping them from getting back in the workforce
3. Will develop a comprehensive plan to ensure that all higher-education seekers are getting real value for their tuition dollars
1. Will be a partner in getting "big ticket" agenda items across the goal line, with bipartisan support -- such as immigration reform, tax reform
2. Will ensure a sensible drawdown from Afghanistan that brings the majority of troops home to their family while leaving a plan in place that demonstrates America's resoluteness in standing against radical extremists
3. Will pursue negotiations with Iran on its nuclear power program so long as the Iranian regime remains a substantive partner
1. Announces major initiative to provide mental health care to those who are currently falling through the cracks
2. States that he is ready to greenlight the Keystone XL pipeline
3. Promises to aggressively fight for net neutrality
1. "I don't know about you guys, but we should meet up in Aurora this summer and smoke up."
2. "Grab your pitchforks, everyone, we march on Tom Perkins' palatial estate tonight!"
3. "Seriously, you guys, 'Low Winter Sun' was an alright show."
Obama says, "We will have a valuable debate and come to a reasonable balance of liberty and security."
Obama insists, "The powers that have been given to the NSA, while broad, have been oversold as something that law-abiding Americans should fear."
Obama says, "I've got clemency paperwork for Edward Snowden right here, tonight, for him to come and read." He then places that paperwork on top of a bear trap.
Obama stage-whispers: "I CAN'T TALK ABOUT THIS, GUYS. I'M IN WAY TOO DEEP."
Obama quotes LBJ or Lincoln.
Obama quotes Teddy Roosevelt or Dwight Eisenhower.
Obama cites James Madison or Thomas Jefferson.
If the camera alights on Elizabeth Warren, Michelle Obama, Chuck Schumer, Mitch McConnell, Ted Cruz with his nose in the air
If the camera alights on Rand Paul, John Lewis, Paul Ryan, Nancy Pelosi, Ted Cruz staring into a hand mirror

Pound a shot
If the camera alights on Renee Ellmers, Raul Grijalva, Aaron Schock, Alan Grayson, Ted Cruz standing in front of a full-length mirror

Finish the bottle
If the camera alights on the cast of "Workaholics", the "Planet Hillary" from the New York Times Magazine cover, Steve Stockman, Edward Snowden, Ted Cruz burning his Canadian citizenship papers

Audience Reactions
Democrats find moments to enthusiastically applaud.
Republicans find some spots to do some trolling.
Obama gets heckled from the cheap seats.
A panicked Louie Gohmert bursts into the chamber, yelling, "Oh come on, you guys! Why didn't any of you tell me this was tonight?"
Joe Biden and John Boehner
Biden and Boehner offer warm greetings to the president and each other, sharing a private joke.
Biden gamely offers the president's remarks broad smiles and enthusiastic applause; Boeher responds with polite ovations.
Biden pulls out a sack, reveals that he's brought enough chili dogs for he and Boehner to share during the speech.
Biden unfurls a massive "BIDEN 2016" banner right there on the dais.
Obama makes explicit endorsement of Hillary Clinton in 2016.
Obama trolls the gaffe-happy political media by saying the word "conclusion" aloud just like Maryland Gov. Martin O'Malley did.
Macklemore gay-marries the entire Supreme Court to each other in a legally binding ceremony.
Obama mentions the Elk River chemical spill.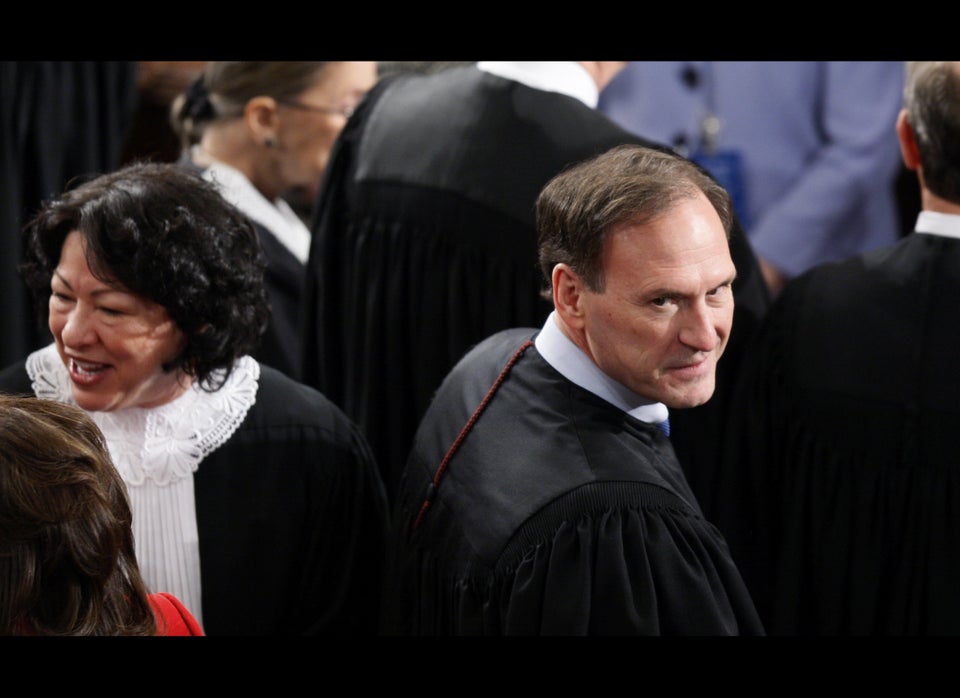 Unforgettable State of The Union Moments
Popular in the Community