 Well, hello there, kids! Today is Tuesday, Feb. 12, 2013, and you know what that means, don't you? Well, in case you haven't heard, tonight is the night that President Barack Obama will deliver the first State Of The Union address of his second term. Naturally, as this address to the nation is meant to be a comprehensive inventory of how we are faring as a nation, we imagine that many of you are going to want to hit the sauce, so that you can more comfortably confront the evening's pageantry and the uncertain future that awaits us all the morning after.
As always, we've prepared this handy libation enhancement with an eye toward the things that the president is likely to stress. We've sat through more State Of The Union addresses than we care to remember, and we've used the time-tested pleasures of the "State Of The Union Drinking Game" to ensure that we don't, in fact, remember them. Years on, all that we can recall from a long history of these orations is that one time President George W. Bush mentioned human-animal hybrids. If it were true that a president could move the hearts and minds of the masses through the delivery of a single speech, we would take these things more seriously. But they can't so we don't. Sorry, we party, like True Americans.
Of course, we've done everything we could to correctly anticipate the sorts of things that might happen tonight -- but as always, there could be surprises. Ted Nugent, for example, is going to be present tonight for some reason. "Oh, that's neat, we have a paying gig to play in front of an actual live audience tonight," said all other American rock performers when they heard about Nugent making the scene tonight. The point is, if something truly bonkers happens, use your discretion. And of course, we urge everyone to participate in this celebration of forgettable political rhetoric responsibly.
What is the State Of The Union?
Obama says: "The State of the Union is strong, and moving forward."
Obama says: "The State of the Union is vulnerable, but moving in the right direction."
Obama says, "The State of the Union is ass-over-tea kettle but basically moving in the direction of the kettle, at least."
Obama says, "The State of the Union is undecided, and moving to Poughkeepsie to finish its Comp Lit degree at Vassar. I know, I know, the Union is totally going to have to move in with its parents after graduation, don't even get me started."
Broad State Of The Union Themes
"We have more work to do to ensure that all Americans can participate in the economic recovery"
"We must act now to restore the American promise to middle-class Americans."
"More must be done to ensure a fair shot for everyone, and that no one is playing by a different set of rules."
"This nation has the chance to become a magnet for the next wave of manufacturing jobs."
"Like Chris Rock said, "There's a f**king art to the first term because you're always running for a second term the whole time."
"Guys, I'm gonna be dead honest, I was really, really pretty much counting on that whole Mayan apocalypse panning out."
Hot State Of The Union Topics
Obama discusses unemployment, manufacturing, immigration reform, gun safety legislation.
Obama discusses education investments, climate change, marriage equality, infrastructure spending.
Obama discusses the crisis in Syria, student loan forgiveness, labor rights, voting reform.
Obama discusses werewolves, funding for a CDC study of zombie outbreaks, Lena Dunham.
Goals for the Coming Year
1. Raise revenue with tax reform, loophole closures, targeting wasteful subsidies.
2. Forge a bipartisan plan for comprehensive immigration reform that pairs border security with a path to citizenship.
3. Call for greater investments in education and job training.
1. Pass sensible measures to reduce gun violence in America, beginning with an enhanced background check system.
2. Work with Republicans and Democrats to find spending cuts to offset the sequester.
3. Continue to hand over security to the Afghan people ahead of a 2014 draw-down date.
1. Lift the caps on Social Security contributions to shore up the program's long-tern solvency.
2. Boldly move from the standpoint that anthropogenic climate change is a settled scientific matter.
3. Modernize the process of voting in a way that drives up participation without sacrificing convenience.
1. Challenge Marsha Blackburn to a skeet-shooting competition, loser has to surrender their pinky finger.
2. Urge Congress to pass a law that would put anyone who spoils the plot points on the current season of "Downton Abbey" on the "No Fly List."
3. Get the Choom Gang back together for one last, economy-stimulating rager.
Taking On The Punditocracy
Obama: "I know that some say Washington has broken beyond repair, and that we can no longer do big things to curb health care costs and bring down the deficit, but I stand ready for work with both parties, and I believe we can pass a historic bargain that reduces spending while allowing for robust investments in the middle class."
Obama: "I know that some say passing sensible gun safety legislation is too heavy a lift, but it's what we do to create a safe world for our children to grow up in that matters most, and indeed, it will be by that measure that we are judged as a leader."
Obama: "I know that some say that we will never achieve a peaceful accord between Israel and Palestine, and boy howdy are those people ever right! Sheesh, guys, it's just hopeless at this point!"
Obama: "I know that some say the second season of 'Homeland' was some of the most exciting and unpredictable television we've ever seen, but I'm not buying it! From a character standpoint, the show's creators just really lost the thread. Patinkin is still my jam, though."
Camera catches any of the following: Harry Reid, Mitch McConnell, Michelle Obama, Nancy Pelosi, Lindsey Graham looking sad.
Camera catches any of the following: Chuck Schumer, Former Staff Sergeant and Medal of Honor winner Clint Romesha, Paul Ryan, Rand Paul, Lindsey Graham rolling his eyes.
Camera catches any of the following: Ted Cruz, Kirsten Gillibrand, Sonia Sotomayor, Raul Grijalva, Lindsey Graham fainting in the throes of anger and anomie.
Manti T'eo hoaxer Ronaiah Tuiasosopo, the Iranian space monkey, Lindsey Graham with his mouth taped shut and shot full of arrows like Piero del Pollaiuolo's depiction of the Martyrdom of Saint Sebastian
Joe Biden applauds enthusiastically, cracks the occasional joke with John Boehner.
Joe Biden giggles uncontrollably when he's mentioned by name, or makes "raise the roof " gesture.
Joe Biden flashes a toothy smile, unwraps an Italian Sub from Al Casapulla's in Wilmington and chows down.
Joe Biden springs from his seat and starts firing "HANDSOME JOE BIDEN IN 2016" shirts out of a t-shirt gun into the crowd.
The State Of Ted Nugent's Mind
Nugent sits quietly, watching the proceedings, knowing that he'll be swarmed with press afterwards.
Nugent loudly heckles the president, like he was raised in a trough or something.
Nugent squeezes off an errant crossbow shot, gets destroyed by Secret Service agents
What are the odds that Ted Nugent, after absorbing the history of our political institutions and the seriousness of the moment, comes to realize that the world needs some rocker-turned-reality-show carny preening around like some clownish, hard-man wannabe like it needs a hole in the head, and resolves himself to taking a more dignified approach to politics? Pretty astronomical, right?
Before You Go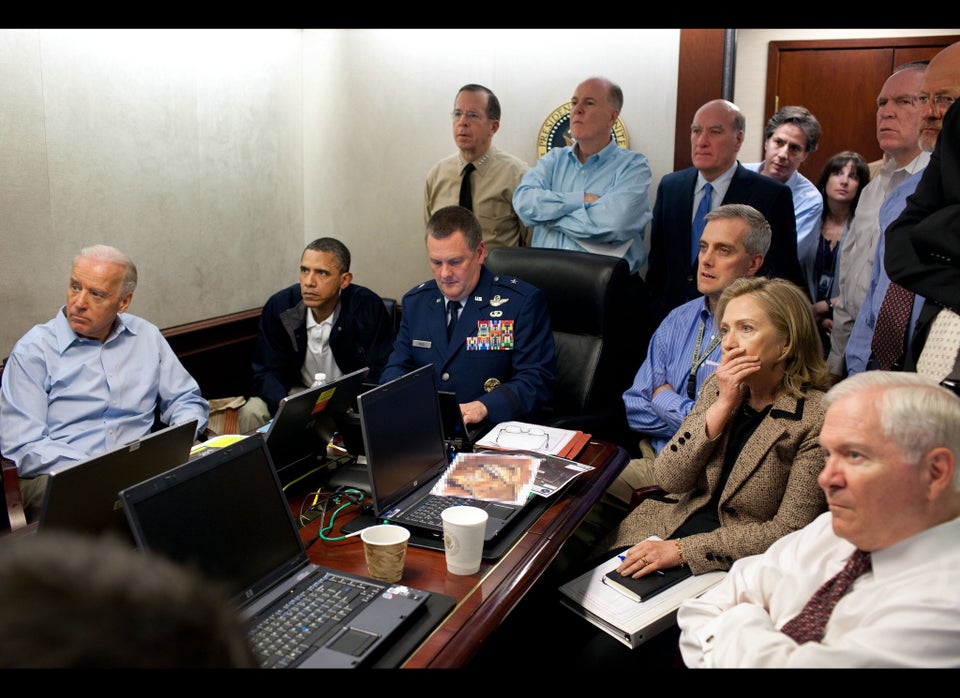 Most Iconic Photos Of Obama's First Term
Popular in the Community