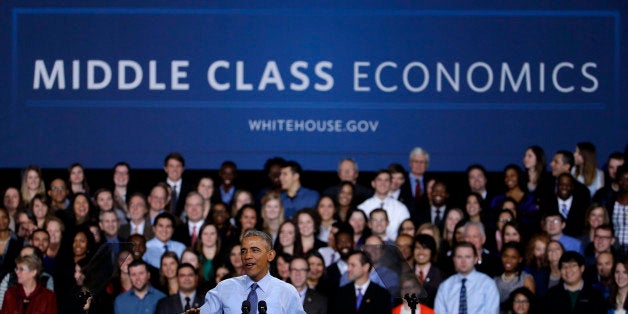 WASHINGTON -- The economic vision President Barack Obama laid out in last Tuesday's State of the Union has widespread appeal, as do many of his key policy proposals -- but many Americans still see that agenda as unlikely to help them on a personal level.
But while some of the specific, progressive ideas the president proposed -- from raising the minimum wage to leveling the pay gap and providing for childcare -- are popular, they're also not ideas most Americans see as likely to affect their own lives:

Chart created using Datawrapper
Most Americans, though, don't see a raise as helping them personally. In a HuffPost/YouGov poll taken in December, just 31 percent of Americans said raising the minimum wage would directly help them or their family. Another 21 percent said it would directly hurt them, while 49 percent weren't sure, or said it would have no direct impact.
And while equal pay is cited as a top issue for working women and affordable child care is almost universally seen as a good idea, just 31 percent of Americans said they'd see a direct and positive impact from funding for childcare, while 22 percent said they'd see a positive impact from a law to ensure equal pay for women. Fewer than a quarter predicted that they'd be negatively affected by any of those ideas, either -- the predominant response was apathy.
Even some of the groups who might be expected to benefit most from the proposals are doubtful. Fifty-seven percent of Americans in households making less than $40,000 a year don't think a minimum wage increase would help them, while 64 percent of women don't expect a direct boost from a law to help ensure the genders are paid equally.
The challenge isn't unique to Democratic policies. GOP priorities like reducing the federal debt and scaling back business regulations are also seen as personally helpful by fewer than a third of Americans, and are perceived as hurtful by nearly as many.
The quandary, however, is perhaps especially pronounced for Democrats. The least financially stable Americans, who are most likely both to support a social safety net and to rely on it, are also the least likely to turn out in elections or generally to be involved in politics.
Democrats also need to continue working to convince voters that their proposals are part of a larger, coherent economic message -- something that was seemingly lost in 2014, when the GOP was seen as focusing more on the economy.
In the HuffPost/YouGov survey, just 32 percent of Americans said Democrats' economic policies are more likely to directly help them and their family, while 27 percent said the Republicans' policies are. Forty percent said neither would, or weren't sure.
The HuffPost/YouGov poll consisted of 1,000 completed interviews conducted Dec. 4-8 among U.S. adults using a sample selected from YouGov's opt-in online panel to match the demographics and other characteristics of the adult U.S. population. Factors considered include age, race, gender, education, employment, income, marital status, number of children, voter registration, time and location of Internet access, interest in politics, religion and church attendance.
The Huffington Post has teamed up with YouGov to conduct daily opinion polls. You can learn more about this project and take part in YouGov's nationally representative opinion polling. Data from all HuffPost/YouGov polls can be found here. More details on the poll's methodology are available here.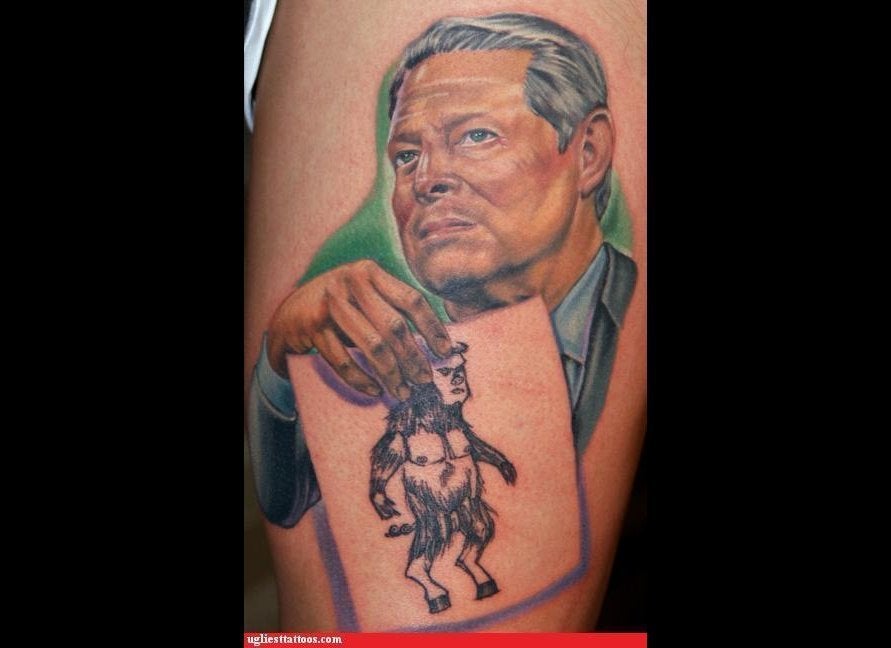 Political Tattoos That Really Suck
Popular in the Community