During Tuesday night's State of the Union address, President Barack Obama proposed several major education initiatives, including a big push to expand pre-kindergarten and a potential revamp of the federal aid system for college students.
"Tonight, I propose working with states to make high-quality preschool available to every child in America," Obama said. "Every dollar we invest in high-quality early education can save more than seven dollars later on."
Instead of focusing on the bulk of American public school students, the president's proposals zeroed in on the margins, targeting the oldest and youngest members of the country's education system.
The speech marks an inflection point on education between Obama's two terms: His first term focused on drastic changes to K-12 public schools, while his second term will likely emphasize higher education and early education. It's a strategy the White House described to advocates before the State of the Union speech as "bookending" Obama's earlier policies.
It's not just a structural shift. It's political. Many of Obama's and Education Secretary Arne Duncan's K-12 fights alienated one of their party's core constituents, the teachers unions. The administration publicly sparred with the National Education Association and the American Federation of Teachers over issues concerning teacher quality and the use of standardized tests. "It's intellectual McCarthyism," said Andy Rotherham, a consultant at Bellwether Education Partners who previously worked as an education advisor to President Bill Clinton. (Rotherham generally supports the speech's new proposals.) "You're not allowed to talk about this because you're bashing teachers."
Those teacher quality measures have all but dropped off the administration's billboard agenda for the president's second term, and after Tuesday's speech, both teachers' unions issued effusive statements.
But in the eyes of Amy Wilkins, a vice president of the Education Trust, Obama's next four years will likely have something in common with his first term: "The equity agenda was missing from the first term and it's also missing from the second term," Wilkins said, based on the speech. "A rising tide does not lift all boats."
The broader outlines of the pre-K plan, Wilkins said, don't necessarily address underprivileged students. "All of these are laudable and noble things to do, but the thing for me that's missing is the recognition that some schools, some families, some kids need more help than others," Wilkins said. "When we have a tight budget ... poor kids need pre-K first."
While the speech's pre-school proposal lacked specifics, insiders expect it to mirror a recent Center for American Progress report that proposed providing every child with two years of pre-kindergarten paid for with federal funds matched by state spending, to the tune of $10,000 per child. CAP estimated that the pre-K component could cost up to $100 billion. The Huffington Post first reported in January that the Obama administration was considering such a plan.
It is unclear how the president would pay for the program while not increasing the deficit, as he promised Tuesday.
"We're supportive of high-quality early childhood education," said Yasmina Vinci, who oversees the National Head Start Association. "But I think that the devil will be in the details."
Pre-K for all is no sure bet. While the president is scheduled to make a speech at an early education center in Georgia on Thursday, perhaps to bolster his plan, many of the education proposals he promised in his 2012 State of the Union address have yet to gain any momentum.
Before You Go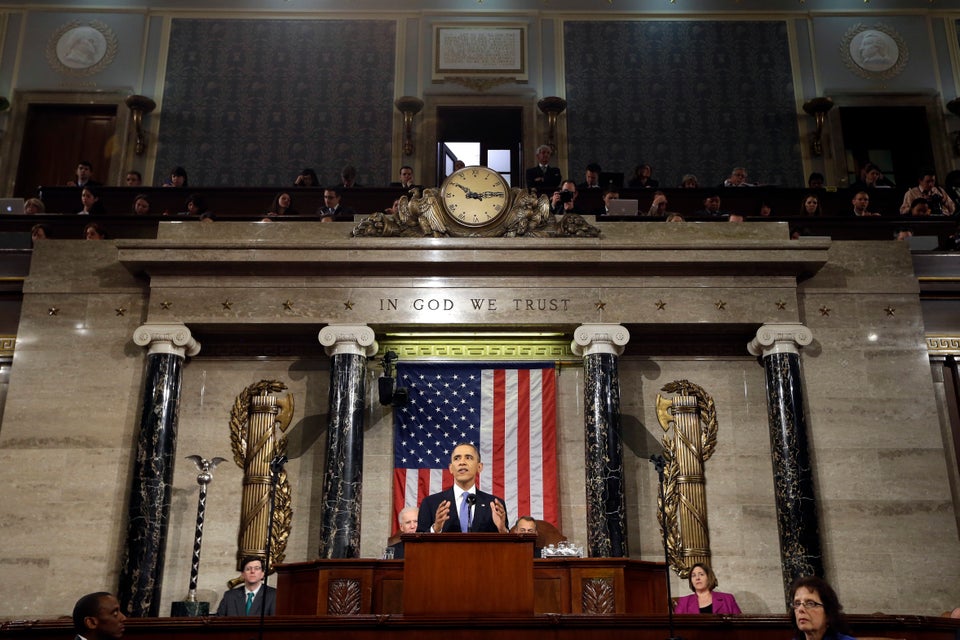 State Of The Union 2013
Popular in the Community