WASHINGTON — Each year, Capitol Hill lawmakers can bring guests to the president's State of the Union address, often selecting people who represent a political message. Ahead of Donald Trump's first State of the Union on Tuesday, a handful of Democrats, including civil rights hero Rep. John Lewis (D-Ga.), have chosen to boycott it over the president's recent racist comments deriding Haiti and African nations as "shithole countries."
Pointing to Trump's decision to end protections for so-called Dreamers under the Deferred Action for Childhood Arrivals (DACA) program, Rep. Earl Blumenauer (D-Ore.), who will skip the speech, announced that Dreamer Aldo Solano will attend in his place.
Many of the Democratic senators and representatives who will be in attendance have also chosen guests who will serve as a rebuke to Trump and draw attention to issues such as immigration, hurricane relief in Puerto Rico, sexual assault and the #MeToo movement, and Trump's attempt to ban transgender members of the military.
Immigration
Immigration policy will undoubtedly take center stage Tuesday night as Trump and congressional leaders scramble to find a legislative solution to protect the Dreamers program initiated under President Barack Obama. HuffPost counted nearly 30 Democratic lawmakers who are bringing Dreamers as their guests.
Several other lawmakers have invited family members of undocumented immigrants who have been deported under Trump, such as Rep. Debbie Dingell (D-Mich.), whose guest will be Cindy Garcia. Garcia's husband, Jorge, was recently deported to Mexico after living in the U.S. for nearly 30 years.
In addition to DACA, Trump administration officials have also announced plans to eliminate temporary protected status (TPS) for thousands of immigrants from Haiti, El Salvador and Nicaragua, and have created uncertainty for immigrants from other countries included in TPS — underscored by Reps. Seth Moulton (D-Mass.) and Jacky Rosen (D-Nev.), and Sen. Catherine Cortez Masto (D-Nev.), who have all invited immigrants who fall under TPS protections.
Sen. Elizabeth Warren (D-Mass.) invited Jean Bradley Derenoncourt, a city council member in Brockton, Massachusetts, who is originally from Haiti, one of the countries Trump reportedly referred to as a "shithole" in a meeting about immigration issues.
"His story embodies American values of hard work, service, and persistence," Warren said in a statement.
Sexual misconduct
The #MeToo and #TimesUp movements will also be represented on Tuesday night. Many Democratic women plan to wear black to show solidarity with survivors of sexual misconduct, inspired by the Golden Globe Awards earlier this month.
Rep. Jackie Speier (D-Calif.), who has been outspoken about the issue of sexual misconduct in Congress, is bringing Travis Moore, a former congressional aide who helped organize a petition that led lawmakers to begin re-evaluating the byzantine process for reporting misconduct on Capitol Hill.
Rep. Bonnie Watson Coleman (D-N.J.) invited Rose Gunter, niece of Recy Taylor, a black woman in Alabama who was raped by six white men in Alabama in 1944, an event that helped catalyze the civil rights movement. Taylor, who died in December, has now become a symbol of the #MeToo and #TimesUp movements, and was recently honored by Oprah Winfrey in a stirring speech at the Golden Globes.
Members of the Congressional Black Caucus will wear red pins in Taylor's memory.
Hurricane recovery in Puerto Rico
Several representatives from New York and Florida, states with significant Puerto Rican populations, have invited guests who were displaced from Puerto Rico following Hurricane Maria last year, or who have helped the island's residents with relief efforts.
Sen. Kirsten Gillibrand (D-N.Y.) invited San Juan Mayor Carmen Yulín Cruz (D). Not coincidentally, Trump has attacked both women, two of his strongest critics, on Twitter.
Transgender military ban
Rep. Joe Kennedy (D-Mass.), who will give the Democratic response to Trump's address Tuesday night, announced that he invited Staff Sgt. Patricia King, a transgender soldier who said that she was the first service member to have the military pay for her gender reassignment surgery.
The Trump administration last year announced that it would ban transgender military service members, a decision that has been temporarily blocked by a federal court.
"I want her to be there as a real person, and the face of an inhumane policy," Kennedy told The Boston Globe.
Rep. Jared Huffman (D-Calif.) is also bringing a transgender military service member, Lynda Bengtsson-Davis, a Marine Corps veteran, as his guest.
"As President Trump delivers his first State of the Union address, my message to him, to my constituents, and to America as a whole is going to be: love trumps hate," Huffman said in a statement. "When our President tries to take us backward by turning Americans against each other and stoking culture wars, he must be confronted."
Before You Go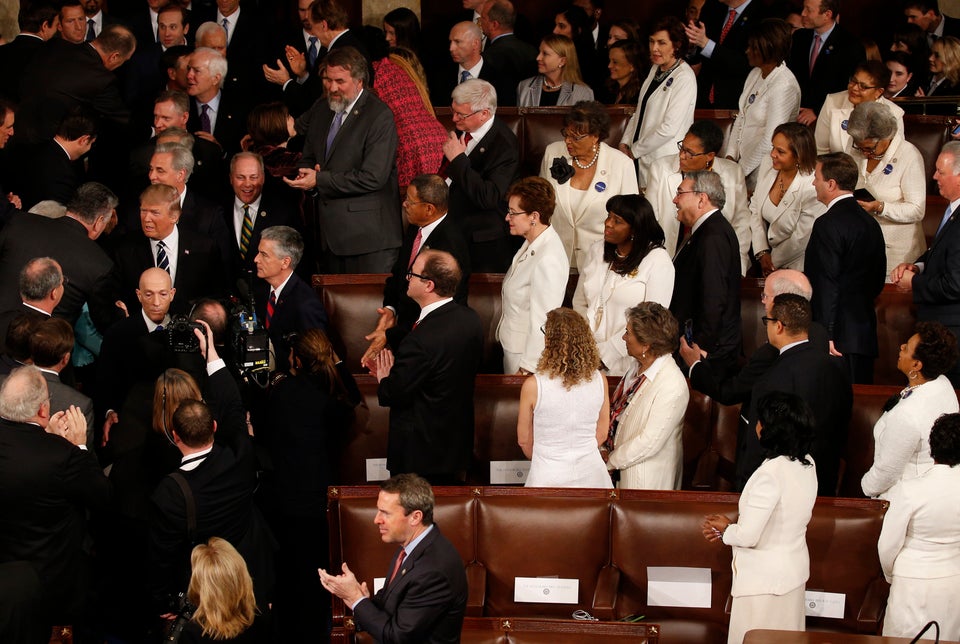 Trump's First Speech To Congress
Popular in the Community