WASHINGTON -- CNN's instant polling among Americans who watched Tuesday's State of the Union found an overwhelming majority reacting positively to President Barack Obama's address, as it has four times previously during his presidency.
The network's poll found that 76 percent of Americans who watched the speech viewed it somewhat or very positively, in line with reactions to his previous speeches, although the percentage with "very positive" views declined. Last year, 77 percent of watchers reported a positive view of the speech to CNN, and slightly higher numbers approved of Obama's speeches in three previous years. (The network didn't conduct a post-State of the Union poll in 2012.)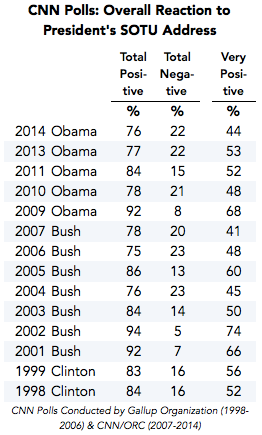 As in the past, Obama faced a relatively Democratic television audience, with backers more likely than detractors to tune in. Tuesday night's poll sample also "skews Democratic," according to CNN's Anderson Cooper, "because when there's a Democratic president, more Democrats tend to watch." According to CNN, 41 percent of respondents to Tuesday night's survey identified as Democrats, 22 percent as Republicans and 37 percent independents.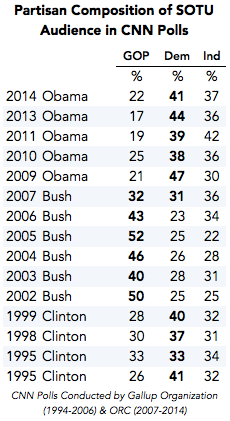 Another measure showed improvement before and after the speech, with the pattern again largely comparable to previous addresses. The percentage who agreed that the president's policies will "move the country in the right direction" increased from 52 percent among speech watchers in a pre-speech survey to 69 percent just after. The 17 percentage point gain compares to similar gains for Obama of 6 points in 2013, and gains of 16 points to 18 points following the speeches in 2009, 2010 and 2011.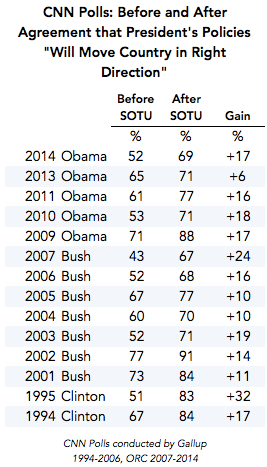 Watchers were not entirely sold on Obama's pledge to "take steps without legislation" on some proposals if Congress doesn't act. Just 30 percent said he should act alone on major issues, while 67 percent preferred him to make compromises and work across party lines.
Two of the main economic topics broached in his speech -- combating income inequality and raising the minimum wage -- have fared well in the polls. Sixty-nine percent of Americans say the government should work to decrease the gap between the rich and everyone else, and 73 percent support increasing the minimum wage to $10.10 an hour, according to a recent Pew Research/USA Today survey. Both Republicans and Democrats cited the economy as their top priority.
Fifty-nine percent of Americans said Obama's plans would improve the economy, somewhat lower than in past years. In 2013, 65 percent believed his plans would help.
State of the Union addresses historically have little impact on presidential approval ratings. Obama's numbers last year remained virtually unchanged in the week after his speech.
Popular in the Community