WASHINGTON -- President Barack Obama on Tuesday called on Congress to send him an immigration reform bill "in the next few months," upping the pressure on Senate and House members to find a compromise.
"We know what needs to be done," Obama said in his State of the Union address. "As we speak, bipartisan groups in both chambers are working diligently to draft a bill, and I applaud their efforts. Now let's get this done. Send me a comprehensive immigration reform bill in the next few months, and I will sign it right away."
Obama has devoted considerable attention to immigration reform during the first weeks of his second term, including in a major address on the topic in Las Vegas at the end of last month. In that speech, the president said Congress needed to deal with immigration "in a timely manner" -- without setting an exact timeframe -- or else he would send his own legislation for a vote.
Obama placed less emphasis on immigration during his State of the Union speech, which was largely focused on the economy. But he did lay out some of his key principles, such as border security, legal immigration reform and a pathway to citizenship for undocumented immigrants already living in the country.
"Real reform means strong border security, and we can build on the progress my administration has already made -- putting more boots on the southern border than at any time in our history, and reducing illegal crossings to their lowest levels in 40 years," he said. "Real reform means establishing a responsible pathway to earned citizenship -- a path that includes passing a background check, paying taxes and a meaningful penalty, learning English and going to the back of the line behind the folks trying to come here legally."
"And real reform means fixing the legal immigration system to cut waiting periods, reduce bureaucracy and attract the highly-skilled entrepreneurs and engineers that will help create jobs and grow our economy," he added.
Whether immigration reform should include provisions to allow the undocumented to become citizens is set to be a major sticking point as reform talks go forward. Obama and Democrats say such a pathway is absolutely necessary to reform. A bipartisan group in the Senate dubbed the "gang of eight" released a framework last month for immigration reform that included a pathway, albeit a difficult one that would only be triggered after meeting certain border security goals.
But there are many Republicans in both the House and the Senate who are skeptical of the idea, despite their colleagues' pleas. Rep. Raúl Labrador (R-Idaho), a potential leader on immigration, said last week that he and the majority of his conference would vote down a pathway to citizenship.
The American people broadly support a pathway to citizenship, according to most polls. A survey released by the Washington Post earlier Tuesday found that 70 percent of people say undocumented immigrants should be allowed to become citizens should they meet certain requirements. However, if the question mentioned Obama's support for such a plan, its approval dropped to 59 percent.
Obama's State of the Union comments on immigration were different from those he made in 2011 and 2012, when his remarks were almost identical each year. At the time, there was less momentum on immigration, and Obama urged the idea of reform rather than offering specifics on how to get it done.
In previous speeches, Obama highlighted the plight of Dreamers -- young undocumented immigrants who entered the U.S. as children -- and foreign nationals who earned degrees in the country, but this year he spoke more broadly, attempting to emphasize the consensus emerging around reform.
"Our economy is stronger when we harness the talents and ingenuity of striving, hopeful immigrants," he said. "And right now, leaders from the business, labor, law enforcement, and faith communities all agree that the time has come to pass comprehensive immigration reform."
Before You Go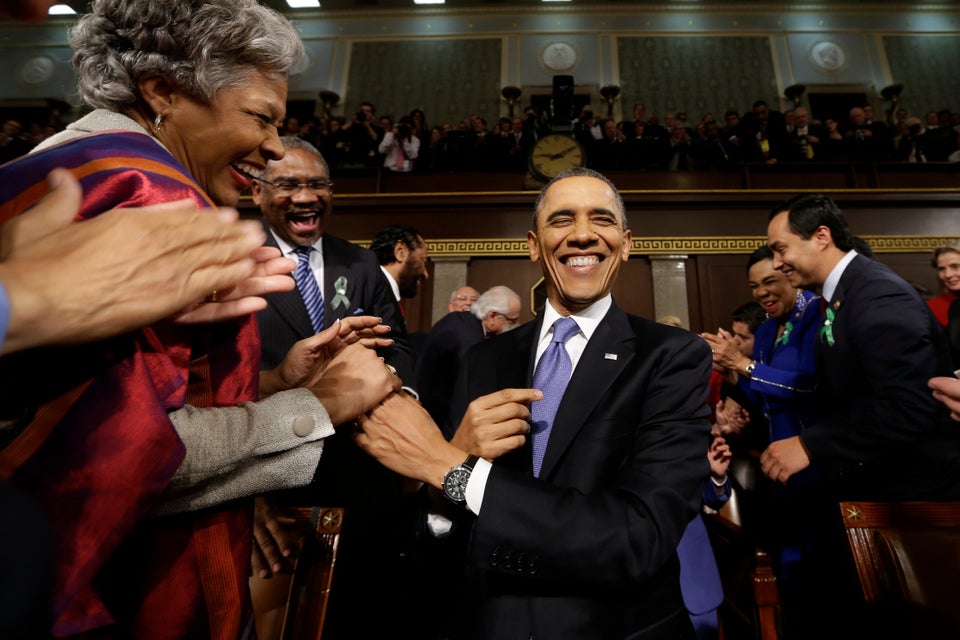 State of the Union 2013
Popular in the Community