WASHINGTON -- President Barack Obama Tuesday night pledged that if Congress refuses to take action to stem climate change, his administration would act unilaterally.
"I urge this Congress to pursue a bipartisan, market-based solution to climate change, like the one John McCain and Joe Lieberman worked on together a few years ago," Obama said, as McCain offered a tight smile from a back row. "But if Congress won't act soon to protect future generations, I will. I will direct my cabinet to come up with executive actions we can take, now and in the future, to reduce pollution, prepare our communities for the consequences of climate change, and speed the transition to more sustainable sources of energy."
There's about zero chance that the GOP-led House will pass climate change legislation this session, given that many of its members do not acknowledge that human activity has anything to do with it, if it's happening at all.
"There's nothing that the president can propose on climate change that's going to pass and get to his desk," said Sen. John Barrasso (R-Wyo.), stating a plain fact.
But the federal government has tremendous power when it comes to driving the clean energy industry. Its vast reach into the economy makes it uniquely able to trigger the private sector to direct investment one way or another. As Christian Parenti wrote previously for HuffPost, taken together, federal, state and local government spending makes up nearly 40 percent of gross domestic product.
And the Environment Protection Agency has the authority to regulate carbon emissions as pollution, which it has so far shied away from doing.
"He's been doing that for the last four years on a number of issues," said Barrasso of Obama's threat to go it alone. "I expect he's going to continue that, and I think that his efforts are going to hurt the economy and cost jobs."
Sen. Susan Collins (R-Maine) said she wonders where the president's been all this time. "I think the president relies too much on executive orders and not enough on working with Congress to produce legislation," Collins said. Washington Democrat Sen. "Maria Cantwell and I proposed bipartisan climate change legislation last year, and the White House did not do anything to help advance our bill even though it was an actual bill that had been introduced and was bipartisan. So I don't think that -- while I'm sympathetic to the need to do something to further reduce carbon emissions, I don't think you can do it by executive order."
The president's plan, which he didn't detail, would aim to dramatically reduce energy consumption by the end of the decade by increasing the efficiency of buildings and homes. It would give extra funding to states that make strides on their own.
"Tonight's speech is a big win for those who want action on climate change and believe now is the time to act," Carol Browner, former head of the EPA, said after the speech. "The president was clear about the magnitude of the challenge and resolute in his determination to use his executive authority to take action, especially if Congress won't."
Obama used a portion of his speech to argue the science behind climate change, an indication of just how far Washington is from acting. "Yes, it's true that no single event makes a trend," Obama said. "But the fact is, the 12 hottest years on record have all come in the last 15. Heat waves, droughts, wildfires, and floods –- all are now more frequent and intense. We can choose to believe that Superstorm Sandy, and the most severe drought in decades, and the worst wildfires some states have ever seen were all just a freak coincidence. Or we can choose to believe in the overwhelming judgment of science -– and act before it's too late."
"While we are excited to hear the president connect the dots between climate change and increasingly severe weather, accurately explaining the problem is not nearly enough," Souweine said in a statement. "Tonight, President Obama set the lowest possible bar for action -- he did not pledge to stop the carbon-spewing Keystone XL Pipeline nor promise carbon regulations on existing power plants. In fact, he pledged no specific actions at all."
Rep. Peter Welch (D-Vt.) said he thought Obama "wisely focused on energy efficiency because energy efficiency is where there is some common ground. ... It doesn't require a big debate about which fuel is appropriate or whether climate change exists."
Sen. Marco Rubio (R-Fla.), who rebutted the president's speech, confirmed just how far apart the two parties are in his own remarks, arguing, "Our government can't control the weather" -- mocking the very notion that collective action could avert the crisis.
How aggressively Obama pushes for change will dictate how dramatically the government can shift investment. And the climate change portion of the speech left some room for uncertainty. After laying out the dangers inherent in burning more fossil fuels, the president noted that "my administration will keep cutting red tape and speeding up new oil and gas permits."
That worried Sen. Barbara Boxer (D-Calif.), chair of the Environment and Public Works Committee. "I'm not a person who believes it really helps us to move forward with more oil because it threatens our coastline. But the president always believes in an all-of-the-above strategy. As long as it's done carefully, it can be part of the mix," she said.
For Sen. John Thune (R-S.D.), it was the only thing he liked. "He talked about some things on energy policy that I think would have support from Republicans -- not the climate change piece, but the other stuff ... accelerated permitting," he said.
Rep. Michele Bachmann (R-Minn.) unsurprisingly accused the president of a power grab. "This president has decided if he doesn't get his way with Congress, he's going to be Congress," she said. "That's not what an executive order is for. That's unconstitutional, and I think that would be wrong."
Sen. Angus King, an independent from Maine who caucuses with Democrats, first said that Obama ought to work through Congress, but as he reflected on the gravity of the situation, seemed to become more comfortable with executive action.
"I'd always prefer to see the solutions come through Congress, and there are limits as to what the president can do by executive authority," King said. "I think really the fundamental policy should be made in the Congress working with the president." He added: "I'm glad he raised the subject. It's important. It's one that we've just got to face. I think it's one of the greatest challenges of our generation. And if we don't face it, our grandchildren are going to look back at us and say, 'You had a chance to do something about this -- why didn't you?' So I'm glad he gave it the emphasis he did, and I think it took some courage."
Lynne Peeples, Sabrina Siddiqui, Mike McAuliff and Amanda Terkel contributed reporting.
Before You Go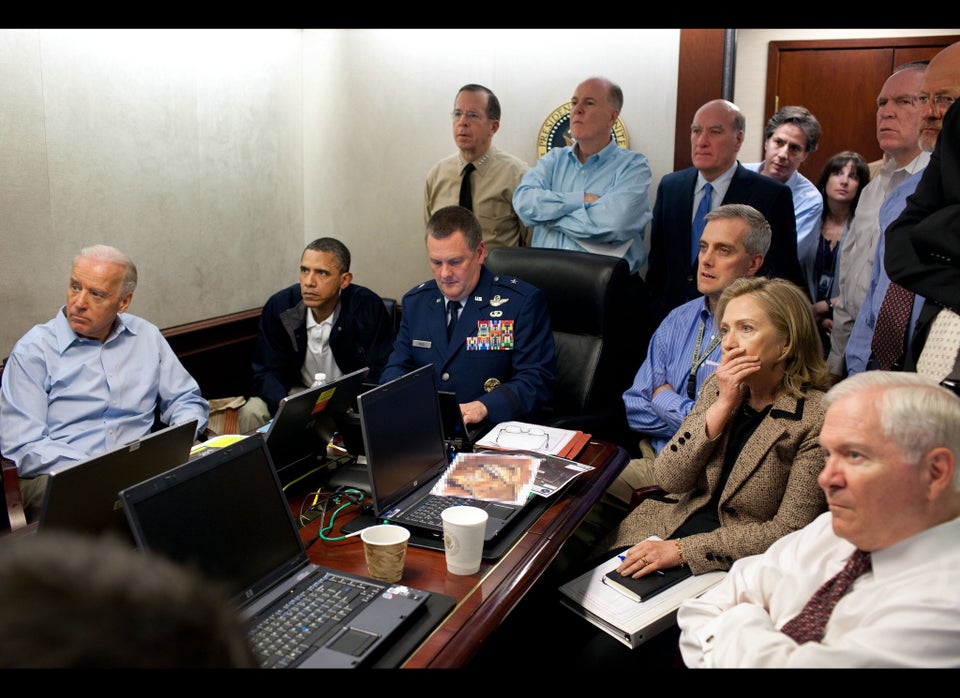 Most Iconic Photos Of Obama's First Term
Popular in the Community