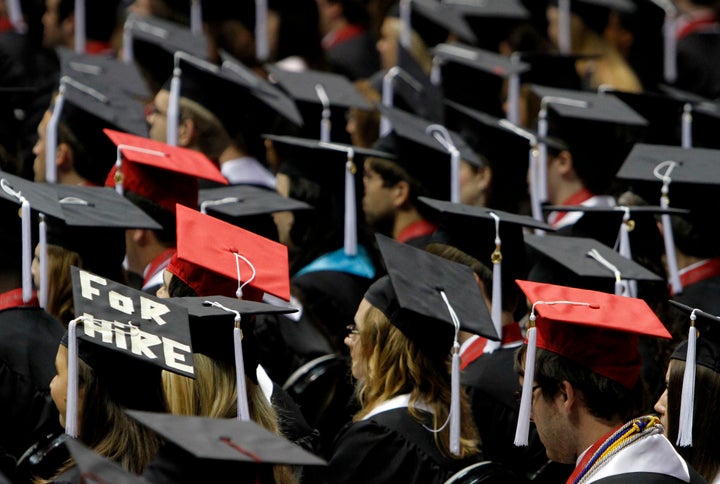 NEW YORK -- Five years ago, when TiffanyAnn Johnson first embarked on her dream of a college education, her parents agreed to shoulder a majority of the costs associated with getting a degree.
But soon after, the financial collapse decimated her father's mortgage business, forcing her family of four to learn to subsist on her mother's meager salary.
With two college-aged children, the added cost of higher education quickly proved more than her one-income family could afford.
Johnson, 23, who graduated in 2010 from Virginia Commonwealth University with a degree in mass communications, took out a combination of public and private loans to pay for school. All told, she's now on the hook for nearly $65,000.
"I always thought that if I worked hard and created opportunity for myself, that I would be in a pretty favorable position," said Johnson. She now works in a temporary administrative position doing data entry at Yale University. "I thought I did everything right. But when this gig is up, I'll be lucky to even get a job doing seasonal retail."
"Young adults today are the first generation facing downward economic mobility compared to their parents' generation," said Tamara Draut, vice president of policy and programs for Demos. "As job quality has declined for all but those with college degrees, higher education is too often a debt-for-diploma system that puts an immediate obstacle in front of new graduates as they start their working lives."
The Institute for College Access and Success is a nonprofit working to make higher education more affordable; Demos is a non-partisan research and advocacy organization working for greater levels of civic engagement; and Young Invincibles is a national youth organization working to mobilize and expand opportunity for young Americans.
Of the survey's respondents, 81 percent said it is now harder to afford a college education than it was five years ago, and nearly three-quarters said they graduated with too much debt.
"This shows that there's this widespread recognition that college is getting harder to afford," said Lauren Asher, president of the Institute for College Access and Success.
The questions used in Wednesday's poll were included in the "State of Young America," a large, multi-issue survey also released last week.
Besides the immediate worry of paying loans back, Draut found that high amounts of education-related debt often impacts other decisions later on in life.
"They're buying homes and starting families with their loan debt still around," said Draut. "It makes it more difficult to save for their own retirement and save for their own child's education -- and it's one of the reasons why we see such strong agreement that the amount of debt required to get a degree is too high."
Despite overwhelming concerns about their personal pocketbooks, nearly a majority of respondents -- 48 percent -- believed their generation would be worse off than their parent's generation. Even still, 69 percent believed the American Dream was still attainable in their lifetime.
Aaron Smith, co-founder of Young Invincibles, sees a generation largely straining under the added burden of college-related debt.
"If I have a job and can make my student loan payments, that's fine. But I'm still stuck with that debt for years, if not decades," told Smith to HuffPost. "This is going to have a longer-term psychological impact affecting not only young people's concern about the current cost of higher education, but about the spiraling cost of college for their own children."
Since graduating from Virginia Commonwealth University more than a year ago, Johnson has struggled to find work.
Even with a job, her monthly loan payments are nearly impossible to afford. Lately, Johnson dodges as many as six calls per day from Wells Fargo, Sallie Mae, Discover and Direct Loans inquiring about combined total of nearly $65,000 in past-due loan payments.
"With my Dad's additional income, we weren't upper middle class, but we definitely had a firm footing in middle-class life," Johnson said. "Now, we're definitely lower-middle class. It's all become one huge juggling act and I'm not quite sure how to get back on track."

Support HuffPost
The Stakes Have Never Been Higher
Related
Popular in the Community