 WASHINGTON -- A network of state-level think tanks is pushing a right-wing agenda with support from the American Legislative Exchange Council and funding from the billionaire Koch brothers, according to a new report.
The Center for Media and Democracy released its exposé on the State Policy Network and affiliated groups on Wednesday. The report details the think tank network's ties to ALEC, funding from wealthy conservative benefactors, and political and lobbying activities backing right wing positions on health care, education, privatization, labor rights, tax cuts and environmental policy.
"The State Policy Network itself has had tremendous influence, and they have had very little public scrutiny about who they are and what interests they really represent," Lisa Graves, executive director of the Center for Media and Democracy, said. "They describe themselves in a given state as a nonpartisan independent group or as a think tank academic study group, and, in fact, these groups are very active politically. Many of them are very active before the state legislatures, and a lot of the work they're doing is very biased and unreliable."
The report contends that the network cloaks itself as merely a supporter of "market-oriented" research when it is actually part and parcel of the right wing infrastructure to push a nationally designed agenda in statehouses across the country.
Tracie Sharp, president of the State Policy Network, rejected the claims in the report, calling them "baseless allegations" and noting that "their source is not surprising."
"Organizations like the Center for Media and Democracy are strangely troubled by the fact that we believe in a more transparent, accountable government, policies that place a priority on free enterprise and consumer choice, and tax policies that are fair, simple and that spur the kind of competitiveness that puts Americans back to work," Sharp said in a statement.
The State Policy Network and many of its most active affiliates are members of ALEC, the secretive organization that brings corporations, conservative activists and state legislators together to write model state legislation. The network has also routinely sponsored ALEC's annual meetings. The Center for Media and Democracy had previously launched a campaign targeting ALEC called ALEC Exposed, which revealed numerous documents detailing that group's internal operations.
The think tanks in the State Policy Network also write model legislation and introduce it at private ALEC meetings to be vetted and approved for broader dissemination to statehouses, according to the report. These groups have supported legislation that would restrict collective bargaining rights, privatize public schools and public pension funds, eliminate environmental protections and tighten voter identification laws.
"This is part of a policy-moving apparatus," Graves said. "This is part of the right wing infrastructure. ALEC gets the bills in the hands of legislators directly, and SPN groups come in to backstop that. They work directly with the legislators in some instances."
The report details a number of ways in which the State Policy Network and its affiliates help make nationally developed policies more palatable to the local audience. An ALEC report on right-to-work laws, for instance, was redistributed in a slightly altered, state-specific form in four states considering such laws.
State Policy Network affiliates have directly lobbied in statehouses and engaged in other forms of political activity. Graves pointed out the clearest example: when the Wisconsin-based MacIver Institute spent millions touting the accomplishments of Republican Gov. Scott Walker ahead of a failed recall election.
Sharp, the network president, rejected the notion that her organization operates in a top-down manner. "Because we are legally and practically organized as a service organization (not as a franchise), each of the 64 state-based think tanks is fiercely independent, choosing to manage their staff, pick their own research topics and educate the public on those issues they deem most appropriate for their state," she said in her statement.
In 2011, the State Policy Network and its affiliates reported raising a combined $83.2 million, according to the Center for Media and Democracy. While donors to the groups are not required to be disclosed, a 2010 document opened a window on some of them. They included the Donors Trust and the Donors Capital Fund, both secretive right-wing funding instruments, as well as Altria, AT&T, Comcast, GlaxoSmithKline, Kraft Foods, Microsoft, Reynolds American and Time Warner Cable.
Multiple documents reviewed in the report also show that the Koch brothers, known for their extensive funding of conservative activist causes, are major funders of the State Policy Network and its affiliates through their linked foundations and Koch Industries. Many other wealthy conservatives have likewise pumped money into the network, including the DeVos family of Amway, the Coors brewing family, the Waltons of Walmart, and wealthy businessman (and North Carolina budget director) Art Pope.
Before You Go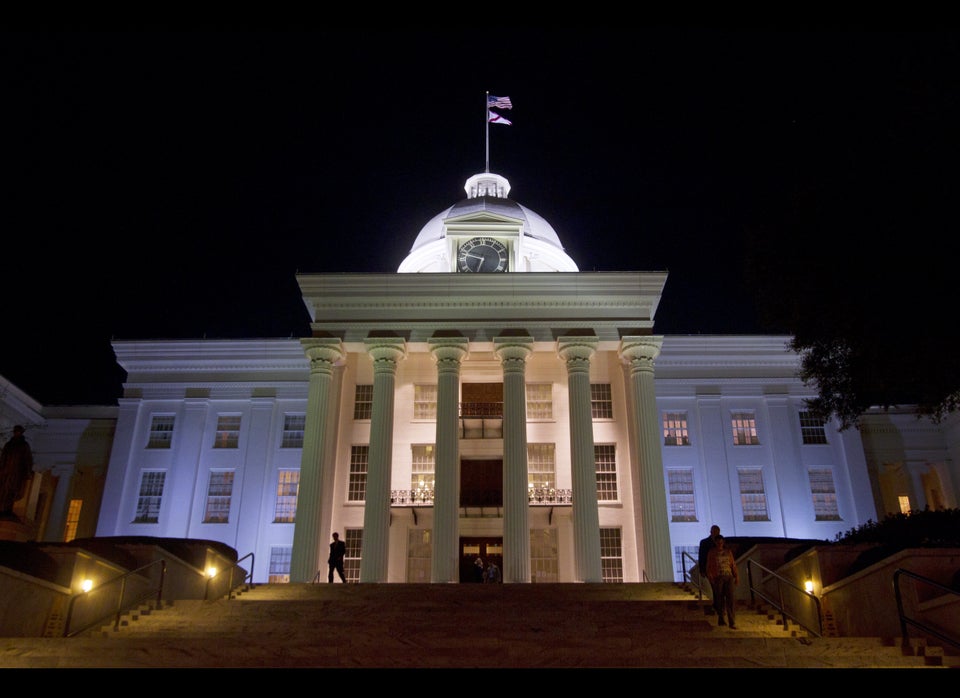 U.S. State Capitol Buildings
Popular in the Community