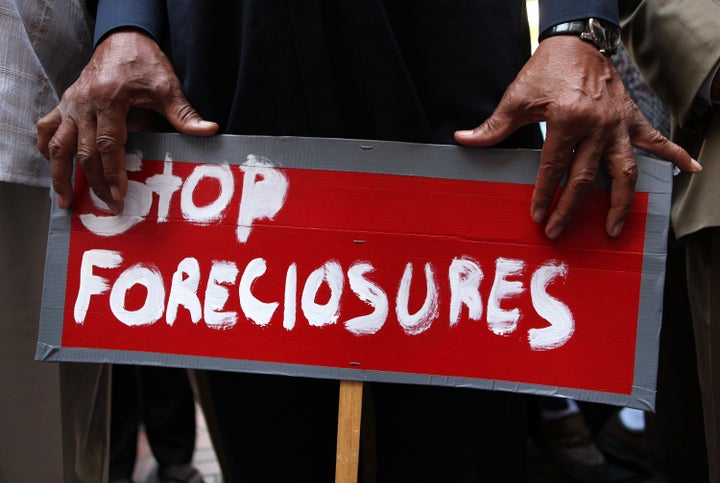 *This story has been updated*
Lackluster foreclosure-prevention efforts and the dearth of principal reductions risk plunging more homeowners into foreclosure, state regulators warned Wednesday in a new report.
Struggling homeowners are increasingly falling behind on their mortgage payments. Not enough of them are getting help from lenders, mortgage companies or the Obama administration's foreclosure initiative. Worse, the backlog to get into a foreclosure-prevention program and to get permanent relief is growing.
For the few homeowners that are helped, the relief comes with a cost: unpaid balances typically rise.
"More troubling, more than 70 percent of modifications result in an increase in the principal amount owed," according to the report by the State Foreclosure Prevention Working Group, a collection of 12 state attorneys general and three state banking supervisors (underlined in the original). This occurs because modification programs typically allow for mortgage companies to tack on delinquent amounts and any fees incurred by servicing to the mortgage principal. The Obama administration's signature effort, the Home Affordable Modification Program, allows for this, too.
This occurs despite estimates that at least one in four homeowners currently owe more on their home than it's worth. Loan modification programs thus put these homeowners further "underwater." Less than 10 percent of loan modifications through October of last year involved significant cuts to principal.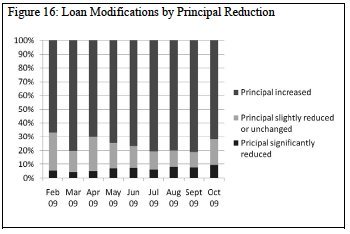 "Given the correlation between negative equity and likelihood of default, the failure to write down principal in connection with loan modifications is a glaring flaw in current efforts," the report notes. With so many homeowners underwater, "doing 'business as usual' only adds to the likelihood of ultimate default."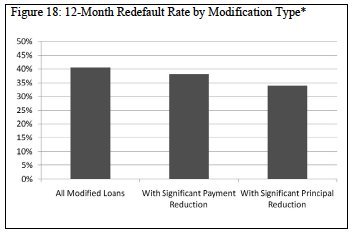 "The reality is that the housing bubble has burst," Mark Pearce, North Carolina Chief Deputy Commissioner of Banks, said in a conference call with reporters. Those not addressing principal reduction as a means of reducing foreclosures are "close to being in denial," he said. "We have to look at principal reductions."
The warning comes less than a week after the Obama administration detailed its progress in stemming the rising tide of foreclosures. While there has been some improvement, it's largely because the bar was set so low. For example, the administration announced on Nov. 30 that about 375,000 homeowners in trial modifications would convert into permanent ones within four weeks; the administration hit just 18 percent of that target.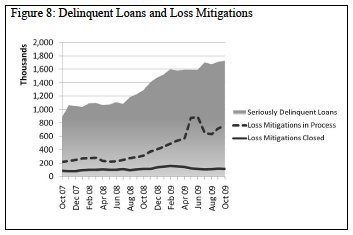 In an interview, Richard H. Neiman, New York's top bank regulator and a member of the Congressional Oversight Panel, the bailout watchdog, said he was going to press the Treasury Department further about HAMP's low conversion rate.
Meanwhile, foreclosures continue apace. Last year some 2.8 million homeowners entered foreclosure. More are expected this year. Though HAMP aims to reduce foreclosures, the program itself does not forbid mortgage companies from proceeding with foreclosure on HAMP-eligible homeowners. Instead, it merely keeps servicers from holding a final sale on the property. So homeowners often receive letters regarding their modifications while getting phone calls from other units of their servicer threatening foreclosure.
"In some cases, homeowners have lost their homes while being told they are being considered for a loan modification," the report notes. "This is unacceptable."
The group released its latest report in the hope of adding to the discussion and influencing policy. The report is based on data gleaned from 13 of the nation's 20 biggest mortgage companies, which collectively service nearly 15 million mortgages.
Just four out of 10 seriously delinquent borrowers are involved in loss-mitigation efforts. While programs like HAMP have increased that percentage, it's been outpaced by the rising tide of delinquent loans.
There's a backlog in foreclosures and foreclosure-prevention efforts. There are seven loans in process in various foreclosure-prevention programs for every loan that's actually resolved, a ratio that's doubled in just the past year. Also, two years ago, the ratio of foreclosures-in-process to completed foreclosures was about 50 percent; it's about 18 percent now. This "shadow inventory" of foreclosures could rock the housing market if they hit at once.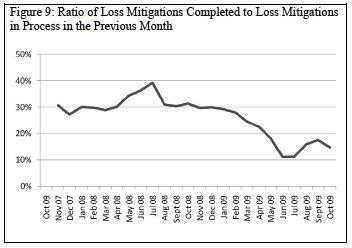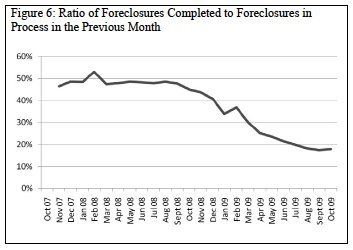 Homeowners with good credit are increasingly falling behind. The number of prime loans at least 60 days past due shot up 66 percent over the past year. Prime loans make up 38 percent of all seriously delinquent loans, a figure that's more than doubled in just two years.
Based on those findings, and the lackluster Obama foreclosure-prevention efforts, state regulators issued a series of recommendations to "prevent unnecessary foreclosures."
Servicers should suspend foreclosure proceedings on any loan currently involved in a loss-mitigation process.
Principal reduction must become more of a priority, particularly in areas where homeowners are suffering from significant price declines like California, Nevada and Florida.
The Treasury Department needs to be more transparent, particularly with regards to the formula it uses to judge homeowners' eligibility for the HAMP program.
Servicers and the Obama administration need to develop a plan to help unemployed homeowners. HAMP requires them to document that they are entitled to at least nine months of unemployment insurance to qualify for a HAMP modification, the report notes. With the official unemployment rate at 10 percent (millions more are either out of the workforce or struggling to make ends meet by working part-time rather than full-time), current efforts are ill-equipped to help them stay in their homes.
*Due to an editing error, the story misstated what the state attorneys general and banking superintendents said about the Obama administration's foreclosure-prevention efforts. Programs like HAMP have helped homeowners, just not as much as would have been hoped. State officials also noted that the crisis would have been much worse had the administration not acted.*
Related
Popular in the Community