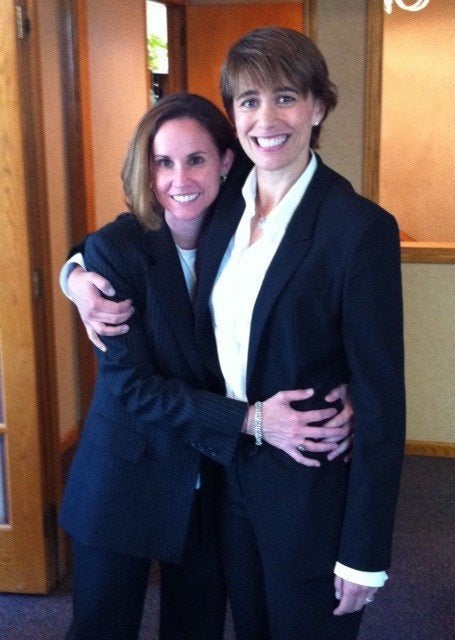 Illinois State Representative Deb Mell recently married longtime partner Christin Baker in a quiet wedding ceremony performed by a judge in Davenport, Iowa.
"Our relationship deserves marriage," said a beaming Mell, her newly wedding-banded hand resting on Baker's shoulder Tuesday. "That's how I feel about it. I mean there was a time in our relationship where it just wasn't right to call Christin my 'partner' or my 'friend' . . . or even my 'civil-unionized partner.' You know she's my wife. . . . We deserve those titles, those rights."
"Two weeks ago I asked Christin Baker to marry me, and she said yes," Mell told the legislature in April.
(Scroll down to watch video of Mell announcing her engagement to her House colleagues in April.)
"While this is a happy day, and one to celebrate, it is also bittersweet," Mell said in April. "Life can be tough even on a good day, so I believe if you find that person who you want to spend the rest of your life with, regardless if you're gay or straight it should be honored and celebrated."
Mell, a member of the general assembly since 2009, is reportedly the first high-profile elected official in the state to publicly enter into a same-sex marriage. Mell also has family ties that are well known to those who follow Chicago politics: Her brother-in-law is ex-governor Rod Blagojevich. Mell's sister, Patti, is Blagojevich's wife, and her father, Dick, is the long-time 33rd Ward Alderman.
WATCH Mell announce her engagement on the House floor here: