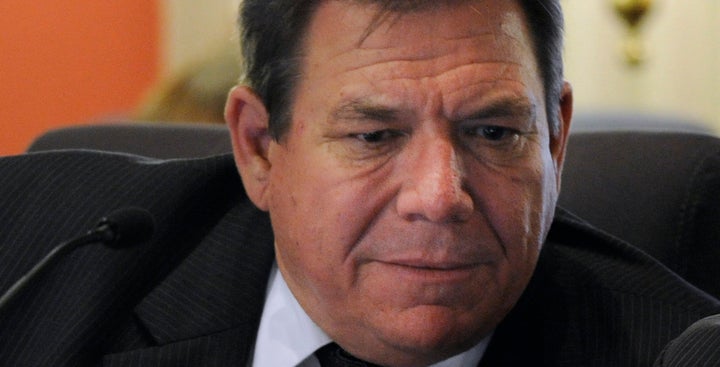 Colorado state Sen. Ray Scott (R) last week accused his local newspaper of publishing "fake news" about him.
Publisher Jay Seaton said criticism of his newspaper as "too far right or too far left" goes with the territory. But Scott, he said, went too far with a tweet calling the paper "our own fake news here in Grand Junction" over an editorial that criticized him.
"Claiming The Daily Sentinel is 'fake news' is a provably false assertion of fact stated with malice," said Seaton, who used to work as a lawyer. "This industry has taken a lot over the last several years. I think it's time for us to stop taking it and stand up for what we do and our First Amendment mission."
Scott took issue with an editorial published on Wednesday that urged him to give a fair hearing to legislation that would increase public access to government documents. The lawmaker had abruptly canceled a hearing on the bill.
"Open records shouldn't be a partisan issue," the newspaper wrote. "We have a difficult time understanding why anyone would oppose easier access to government data, which belongs to the public."
Scott responded on Twitter:
"We have our own fake news in Grand Junction," he began, adding: 
The very liberal GJ Sentinel is attempting to apply pressure for me to move a bill. They have no facts, as usual, and tried to call me out on SB 40 know as the CORA bill. They haven't contacted me to get any information on why the bill has been delayed but choose to run a fake news story demanding I run the bill. You may have a barrel of ink but it just splashed in your face. @foolstask@fakenews
Publisher Seaton hit back in an editorial Saturday, artfully explaining the fundamental role of the media as a government watchdog, enshrined in the First Amendment.
"The role of newspapers under our system of government is to hold government actors such as Sen. Scott to account," Seaton wrote. He continued:
A tried-and-true method for avoiding that accountability is to undermine the credibility of the speaker. When Sen. Scott asserts that The Daily Sentinel is "fake news," he intends to diminish The Sentinel as a purveyor of reliable information.

It is important for newspapers to have thick skins, to absorb criticism when it comes our way and not respond to every slight, real or perceived. That said, there is a difference between criticism of a news story, editorial stance or perceived bias and what Sen. Scott has done. His tweet is patently, provably false.

Worse, he made his false statement knowingly for the purpose of diminishing the only real asset this newspaper has: its credibility.

Imagine the backlash if this newspaper publicly assailed someone based on no facts and invented things out of thin air for the purposes of impugning their character. We could be sued — and we'd deserve it.

I don't think I can sit back and take this kind of attack from an elected official. We are brokers in facts. Words have real meaning in this business. Sen. Scott has defamed this company and me as its leader.

To borrow a phrase from another famous Twitter user, I'll see you in court.
Scott didn't respond to HuffPost's requests for comment. He did fire back on Twitter: "Bring it on Jay, if you lie it blows back."
Scott's bluster doesn't seem to be sitting well with some of his Twitter followers. 
Seaton said the paper intends to make good on the lawsuit threat.
The publisher said he's used to criticism from readers. Call his editorial stance "wrong-headed," or say the paper "covered a story in ham-handed fashion," he said ― that's fair commentary that "comes with the territory."
But fake news he cannot abide. "To characterize a reputable news organization as 'fake' or a deceiver of readers is to paint us as the folks who made up the actually-fake news about Hillary Clinton running a child sex trafficking ring from a pizza parlor," Seaton told HuffPost in an email.
REAL LIFE. REAL NEWS. REAL VOICES.
Help us tell more of the stories that matter from voices that too often remain unheard.
BEFORE YOU GO