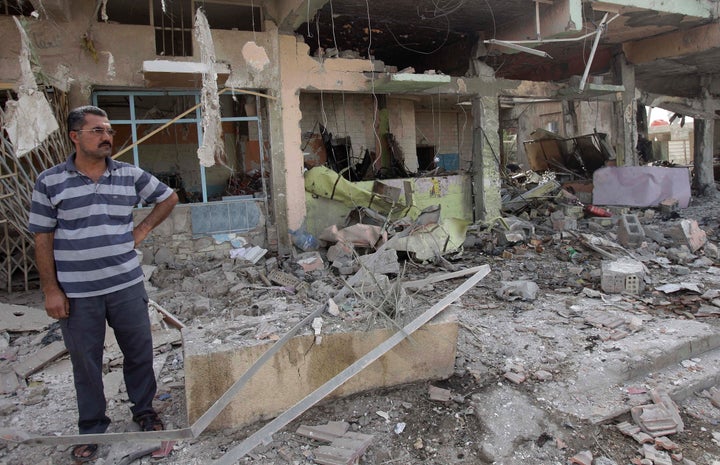 Just when you thought things were getting better in the sandbox it turns out they aren't. That is one of the conclusions in the latest quarterly report from Stuart W. Bowen, Jr, the head of the Special Inspector General for Iraq Reconstruction (SIGIR). He writes, "Iraq remains an extraordinarily dangerous place to work. It is less safe, in my judgment, than 12 months ago." For those private security contractors who will be working for the State Department in Iraq doing tasks that the U.S. military used to do, after its withdrawal, this is not good news.
And that is not the only bad news. From the perspective of trying to do effective oversight on private military contracting SIGIR reports that the State Department is hindering, not helping.
For sheer breathtaking chutzpah it is hard to beat this:
In response to this report's request for information, U.S. Embassy-Baghdad declined to respond to questions concerning the use of support contracts--including the Logistics Civil Augmentation Program (LOGCAP)--to provide services to DoS posts in Iraq involved in managing reconstruction programs, instead referring SIGIR to DoS OIG for this information.

U.S. Embassy-Baghdad again took an extremely circumscribed view of how many persons under COM [Chief of Mission] authority are involved in the "reconstruction effort." According to its implausibly narrow approach, as of June 30, 2011, there were only 10 U.S. government civilian employees and 57 contractors under COM authority overseeing or implementing reconstruction programs in Iraq--or just 0.08% of all personnel.
Considering that as of June 30, 2011, 69,457 U.S.-funded contractors and grantees supported DOD, DOS, USAID, and other U.S. agencies in Iraq, of which 4,803 were contractors and grantees working just for the State Department, that is what one calls one heck of a vanishing trick. David Copperfield can only look on in envy.
Other bad news is that weak oversight -- surprise, surprise -- is still a problem. To cite one specific example:
SIGIR examined subcontracts associated with a reconstruction and logistics contract awarded to Anham. The contract was funded by both the ISFF ($91.7 million) and Army Operations and Maintenance Fund ($28.5 million). At its conclusion, the contract had obligations of approximately $119.2 million, with Anham subcontractors providing at least $55 million of supplies and services. SIGIR's review found significant weaknesses in the government's oversight of Anham's business systems and other contract administration functions that left the government at significant risk of paying unreasonable costs. For example, the Defense Contract Audit Agency (DCAA) did not review Anham's estimating system and found weaknesses in its billing system. Further, the Defense Contract Management Agency (DCMA) recommended approval of Anham's purchasing system despite identifying significant gaps in documentation on the degree of price competition obtained. SIGIR also determined that contract oversight by the contracting officer's representatives (CORs) was weak. SIGIR also conducted a limited incurred-cost review of Anham and questioned almost 39% of the costs ($4.4 million) reviewed. SIGIR questioned whether these costs were fair or reasonable because of questionable competition practices, inappropriate bundling of subcontractor items, and close working relationships--or possible ownership affiliations--between Anham and certain subcontractors. As a result of the multiple problems identified in this report, SIGIR is questioning all of the costs on this contract, $113.4 million, and recommends that the U.S. military initiate a systematic review of billing practices on all Anham contracts in Iraq and Afghanistan. Currently, Anham holds about $3.9 billion in U.S. government contracts.
SIGIR also encountered similar obstacles in a separate audit of private security contractors in Iraq.
One should keep this in mind the next time one hears a State Department official testifying on how they are keeping on top of contracting issues in Iraq.
Nor have cases of corruption ended. SIGIR reported a settlement agreement between the U.S. government and DynCorp International and one of its subcontractors under which DynCorp and its subcontractor must pay more than $8 million to resolve allegations that they submitted false claims for reimbursement under DynCorp's police-training contract
Of course, it should go without saying, most contractors working on the ground are decent, honorable men and women doing demanding jobs in dangerous conditions. And some of them pay the ultimate price. This quarter, the U.S. Department of Labor received reports of 4 deaths of contractors working for the U.S. government in Iraq and 416 injuries that resulted in the contractor missing at least four days of work. The department has received reports of 1,533 contractor deaths since March 2003.

Calling all HuffPost superfans!
Sign up for membership to become a founding member and help shape HuffPost's next chapter