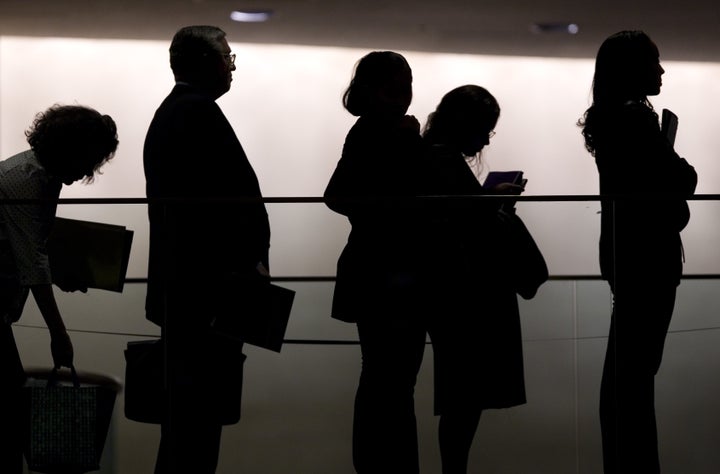 State workforce agencies are telling recipients of unemployment insurance that they'll have Congress to thank if they suddenly find themselves ineligible for several months of benefits checks they'd been counting on.
"If the Congress does not vote by February 28 to extend federal unemployment benefits, no new extensions will be established and the federal programs that are in place will be phased out," says the letter sent to recipients by the Unemployment Insurance Agency in Michigan.
It's not exactly a comforting piece of mail.
"I cannot convey enough the pure terror that ran through my blood when I received this letter," wrote Christine Skipper, a 42-year-old single mother in Rochester Hills, Mich., in an email to HuffPost. "To say that it is stressing out 5 million plus people is the understatement of the recession. I wonder if they have been losing any sleep in Washington, because I will tell you in Michigan we sure are."
States typically provide 26 weeks of unemployment benefits for workers laid off through no fault of their own. The stimulus bill passed one year ago provided more than 50 additional weeks of federally-funded benefits, an extra $25 per week and a 65 percent subsidy of COBRA health insurance for workers laid off between September 2008 and December 2009. As the cutoff loomed last year, Congress scrambled to push the eligibility deadline to Feb. 28. Now they're scrambling again for another extension.
Senate Majority Leader Harry Reid (D-Nev.), who called the situation an "emergency," has been pushing a bill this week that extends the deadline for UI and COBRA eligibility by 30 days, to April 5. Reid said the measure would give the Senate time to put together an extension for the rest of the year.
On the Senate floor yesterday evening, Sen. Jim Bunning (R-Ken.) stopped Reid's bill from going forward with a countermeasure that would use stimulus funds to pay for a longer extension.
"I want to extend those provisions just as bad as the leader does," he said. "But we need to pay for them."
Reid objected. "This extension, this will give us a time to have this body and the other body make a decision by voting on it. And so we're asking for a short extension. My personal belief is that the extension in unemployment benefits is truly an emergency."
And Sen. Jon Kyl (R-Ariz) is apparently threatening to block consideration of unemployment benefits unless the Senate takes action on the estate tax. (Kyl's office could not immediately be reached for comment.)
Judy Conti, a lobbyist for the National Employment Law Project, one of several groups advocating for an extension of the extended benefits, said that benefits recipients who've called Kyl's office have been specifically told that the estate tax is the hold-up.
"The official statement coming out of Kyl's office is that they are holding up unemployment insurance to use as leverage for the estate tax," Conti told HuffPot. "They are jeopardizing the only lifeline that 1.2 million workers and their families have so that dead multimillionaires won't have to pay taxes."
According to NELP's analysis, 1.2 million people will prematurely lose unemployment benefits next month unless Congress acts.
Aside from the anxiety for people receiving unemployment benefits, the last-second uncertainty creates a massive (and probably costly) administrative burden for state workforce agencies, which have to send warning letters to UI beneficiaries as they prepare to shut down extended benefits programs.
The House of Representatives, for its part, approved a jobs bill in December that would push the eligibility deadline for extended UI to June. (Extending the deadline does not allow anyone to receive benefits for longer than provided by the stimulus bill.)
Here's the letter that went out to UI recipients in Michigan:

Dear Unemployment Insurance Recipient:

Our records indicate that you are currently receiving unemployment benefits through the Michigan Unemployment Insurance Agency. While the first 26 weeks of your unemployment benefits are the responsibility of the State of Michigan, the federal government funds all unemployment benefit extensions. The United States Congress has until Sunday, February 28, to ensure that these federal benefit extensions continue.

If the Congress does not vote by February 28 to extend federal unemployment benefits, no new extensions will be established and the federal programs that are in place will be phased out. While we are hopeful that Congress will approve an extension of federally funded unemployment benefits by the end of February, this notice is being issued in the event that Congress does not act. Among the specific benefit programs that will be affected if Congress fails to act will be the following:

Emergency Unemployment Compensation (EUC) Tier 1 - Maximum 20 weeks of benefitsl EUC Tier 2 - Maximum 14 weeks of benefits; EUC Tier 3 - Maximum 13 weeks of benefits; EUC Tier 4 - Maximum 6 weeks of benefits; Extended Benefits (EB) - Maximum 20 weeks of benefits. Additionally, the Federal Additional Compensation (FAC) extra payment of $25 per week will also expire.

If these federal extensions expire, the following will occur:

- If you are currently receiving state funded unemployment benefits, you will not receive an extension of your benefits.
- If you are currently receiving a federall funded extension of your benefits, you will not receive any further extension of benefits.
- Extended Benefits can only be paid up to the week ending March 27, 2010.

If Congress fails to extend the expiration date by February 28, 2010, the Unemployment Insurance Agency will begin mailing all unemployed workers currently collecting benefits a letter with more specific information.

If Congress extends the expiration date, extensions will continue through the new expiration date. You will not receive a letter, but this information will be available on the agency's web site at www.michigan.gov/uia and in the news media.

It is our hope that the Congress will act to avoid an interruption in the unemployment benefits that are available to you. And, in fact, we are working to encourage Congress to act quickly so benefits will continue. However, we also understand how critical these benefits are to you and that is why we are providing this notice so you will not be caught unaware if the Congress fails to act by February 28, 2010.
Popular in the Community