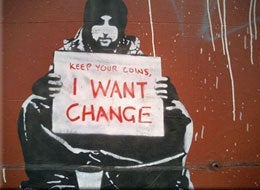 We've seen it drive past us on bumper stickers, worn on t-shirts, and painted in iconic art throughout our country. Believers and non-believers alike endlessly blogged it, twittered it, posted it and spoke it. Pop stars sang it, artists designed it, the nation felt it, and at the end of a two year campaign, a new president was elected for it.
After the last eight years, it seemed everyone finally came together to agree on this inescapable notion of what we need. A singular ideal. As a country we experienced the market crash, watched war ensue and witnessed fraud scandals like never before only to be lifted up by a single word that continues to give us hope and provide our many generations with a collective sense of progress: Change.
The word 'change' has always been a part of our vocabulary but has never before been so powerful. Why has it come to carry so much weight? Certainly the clamoring of voices has increased our consideration of it. But there is another, larger reality facing us. For the first time, maybe in decades, we feel that change holds real possibility. The baby boomers are more than ready, and there is little doubt that the millennials can taste it.
Modern technology, celebrity and media involvement, political transparency, minority turnout and the ability to communicate and rally with anyone, anywhere at a moments notice has empowered us to unite as a country. Location is no longer an issue. The barriers of age are beginning to disappear. No matter who we are or what political group we affiliate ourselves with, if any at all, we are all beginning to connect.
Communication is proving that generation, race, demographic and style are merely smoke and mirrors when it comes to who can influence our future. With the ridiculously rapid development of online social networks, mobile applications, modern grassroots movements and the growing urgency of now, we are seduced by change; it's allure insurmountable and implications incredible.
President Elect Obama strongly stated that "Change has come to America" and
in turn he has called on its citizens to provide that change. But hasn't change always been here? Was it merely a matter of time before we recognized our power and strength in numbers? We are in a special time and 2009 is opening the doors for a new America. This is obviously unique, but soundly in tune with many other social revolutions. It is OUR revolution. It is our -- the people of the United States of America -- turn to make this change what it should be.
"Yes we can" has turned into, "now we will." "What will they (government) do," is now, "what will we do?" What do we want to see change? What issues do the people of this country truly care about? How will we move forward to ensure that change becomes a reality, and not just another slogan?
*State Your Change* began in August at the DNC. Riding my bicycle around Denver, a young boy noticed my Obama spoke card and yelled, "Change" raising his hand high with fervor. Later that evening while grabbing a drink with some of my non-partisan friends, we noticed our beers were sitting on napkins tagged with Sheppard Fairey stickers and the words change, hope and progress drawn on them. With every corner turned, posters were plastered to windows and fliers filled the streets.
After seeing this five letter word all over the city, we began to question what this magical expression really meant to the people who stood so strongly behind it. Yes we know we want change, but what kinds of change do we really want to see? Do we really know what we need? Is it local or global?
With a video crew, Causecast began asking everyday people on the street, celebrities, musicians, activists and anyone we could get in front of the camera, regardless of their political affiliation, to answer one question. "What is the Change you wish to see in the world?"
We'd even run up to perfect strangers and say, "Hey! Will you please finish the sentence, 'The change in the world I'd like to see is...'?" Though first flushed, faces immediately filled with smiles and people became ecstatic to have the opportunity to voice their opinion in the excitement of this political overhaul.
What followed were some of the most incredible "causefessions" our filmmakers had ever seen. People began to open their hearts and tell the camera exactly what they wanted to see changed in our country and the world at large. So we didn't stop. We continued asking people the question wherever we went. Six months and hundreds of responses later, we've continued to build up the library of the diverse faces of our country. From eight year old environmentalists to seasoned activists, executive directors to musicians, mothers to web tech 2.0 bloggers, we are building a national campaign that truly represents the changes our collective generations would like to see. This is the people's campaign, bringing the faces to the forefront.
State Your Change was created to provide the people of America an opportunity to not only have their ideas read, but to have their voices heard directly from their lips. The power of video is transformative and often through blogs, emails, letters and simple petitions -- though powerful and necessary -- we often forget about the unique individuals who write the words we fight for. We live in a diverse melting pot and our 140 character limit tweets, 500 word blog posts, and single line comments don't truly do us justice. Those who stand behind the efforts need to be seen and heard. So grab your video camera, webcam, mobile phone or old school heavy duty 16mm and tell the world the change you'd like to see with the next administration. It doesn't matter what technology you use, the quality isn't in the image but in the message, so press record, save and upload your change.
On the eve of the inauguration, January 19th, Causecast and The Huffington Post will continue to collect the "causefessions" of change at the pre-inaugural ball. In turn, we will compile each and every video uploaded, gathered and submitted to Causecast prior to the 20th and hand them over to President Elect Obama's transition team for his consideration. He will be moved, just as we have been, by the responses and courage of the American people. Because change is in our hands, we must voice our change together.
Join Causecast, Myspace Impact and the Huffington Post in our collective efforts to give the people of our country the opportunity to be seen and heard. State Your Change and together we will tell President Elect Obama what we truly need to see change. Upload a video to Causecast.org finishing this statement: "The change in the world I'd like to see is..." and we will take your message with us to DC on January 20th.
Be inspired by some of the amazing videos others have posted, post your own video to Causecast and together we will answer Obama's call for change. I look forward to seeing your change become a reality.
Please don't hesitate, feel free to email me on my personal email at
LeviF@Causecast.org and join us on this campaign for change. If you are a changemaker or tastemaker looking to change the world, I would love to hear from you.
To a better America and an incredibly happy and healthy New Year!
Levi Felix is Causecast's Sr. Director of Creative Development. Causecast has been referred to as "the one stop philanthropy shop." Combining entertainment, nonprofit, media, social network, and e-philanthropy, Causecast is your online destination for all things CAUSE.