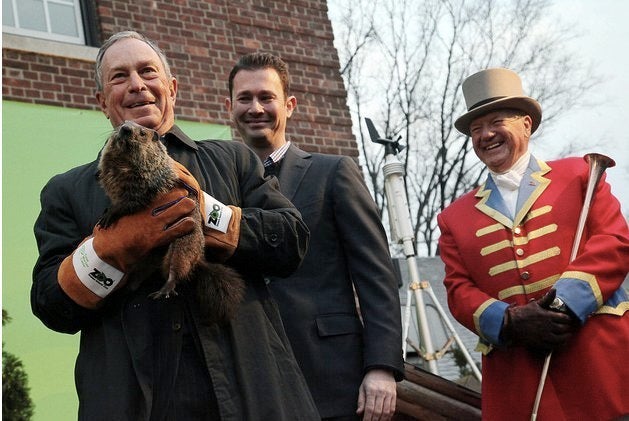 Staten Island Chuck says spring is coming early this year. The groundhog, also known as Charles C. Hogg, did not see his shadow Thursday morning at The Staten Island Zoo.
Amid chants of "Chuck! Chuck! Chuck!" from the crowd, Mayor Bloomberg translated Chuck's prediction. "Six more weeks of warm weather and sun and a Giants win," Bloomberg said.
The mayor wore heavy-duty gloves to protect his hands from the little creature. In 2009, Chuck famously bit him on the finger, and last year, the mayor could be heard calling Chuck a "son of a bitch."
Thursday however, Bloomberg just playfully taunted the creature, according to The Daily News, saying "If you bite me, I'll bite back," and the ceremony went on without incident.
Chuck's Pennsylvania counterpart gave a different prediction Thursday morning. Punxatawney Phil saw his shadow and said there's six more weeks of winter.
If recent temperatures (it was over 60 degrees yesterday!) are any indication, the powers of prognastication more liklely belong to our beloved Chuck, who, according to the Staten Island Zoo, has accurately predicted the forecast some 80 percent of the time since the 1980s.
REAL LIFE. REAL NEWS. REAL VOICES.
Help us tell more of the stories that matter from voices that too often remain unheard.